Want to become more efficient at work? Organising your office and your technology for maximum efficiency makes a big difference. Here are the steps you need to take.
Lifehacker's Speed Up Your Office series is presented by Max. You don't need a laser, you need a MAX. Meet Max: the inkjet printer made for small business. Meet Max Today!
When you get down to it, a workspace is basically just a collection of furniture and office equipment. If you're lucky, you might have your own stapler and a cool pleather swivel chair. But no matter how well-constructed your corner of the office is, there is always plenty of room for improvement.
Let's look at some of the ways you can boost productivity and comfort without taking a sledgehammer to your existing arrangements.
Set Your Office Up Ergonomically
"Ergonomics" is something that many workers are cynical of – it sounds like the kind of new age buzzword that yoga enthusiasts would be into. However, it can actually make a real difference to your overall health and posture; especially if you're sitting down for a huge chunk of the day. Indeed, an non-ergonomic workspace could be wreaking havoc with your body.
This handy guide will help to transform your workspace into a spine-friendly productivity hub. It contains ten indispensable tips ranging from laptop placement to RSI-prevention exercises you can do at your desk. You can find even more advice in our ergonomic optimisation guide.
Kill Distractions Dead
There are some workplace distractions that you have to put up with — annoying co-workers, pesky emails and compulsory fire drills are a few that come to mind. Other distractions are entirely voluntary and need to be terminated with extreme prejudice.
The simplest way to blot out unwanted distractions is to invest in a good pair of noise-cancelling headphones. You can bone up on the best and most effective models here.
You should also remove superfluous gadgets and other potential distractions from your immediate vicinity. In other words, set up an imaginary "work boundary" around your desk — keep anything that could hamper productivity just outside of arm's reach.
Consider A Standing Desk
Standing desks are all the rage these days, and with good cause: in addition to improving your posture, they can also assist with weight loss, sleeping patterns and general productivity. But don't just take our word for it: A new report published in the Medical Journal of Australia is urging businesses to adopt a "standing desk" policy to improve office workers' posture and overall health.
You're less likely to "veg out" in a standing desk as there's no chair to slump into. Meetings tend to feel more formal and focused too, which leads to better results. You'll also be better connected to your surroundings thanks to the higher vantage point — great for avoiding middle managers with TPS reports. You can find tons of standing desk articles on our website.
Get Your Cable Clutter Sorted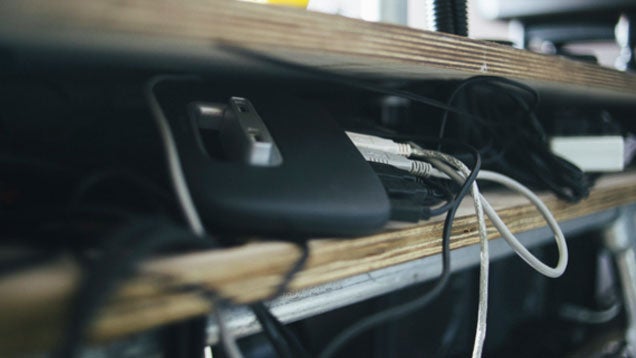 This one only takes a few moments to set up, but it could save you hours in lost productivity over the course of your career. In short, you need to permanently tame the spaghetti-like tangle of cables behind your desk. There are various DIY hacks you can employ to pull this off — some examples from our own archives include PVC pipe, cable lacing, eyehooks, beads, socks a towel rack and a bucket.
Once your cables are neatly assembled, be sure to clearly label them for quick reference — one method we're personally fond of is to use plastic tabs from bread bags. You can even colour-code them to correspond to different cable types. Click here to see how it's done.
Fine-Tune Yourself
For maximum productivity gains, you need to do more than fix up your workspace: you also have to fix yourself. This guide details ten ways to improve your workday's flow; from avoiding eyestrain at your computer to indulging in occasional workplace exercise.