Summertime is, to me, synonymous with spicy peanut noodles, which I've been making every summer since I was allowed to cook pasta by myself. I love them so much that they almost make suffering through vicious, swampy heat and humidity feel worthwhile. Almost.
Over the years, I've refined my recipe to perfectly suit my tastes: salty first, then equal parts spicy, gingery, sweet, and vinegary. By complete accident, the proportions are very similar to this obsessively researched and picky New Yorker-approved recipe published by the New York Times in 2007 – the only difference is that I don't use any fresh ingredients in my sauce.
Fresh ingredients are almost always desirable, but I find that fresh ginger and garlic are a hindrance to cold peanut noodle perfection. Peeling fresh ginger feels like more work than it is (I acknowledge this is a personal problem), but I mostly hate its tendency to leave tough little strings in my sauce. As for garlic, fresh cloves lend a great bite on day one, but by day three, the aroma changes from pleasantly sharp to "shit, do I have to throw this out already?"
(This is also why I don't put raw garlic in homemade mayo.)
Replacing the fresh aromatics with pickled and/or fermented ones yields a delicious sauce with a streamlined ingredients list that lasts for weeks in the refrigerator – so you can make spicy peanut noodles on a whim. Serve 'em with a nice smashed cucumber salad or quick-pickled slaw, and I promise nobody will miss the raw garlic.
Cold Spicy Peanut Noodles
Photo: A.A. Newton
Every ingredient in this recipe has earned its spot through years of fiddling, but there are just two unmissable bits. First, always use equal parts soy sauce and peanut butter (or tahini, or sunflower seed butter, or a mixture).
The nut butter is only there to thicken the sauce and ground the stronger flavours; mistaking it for the star of the show is a great way to end up with bland-arse noodles. Second, use pickled ginger rather than fresh. It adds that unmistakable gingery zing, but also sweetness and acidity — the perfect multitasker.
As for the rest of the ingredients, use whatever you have and love. Sriracha, sambal oelek, or chilli crisp are fine alternatives to chilli garlic sauce, and if you don't have seasoned rice vinegar, the unseasoned stuff – or, honestly, any light-coloured vinegar – plus extra salt or sugar is just fine. (No vinegar at all? Use some brine from the ginger.)
As written, this makes just over one cup of sauce, which is more than enough for half a pound of dried noodles. I always use soba, but any variety will work with this technique; rice vermicelli are delicious and gluten-free, and for something less traditional, I love the heft and tubular structure of bucatini.
Ingredients:
200 grams dried noodles of your choice
65 grams soy sauce or tamari
65 grams peanut butter, any variety (tahini or sunflower seed butter work great for nut allergies)
Heaping 75-80 grams pickled ginger
2 tablespoons seasoned rice vinegar
2 tablespoons toasted sesame oil, chilli or regular
2 tablespoons fermented chilli-garlic hot sauce, like Huy Fong Chilli Garlic
Fish sauce or table salt, to taste
Granulated sugar, to taste
Big handful of fresh cilantro leaves and stems (optional)
Toasted sesame seeds, sliced scallions, furikake, togarashi, chilli oil, crushed peanuts, and/or extra chopped cilantro, to serve
Instructions:
Bring a big pot of well-salted water to a boil and make the sauce while it heats up.
You're going to purée all of the sauce ingredients, so choose your weapon – food processor, blender, stick blender – and dump in everything except the cilantro (and the dried noodles, of course).
Blitz the sauce until smooth, then taste and adjust seasonings with a little extra of whatever it needs. Keep at it until you've got something spicy, salty, sweet, and funky that's too intense to eat by itself – but so addictive that you can't stop. If using, add the cilantro and blitz just to combine, or chop finely and stir into the sauce.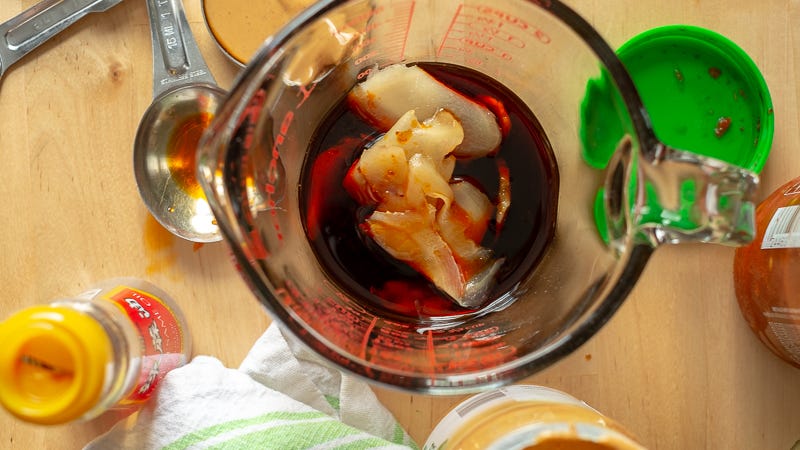 Dump in the ingredients all at once; I'm using a wide-mouthed glass measuring cup that accommodates the head of my stick blender, but you can also do this in a food processor or regular blender.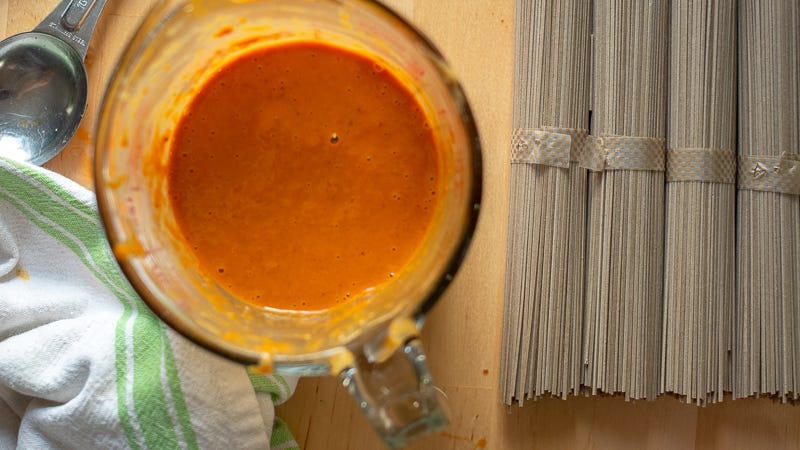 Blitz up the sauce, season to taste, and get ready to cook those noodles. (For the record, I only ended up using two of those soba bundles.)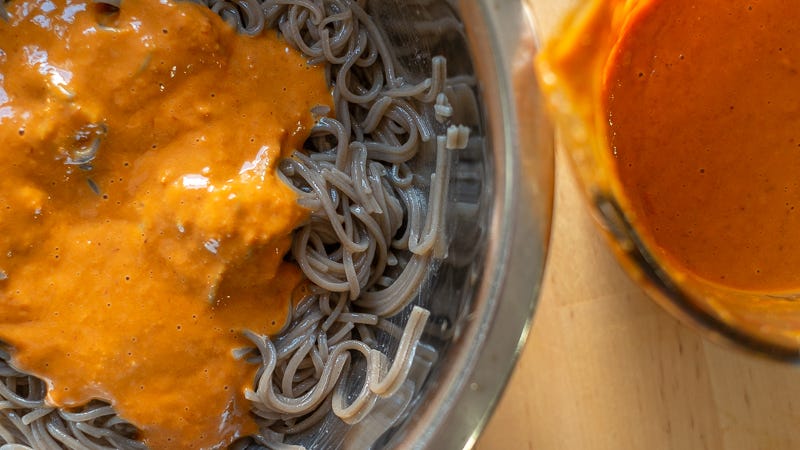 That's basically it. Dress your noodles to taste with the sauce, gussy 'em up to your heart's content, and dig in.
Cook the noodles in the boiling water according to the package directions, adding a minute or two if needed so they're soft all the way through. (Perfectly al dente noodles turn crunchy in the fridge.)
Drain and rinse under cold running water until they have cooled all the way down, gently agitating with your hands to rinse off all the starch. Toss with a teaspoon or more of sesame oil, just to coat the strands, and transfer to a mixing bowl.
Depending on how many noodles you've cooked, you may or may not need all of the sauce. Starting slowly, season with the sauce a few tablespoons at a time, stopping when it tastes really good. Portion into bowls, garnish with the condiment(s) of your choice, and go to town.
Photo: A.A. Newton
I'll gladly eat these noodles as a standalone meal — and have done on many occasions — but a little extra protein really rounds things out. Thinly sliced steak, grilled tofu, or a marinated hard-boiled egg would all be great here, but chicken thighs are my favourite.
This time, I went for a classic miso-mirin-soy marinade (plus grated ginger and, of course, cheap beer) and broiled the thighs for 10 minutes a side, until cooked through and nicely charred.
It was the perfect way to bulk up a carb-heavy main dish, and I'll be eating the leftovers all weekend long.