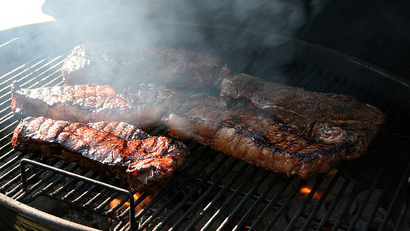 If you want to grill a steak that tastes as good as one you might order at a steakhouse, you need that delicious, caramelised crust. Cook's Country offers a super-simple way any home griller can achieve that perfect steakhouse crust.
Picture: Liz Lawley/Flickr
The secret is to rub the steaks with a mixture of salt and cornstarch, then freeze the steaks for 30 minutes before grilling. The salt and cornstarch draw moisture to the surface of the steaks, where it evaporates — resulting in the dry exterior you need for formidable crust. Freezing for a short time also causes rapid evaporation on the surface but a tender and juicy centre.
When you're ready to grill, just season the steaks with pepper and sear them over the hot fire.
How to Make the Best Steaks [Cook's Country]