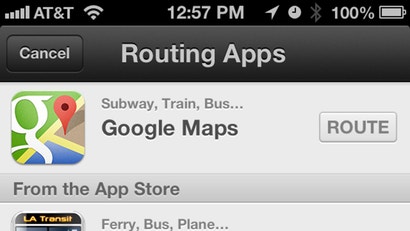 We're happily using Google Maps on our iPhones, but find it frustrating that using Siri to ask for directions with anything other than Apple's default app requires a bit of work. Software blog Addictive Tips found a clever workaround: you only need to say "via transit" after your request and Siri will offer other routing options.
A simple, but not entirely hands-free, way of making Siri display Google Maps directions is to speak the words 'via transit' at the end of your request. For example, "show directions to Dragon City via transit". This displays a list of all available navigation apps, including Google Maps, which you can then select from the list to have it provide you directions.
Apple may remove this ability in the future, possibly when its mobile app offers transit and walking directions, but for now you can use Siri and Google Maps almost exactly as you would with Apple's markedly inferior default offering through this trick.
How To Use Siri To Get Google Maps Directions Without Jailbreak [Addictive Tips]