When I told my friends that I was planning to attend the opening weekend of Disneyland's new "Star Wars land," otherwise known as Star Wars: Galaxy's Edge, they had one common reaction: horror.
And they had every right to question my sanity. When Diagon Alley opened up at The Wizarding World of Harry Potter back in 2014, wizards and muggles alike enjoyed the magic of eight-hour lines for a single ride. (And the same thing happened earlier this month with the brand-new Hagrid's Magical Creatures Motorbike Adventure – a ten-hour queue for a single ride.)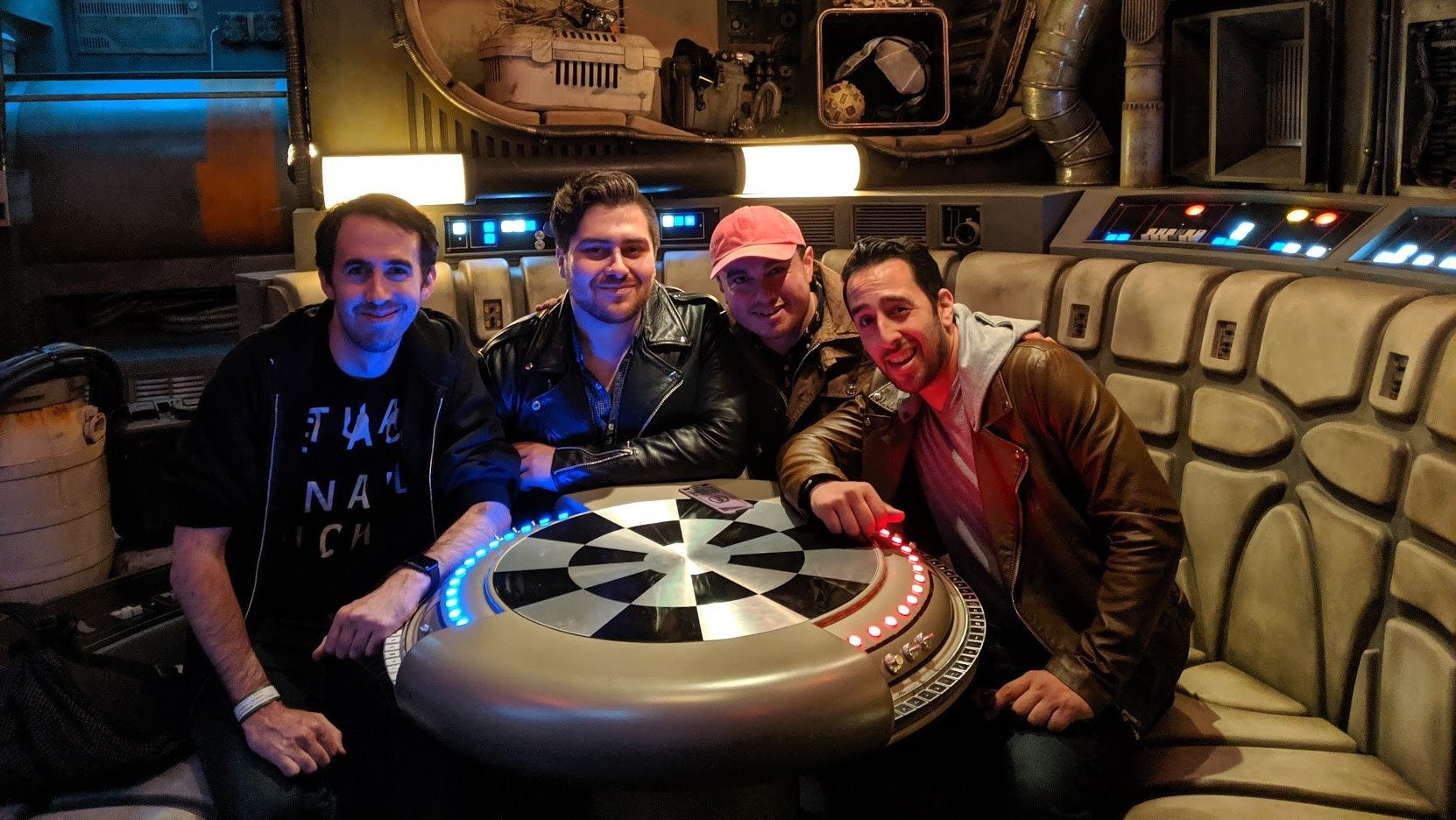 Photo: David Murphy
As it turned out, they were wrong.
Not only did I get everything done that I wanted to do in Star Wars: Galaxy's Edge, but I also had a pretty great run of the park's other rides – and no irritating hour-plus lines to deal with.
While I lucked out a bit, since most annual passholders were forbidden from coming to the park that weekend and all the other Disneyland fans seemed too terrified of crowds to show up, I also came in strong with a solid plan of attack for Disneyland.
Research, research, research
I have friends that just head to Disneyland on a whim, and I'm always envious of their carefree attitudes. When I go, I research anything and everything I can to ensure I'm maximising my fun with as little annoying downtime (or waiting around) as possible. For my trip to opening weekend of Star Wars: Galaxy's Edge, this entailed:
Scouting Disneyland blogs and social media feeds to pinpoint the exact opening date of Star Wars: Galaxy's Edge, and immediately booking a hotel (or Airbnb, if you prefer) before word got out and everyone spiked their prices.

Prior to that, researching hotels in the area to get an average sense of who had the best prices, amenities, and location for various summer weekends (to ensure that when the Star Wars: Galaxy's Edge opening date was announced, I wouldn't have to waste precious time researching hotel prices). That included hitting up the ever-helpful MouseSavers to check for any available discounts.

Knowing what extra opportunities I wanted to pack into my Disneyland trip in advance (a Steakhouse 55 dinner and boozing at the new-ish Lamplight Lounge), so I could immediately make those reservations once I finalised my trip dates. You can book dining reservations at Disneyland up to 60 days in advance; at Disneyworld, this bumps up to 180 days. You'll want to do this sooner than later so you can guarantee a spot (and, ideally, a great time).

For the Star Wars: Galaxy's Edge reservation process – which won't matter as much for your next trip – figuring out when Disney was opening up online registrations for entrance into the land and making sure my travel group was prepared to sit in the virtual queue (to maximise our odds of getting in).

Reading others' opening-day trip reports (on Twitter and Reddit) to get a feel for what experiences I would be able to do, or skip—and what neat merchandise was being sold where (and for how much).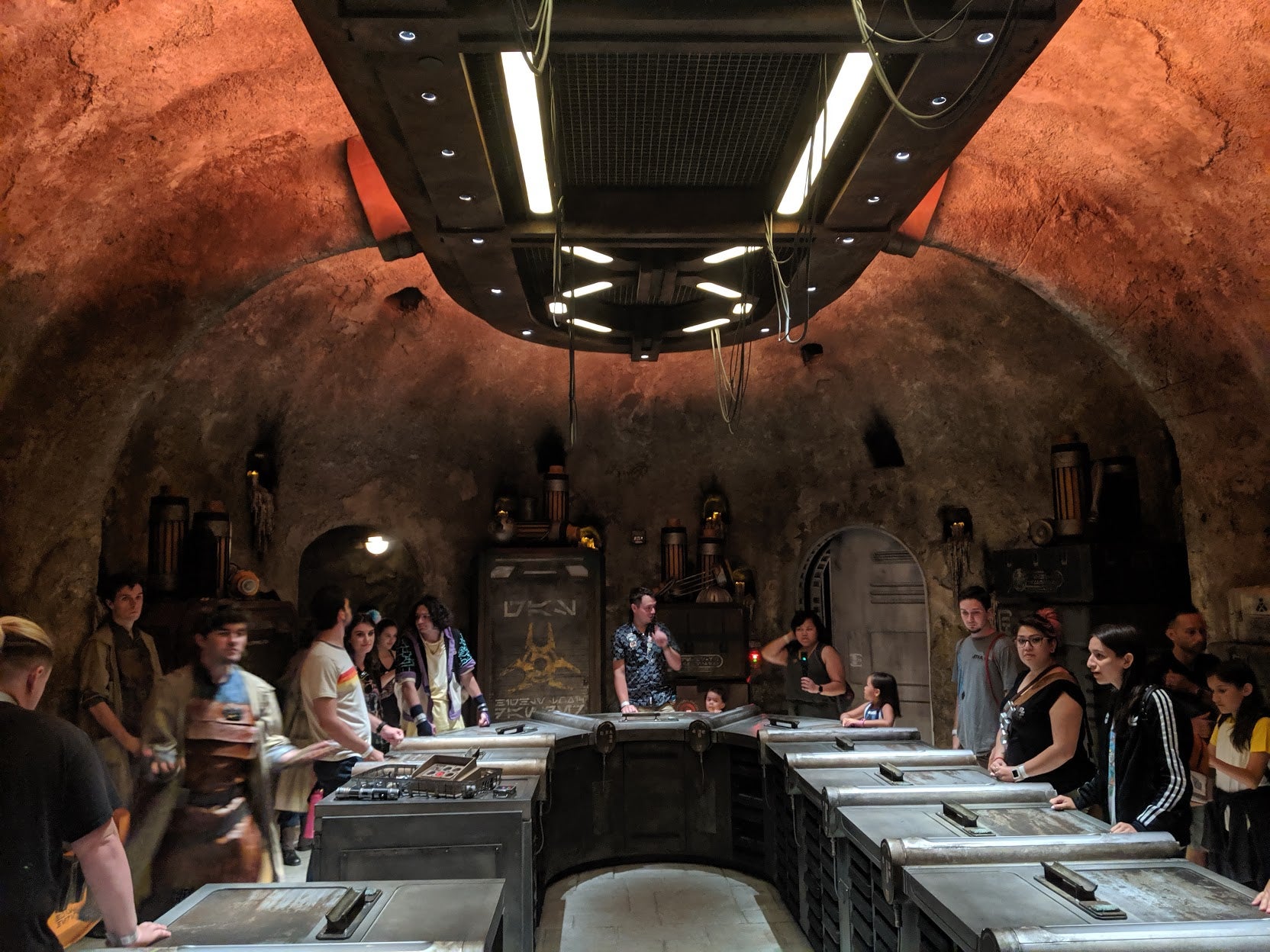 Because I came in with a game plan, I was able to check everything off my to-do list at Star Wars: Galaxy's Edge, including building a lightsaber. (Photo: David Murphy)
To be honest, these are the normal steps I take for any Disneyland trip. Research is critical. You're going to want to know what special events are happening, if any—including whether the park is closing early for its own special events, like a grad night, or whether there are unofficial events planned that might cause the park to be a madhouse whenever you're thinking of going.
Editor's Note: For those travelling from Australia, research and careful planning is an absolutely essential first step. You can find hints and tips for finding the right flights and travel deals here on Lifehacker.
You're also going to want to check Disneyland's refurbishment schedule to make sure that the rides you love are actually working when you're planning your trip. (It's really annoying when the ride you want to go on is scheduled to open up a few days after you're heading home – particularly if you're jumping on a plane the next day.)
If you still have questions, or want to browse through even more Disneyland information, I recommend checking out the park's Mums Panel. Ask away, though odds are good your question has probably already been addressed. The Disney Mums are quite thorough.
I also like looking through the Disney, Disneyland, and Star Wars: Galaxy's Edge subreddits, which are also great ways to keep tabs on what's happening in the parks (and glean tips from others' trips).
Planning your trip's logistics: dates, hotels, and tickets
If you're in the very beginning stages of trip planning, consider the obvious: If you can get away with not going during summer, especially a weekend on the summer, you'll probably have a lot more fun for a lot less money. Pick some random winter day when most kids are in school.
So, what days and times are best? There are entire websites dedicated to this very analysis, and you're free to cross-reference them as you see fit. This gives me a headache, I confess.
Instead, I look at Disneyland's blackout dates for annual passholders. If Disneyland doesn't want its superfans to come to the park, it's going to be a busy day. I'll then avoid obvious traps like three-day weekends or holidays, and I'll pick a time where most of my fun can happen midweek—a Thursday, Friday, Saturday trip—instead of a weekend extravaganza.
Where should you stay?
If you're looking to stay at Disneyland because you're made of money, it's worth waiting to see if, or when, Disneyland's various hotels unleash any seasonal discounts. They might not be so generous now, knowing they can pack the park with eager Star Wars fans, but it's worth looking into.
MouseSavers has a comprehensive FAQ that highlights every discount for Disneyland's hotels since 2015, so this will give you an idea of when you might be able to save some cash (and when Disney might offer a deal).
Otherwise, you'll be playing the hotel game. There are plenty to pick from in the Anaheim area, and what ends up on your final list depends on how much you're willing to pay and how much you're willing to drive – don't forget to factor in Disneyland's $US25 ($36)/day parking cost, unless that's waived as a result of someone on your trip having a Signature or Signature Plus annual passport.
(As a result of that little fee, I prefer to stay in hotels that are within walking distance to the park—often faster to get to the main gates than it would be to drive and take a shuttle or a bus from a Disneyland parking structure. The Candy Cane Inn has always treated me well—and they have a slight annual passholder discount—but there are plenty of other options around the area as well. Yelp is your friend.)
How do I get cheap tickets?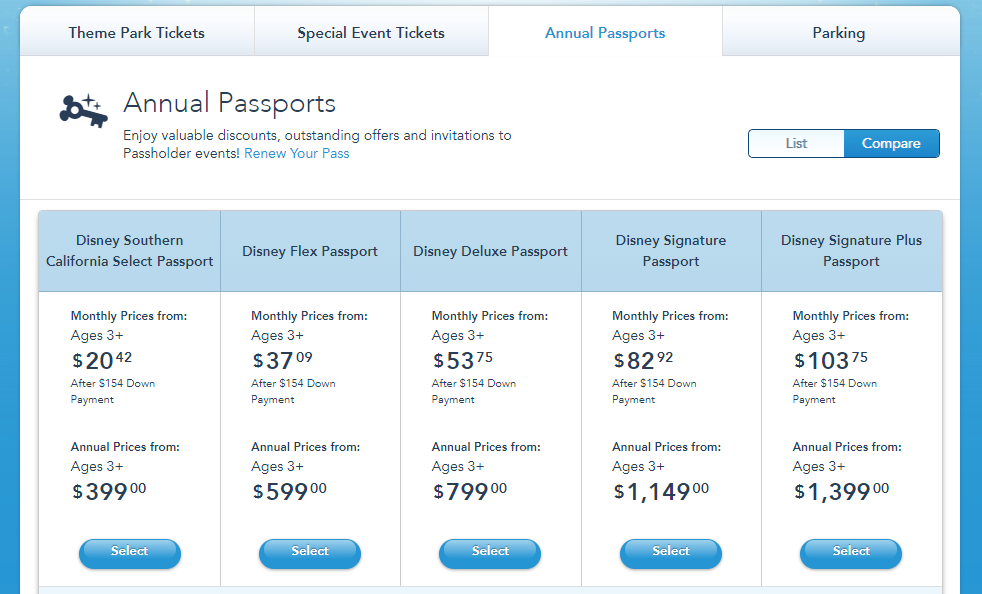 Disney)" loading="lazy" > The price of an annual passport ranges from not-cheap to "woah." (Screenshot: David Murphy, (
Disney
)
The other big question you'll need to tackle as part of your Disneyland planning is what kind of pass you're going to purchase to get into Disneyland's two major parks. If you're not planning to visit the park more than once a year, the answer is obvious: some kind of park-hopper, which grants you unlimited passage between the Disneyland Resort and California Adventure.
Sure, you'll save money if you buy the "you only get to go to one park each day" ticket, but that's a foolish mistake. Bouncing from one park to another to avoid crowds, eat exclusive food, or add some diversity to your day is the pro move. As much as you might be able to plan your trip—rides, shows, activities, dining and everything—in advance, the reality when you're on the ground will be much different.
Your interests can change. Lines can impact your day. You might miss out on getting a Fastpass ticket for Disneyland's Fantasmic! show, but score California Adventure's equally impressive World of Colour show. Give yourself the flexibility to do whatever you want; pay up for that park-hopper.
In all my years going to Disneyland, I have never once seen a discount on park tickets that 1) I can use and 2) is worth the time it takes to investigate it.
You aren't going to find some super-magical summer deal that scores you a ticket for half-off. Disneyland is smarter than that. And there are plenty of eBay and Craigslist scammers that are more than willing to take your money for a "discounted" pass that won't scan as a legitimate ticket at the gate.
While MouseSavers has a good, thorough list of discounts, I wouldn't go there expecting to save a fortune on your trip.
If you're planning to make multiple Disneyland trips in a single year, you'll have to crunch the numbers to figure out whether it makes to splurge for an annual pass or not. They're expensive (starting at around $860 for those who don't live in SoCal), and they come with various restrictions depending on which tier you get, but they will absolutely save you money in certain, Disneyland-obsessed scenarios.
In your calculations, be sure to factor in how much you're planning to go, how much merchandise you typically buy, how much food you eat, and how much parking you'll need, as some of the annual pass discounts can help soften the blow of its incredible cost.
Maximising your time in the park costs money, too
I hate the fact that going to Disneyland always feels like a money suck. That's not to say that you can't do it on the cheap—packing your meals, not buying expensive things, making ample use of all the free water Disneyland gives out at its various food stands. One item I will always splurge for, however, is a Disneyland MaxPass.
The MaxPass, for those unaware, is the digital version of Disneyland's FastPass system—expedited entry to a ride within a particular hour-long window.
If you go the FastPass route, you have to walk to little kiosks outside the rides you want to go on, scan your park entry ticket, and get a second physical card that tells you when to come back for speedier entry to the ride. Repeat that for every ride you want to go on.
If you opt for the MaxPass – $22 per day, per ticket, or a $145 add-on to your annual pass – you'll be able to use your smartphone to create digital FastPasses for any supported ride from anywhere in the two parks. It's incredibly convenient.
So much so, you won't be able to imagine life without it once you have it. I love being able to book new rides while I'm standing in line for something else (typically a snack, but potentially another ride entirely).
The MaxPass comes with some caveats, of course. First, you have to actually enter the park before you can start picking rides you want to digitally FastPass. You're also subject to the same time restrictions as a regular FastPass, so don't assume you can fast-fingers up FastPasses for your 13 favourite rides in one go on your smartphone. You'll also want to make sure you've linked your (and your travel companions') tickets to your devices, so you can all plan your next ride together.
Also, don't forget that the MaxPass also gives you unlimited downloads of any pictures taken using Disney's Photopass service that day. In other words, let the Disneyland photographers scan your device once they've taken an awesome photo (or several) of your trip, and you'll be able to download everything you did that day once you're back at the hotel.
Mobile ordering is also your friend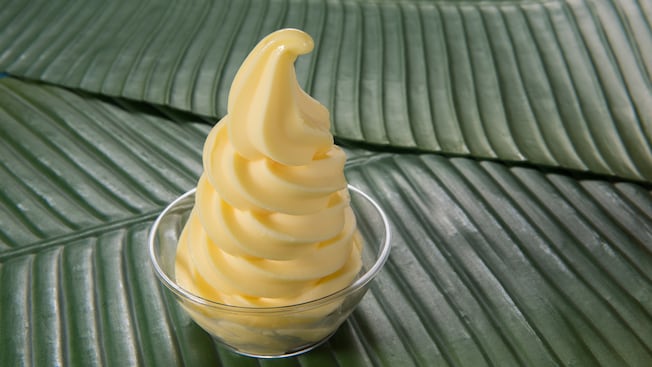 Disney" loading="lazy" > Photo:
Disney
A fun, free service Disney unveiled last year is a brand-new "mobile ordering" feature in the official Disneyland app (iOS, Android).
This is like a FastPass for your stomach. It's completely free for you to use, it allows you to prepay for your food, and it's a great way to maximise your time (and avoid crazy lines) if you're looking to grab something while you run off to another experience or ride. Not every food location at Disneyland supports mobile ordering, but plenty do.
Yes, that includes the Tiki Juice Bar, otherwise known as the Dole Whip Ride that sucks my wallet dry each trip.
The Play Disney Parks app is fun, but…
Play Disney Parks" loading="lazy" > Screenshot: David Murphy, (
Play Disney Parks
If you're looking to conserve precious battery power on your smartphone because you forgot your charging cable, forgot a portable charger, or would rather not spend your entire holiday staring at a screen, you can probably skip the Play Disney Parks app (iOS, Android).
This app is a fun way to pass the time, don't get me wrong. I do love some Disney trivia. It also checks you into rides automatically, so you can earn little achievements within the app for your travels (all done automatically via Bluetooth, another neat touch). It's not a necessity for your Disneyland experience—with one important caveat.
If you're visiting Star Wars: Galaxy's Edge, you should probably give the app a whirl. I say that, as stepping within the bounds of Batuu transforms the app's UI into a full-fledged Datapad, which you can use to interact with various parts of the land and participate in a big "us versus them" kind of a game.
It's not an insanely huge amount of fun, but it's more exciting than the app's regular UI and features. It'll be a great way to distract yourself when the throngs of people start flooding Star Wars: Galaxy's Edge today, now that Disney has turned off the reservation system to get in. Godspeed to all of you.
How about some tips for Star Wars: Galaxy's Edge?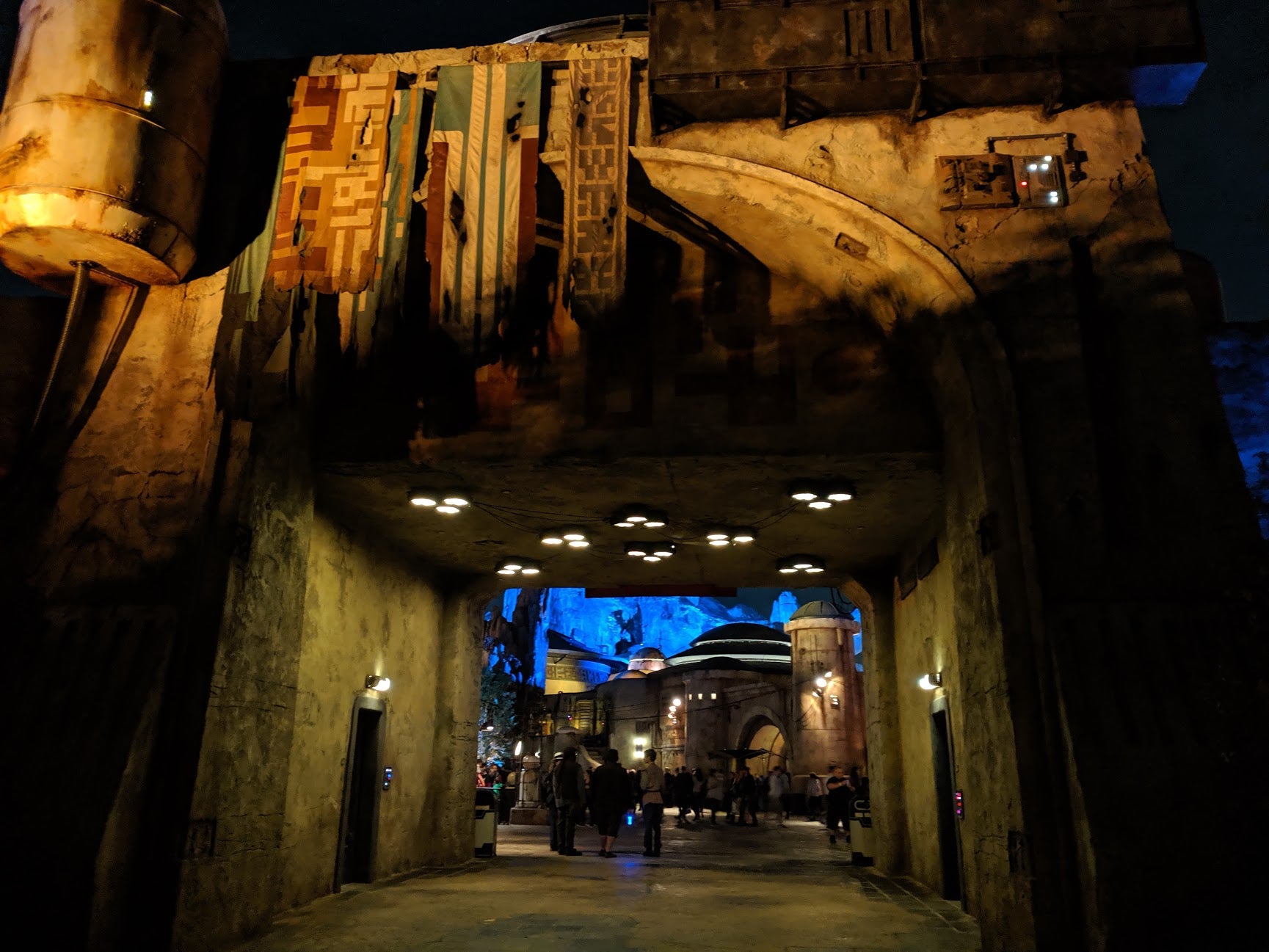 Photo: David Murphy
So, here's the thing. I had a great plan in place for when Star Wars: Galaxy's Edge first opened, and a clever combination of research and scouting out the area allowed me to figure out exactly where I needed to be, at what times, to do every single thing on my "can't miss it" list.
I was fastidious, but also a little lucky. That's all changing today, because Disneyland is opening up the land of Batuu to anyone who wants to attend. (Previously, you couldn't enter Star Wars: Galaxy's Edge without a reservation, which helped to keep the lines semi-manageable.)
Now that the land is open to everyone, the entire experience has changed somewhat. There are only two primary tips I can think of if you want to spend your day having fun instead of suffering hours in line—or, worse, doing only one or two things on your galactic adventure instead of everything you've been hearing about.
Go early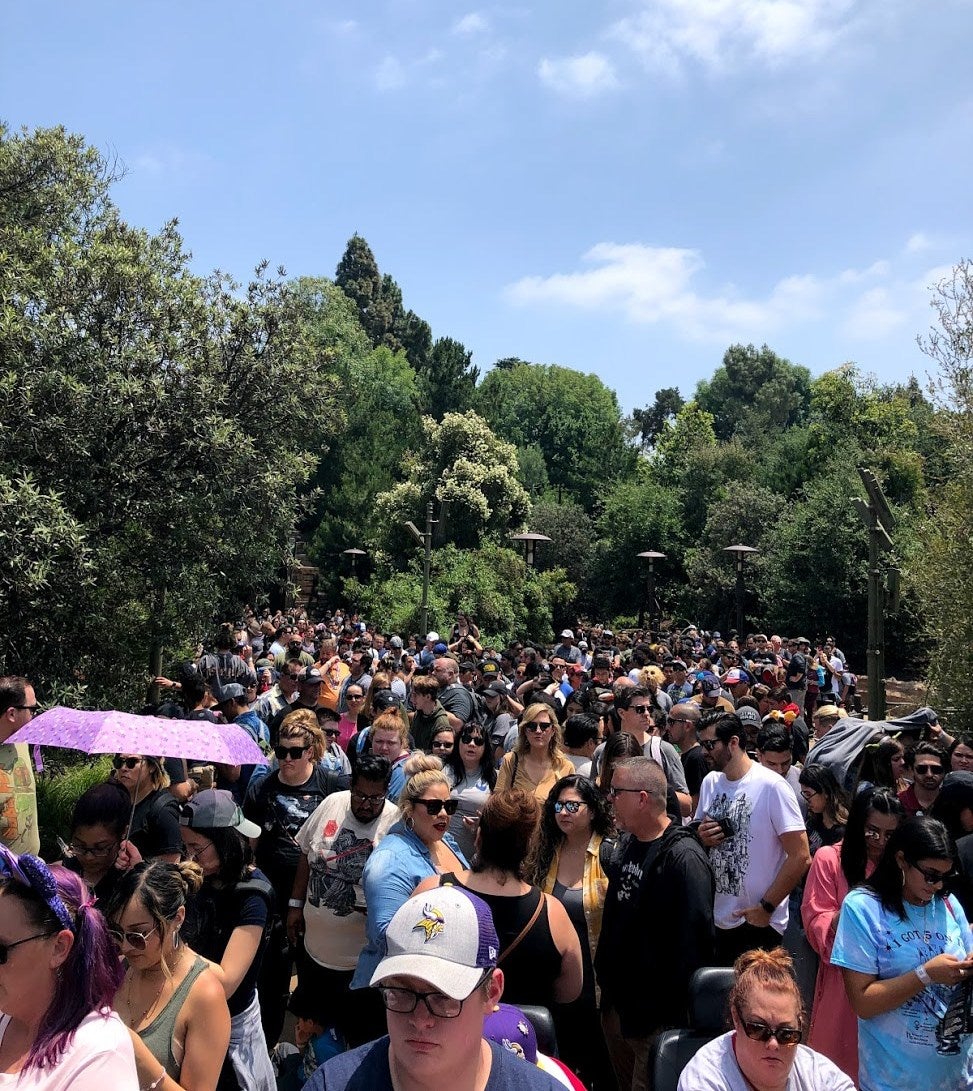 Part of the line to enter Star Wars: Galaxy's Edge on a no-longer-applicable reservation day. (Photo: David Murphy)
Every Disneyland veteran knows that the best time to get as much done in the park as possible is either at the crack of dawn or the very, very end of the day. Given that Star Wars: Galaxy's Edge is brand-new, I wouldn't trust that people are going to clear out later because they are sleepy. They (or their kids) might sleep in, however, which will give you a slight advantage.
Disneyland opens at 8am each day, and the park isn't letting anyone with "magic hours"—a bonus 7am start for staying in a Disney hotel—enter Star Wars: Galaxy's Edge. So, you're on the same equal footing as everyone else in line for the park.
Don't be a dick and sprint to Batuu (if you can even do that without getting yelled at). Instead, be smart, and start lining up for the main gate around, oh, 7:30am? 7am? Whatever your sleepy self is willing to tolerate, it'll pay off in terms of "awesome things you can do before everyone else."
Wake up even earlier and make reservations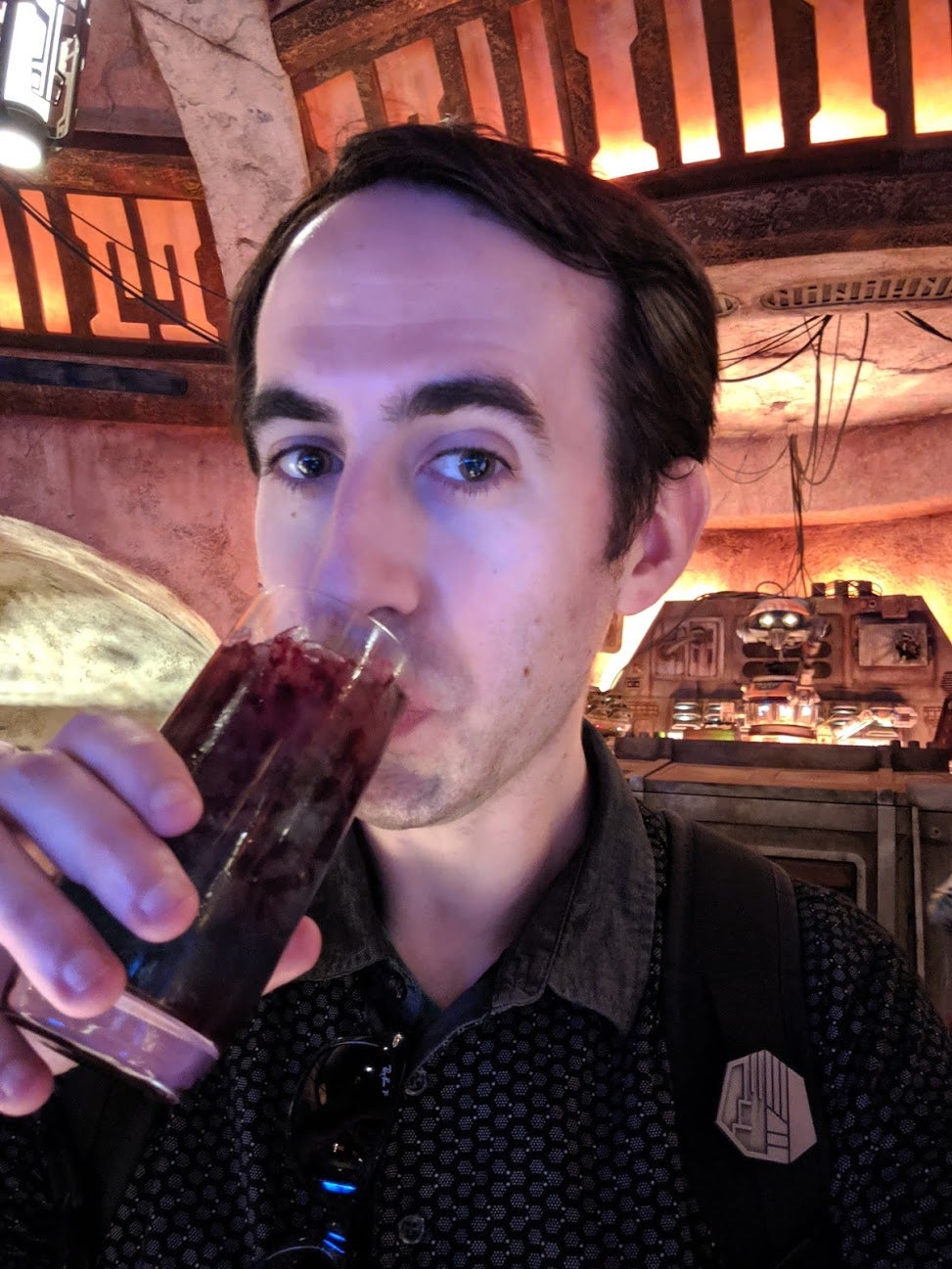 Insert Cantina song here (Photo: David Murphy)
If you want to build a lightsaber go to the scrap auction at Star Wars: Galaxy's Edge or enjoy a drink in the awesome Cantina, you're going to have to get on to Disneyland's website or the Disneyland app at 7am that day and hope you beat everyone else for a reservation slot.
As of when we wrote this article, there is no other way to queue for these experiences; there will be no standby line, nor any other way to get in. (Disney is even making you put down a deposit to show it's serious about the reservation process—skip your reservation slot, and you give up your cash.)
This reservation system has pros and cons. While it means you won't have to suffer long lines at either experience, there's also the possibility that you might not make it in to both (or either). That's not a big deal if you're a frequent Disneyland visitor, but it might ruin your day if you're only spending two days in the park on your holiday and you can't get in the queue. Those are the Disney breaks; it beats suffering 10 hours for a ride or drink, I suppose.
Also, if you get a reservation for either experience, that also serves as your "when you can enter Batuu" time, in case the area hits capacity (which it will) and Disney switches over to a reservation system for additional guests (which they will).
Keep your expectations in check
The cardinal rule of dealing with a brand-new addition to a theme park is simple: Don't freak out.
Star Wars: Galaxy's Edge is a beautiful addition to Disneyland that any Star Wars fan is sure to love. Will your geeky life be ruined if you can't book the Cantina this time around? If they sell out of thermal-detonator Coke? If you can't score a Spira gift card? No. It'll be disappointing; I'll give you that. But ruined? Batuu ain't going anywhere anytime soon.
Photo: David Murphy
Yes, the Millennium Falcon: Smugglers Run ride is very fun, and you should absolutely do it if you can. If the lines are insane, be smart; go do something else.
Disneyland in the summertime is unforgiving enough, but Star Wars: Galaxy's Edge? I'll praise the Ewok gods (The Great Spirit of the Forest) if I can even step into the land long enough for a Blue Milk, let alone anything else fun.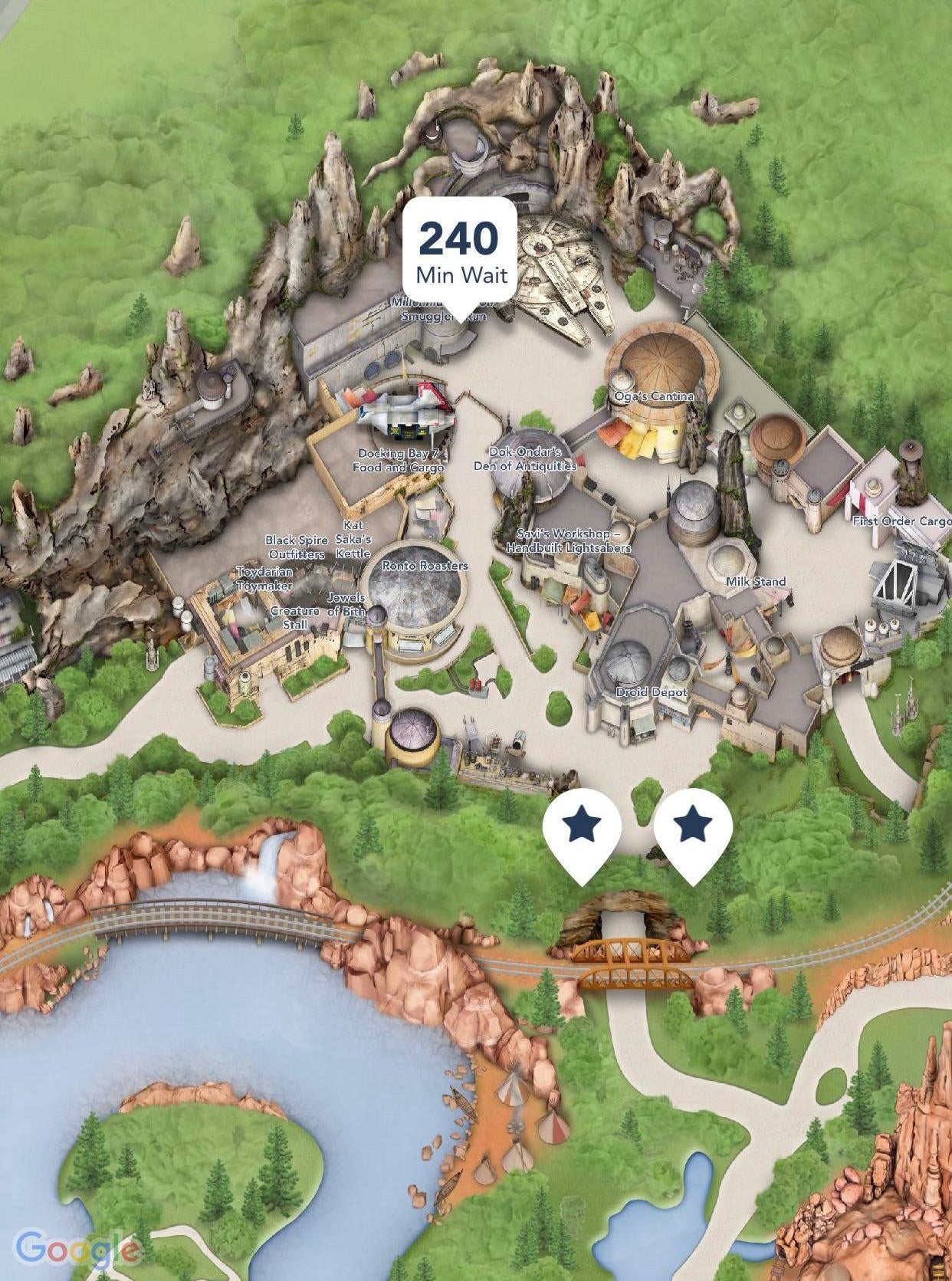 Reddit)" loading="lazy" > Image taken on June 24, right after the park opened Star Wars: Galaxy's Edge to everyone. Remember, anger (in line) leads to the dark side. (Screenshot: David Murphy,
Reddit
)
If this is one of your first trips to the park, don't have a miserable experience if (or when) the crowds get out of control. There are plenty more Disneyland adventures you can have, and you might even have a better experience than usual during months that are normally insanely busy, as everyone else will be wasting their day in Batuu.
For example, when I first visited the rival Wizarding World of Harry Potter in Orlando, lines were nothing short of insane for the Ollivander wand experience.
When I went back a few years later, it was still the same experience: same magic, same wand, likely a different actor playing Ollivander, but that's about it. The lines for the experience? Much more manageable.
I didn't shed a single tear for missing out on this the first time I went. You'll be fine, too, if you don't get that picture with Chewie this time around. (I didn't either.)