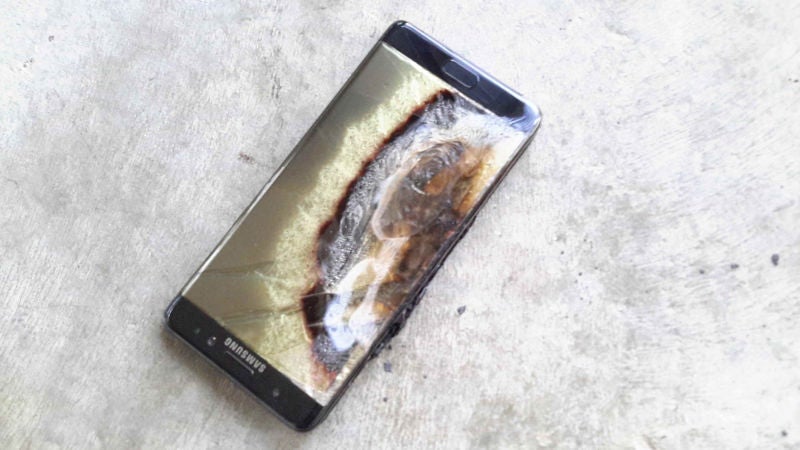 Image: Supplied
Dear Lifehacker, I purchased my Samsung Galaxy Note7 before the worldwide recall. According to the reports, the "exploding" issue has only affected a tiny, tiny fraction of customers. In Australia, there's been three incidents out of 50,000+ phones, which works out to less than one percent. I'm a big fan of this phone and want to keep using it. If I charge my phone on a fire-proof surface and keep a close eye on it, what's the worse than can really happen? Thanks, Note7 Lover
Dear NL,
For those who haven't been following the news, the Samsung Galaxy Note7 has been recalled and discontinued following a spate of incidents in which the device spectacularly burst into flames.
You're not the only Note7 customer who wants to keep their phone: multiple fans in the US have challenged Samsung to take the device from their cold, dead hands. Hot, dead hands would probably be a more appropriate motto.
We can't believe we need to say this, but you definitely need to stop using your Note7 — not tomorrow, not when you get a new phone, but right now. When a company issues a worldwide safety recall, you should absolutely heed their advice.
Seriously. The risk, however small, is not worth taking; especially when you can get a full refund with minimal effort. Imagine if your Note7 burst into flames and injured you or somebody you loved? You would only have yourself to blame. Plus, the phones have been known to spontaneously combust outside of charging situations, so it's not really something you can safeguard against.
There are also insurance issues to consider. If your phone caused significant damage to your property, your insurance provider would almost certainly attempt to void your claim. In other words, your Note7 could end up costing you tens of thousands of dollars.
In short, don't be a bloody idiot. There are plenty of smartphones on the market that are equal to the Note7. If you bought it through a telco, they will be happy to swap you over to a new handset at no extra charge. If you bought it outright, take it back to the place of purchase for a full refund. The Note7 is dead. For your own safety, it's time to move on.
Cheers Lifehacker
Got your own question you want to put to Lifehacker? Send it using our contact form.