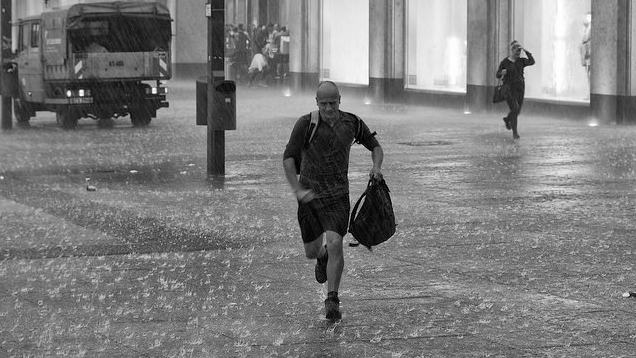 Rain is the worst running weather. Even intrepid athletes who head out in the snow can find themselves hiding indoors on grey days, mumbling about how rain gets in their eyes and soaks their clothes. But it's possible to thwart misery with a few smart choices, so you can turn heads as people say "Can you believe she's out running in this weather?"
Photo by Sascha Kohlmann
This list gives the key advice that I learned slowly and painfully through the years (and you're looking at someone who got kicked off a jogging trail, by police, because it was flooded. Why yes I had noticed the ankle-deep water, but I didn't want to miss a run and screw up my training schedule.)
Here's what you need to know:
Wear a baseball cap to keep rain out of your eyes. (Glasses or sunglasses can help too, but without a visor, the water will just drip down your forehead.) Nothing kills the fun quicker than having to run down a road with your eyes mostly closed.
Forget your snazzy running jacket. Many are "water-resistant," but take them out in an actual downpour and you'll end up soaked. Unless yours is truly waterproof, it's better to buy a cheap plasticky jacket that will actually keep the rain out. (Stash it in your car or gym bag for emergencies.) Better to sweat a little while keeping your body warm and sort of dry, than to get saturated in cold rain.
Use lube. Even if you don't need the Bodyglide on dry days, wet clothes chafe worse than dry ones, so if you'll be out for more than a few miles you'll probably want to put that extra barrier (Vaseline works too) anywhere your clothes or shoes might rub.
Check out the full list at Runner's World for more rainy running tips, including the best kind of socks to wear, and why the colour of your pants matters.
How to Dress for Rainy Runs [Runner's World]