Dumplings are a perfect food, but there's always room for some spirited modification, like switching out the wrapper. By substituting the flour wrapper for something more protein-centric, you can make dumplings that are friendly towards the gluten-sensitive, folks minimizing their carb intake, or anyone who needs to use up some extra egg whites.
A dumpling is essentially a doughy morsel, and in this context, one that is filled with meat or vegetables. While wrappers are usually made with flour, we're going to be swapping all that out for a thin egg dumpling skin. You can use thinly fried whole eggs, or make things easier (and fat-free) with egg whites.
How to make egg white wrapper dumplings
I've been feeling under the weather, and the idea of cracking eggs and whisking them felt like a daunting task. Instead, I bought a carton of pasteurized egg whites. They're already homogenized, and all I had to do was open the spout. If you're using freshly separated whites, whisk them briefly before cooking.
Melt a small amount of butter in an eight-inch or six-inch frying pan over medium-low heat. You need just enough butter to lightly coat the bottom of the pan, so the amount may vary, but it should be roughly 1/4 teaspoon. Pour two to three tablespoons of egg white into the pan and swirl it around, so the egg covers the bottom. It should be a very thin layer of egg; depending on your pan, you might need more or less egg. Allow it to set and cook completely, loosen the edges, and flip it. Remove the thin egg wrapper from the pan and place it on a piece of parchment paper. Repeat this about eight times, or for as many dumplings as you want, placing parchment between each wrapper.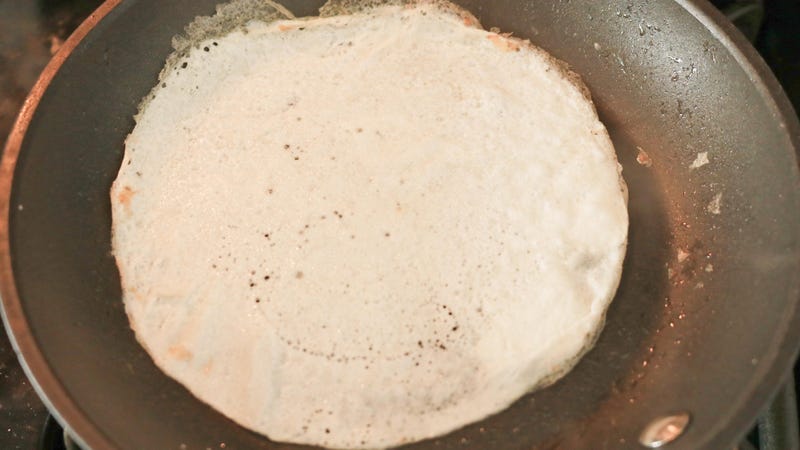 Prepare your filling in a medium mixing bowl. My dumplings sport Thai flavors with chicken, pork, ginger, and chilis, but you can fill these yours with almost anything, like mushrooms and onions, tofu and cabbage, or minced shrimp and chives. You'll need about 1 1/2 cups of filling for eight large dumplings.
Add a half-inch of water to a large pot or wok that has been fitted with a steamer basket. I did a steamer on a steamer, which seems silly at first glance, but I wanted to use the bamboo basket and I needed to keep it hovering above the water. Make sure to line your steamer. (If you're not sure how to line a bamboo steamer, read here.)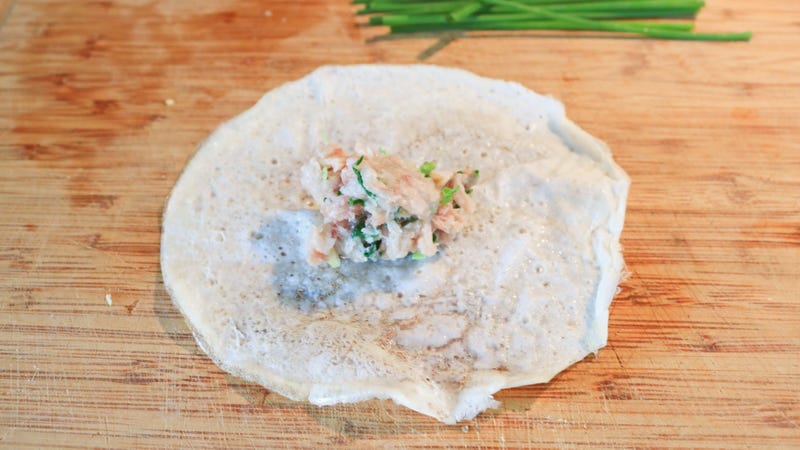 Take one egg white wrapper and place a tablespoon of filling into the center. Gather the edges up and over the filling, pleating as needed, to make a little purse.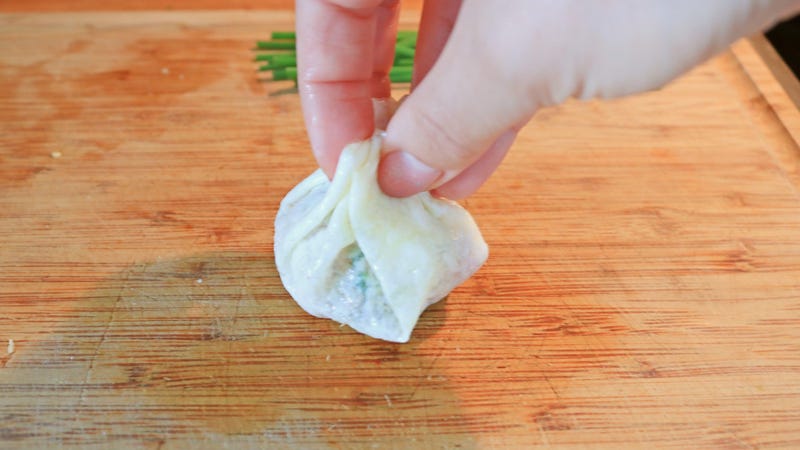 Loosely tie a chive around the top to hold the parcel together and place it in the steamer. If that sentence sounded absolutely absurd, I understand. My clumsy ol' fingers tying a single chive? You'll need a long chive. I only could find pre-trimmed chives from ShopRite, which were too short and I only managed to tie one dumpling. It looks cute, but let's be honest–it's a no. If you can't find sufficiently long chives, you can use a toothpick to stab through the pleats just fine. It's fast, it holds, and it acts as a little handle, for when you want to remove the dumplings from the steaming pot later.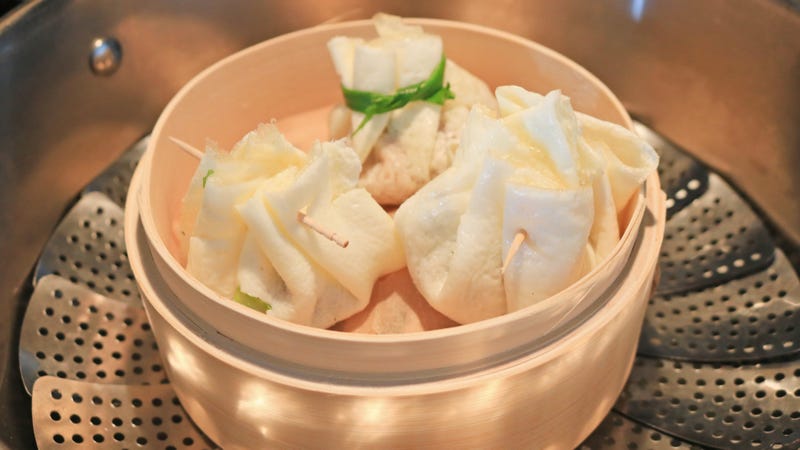 Once your steamer basket is filled with dumplings, cover the pot with a well-fitting lid and turn the heat to medium, until the water begins to boil. Bring the temperature down slightly to medium-low. The water should still be boiling. Steam the dumplings for 10 to 15 minutes, until the meat is cooked through.
Serve your flourless dumplings immediately with soy sauce, sweet chili sauce, or any other sauce that compliments the flavours. The following recipe is for the chicken and pork filling I used above.
Chicken and pork dumpling filling
What you'll need:
4 ounces ground pork
4 ounces ground chicken
3 tablespoons finely chopped cabbage
1 tablespoon finely chopped chives
1 tablespoon finely minced fresh ginger
¼ teaspoon salt
A pinch of white pepper
1 tablespoon soy sauce
½ teaspoon fish sauce
1-2 Thai chilis finely minced
Directions:
In a medium mixing bowl, combine all of the ingredients.
Wear gloves and use your hands to prevent overmixing, and to keep the chili pepper's capsaicin off of your fingers.
Use this filling to fill flour or egg white dumpling wrappers.