Hollandaise sauce is a pillar in the condiment community (along with its fellow mother sauces), but it can be intimidating to make. The classic method requires specific timing and specialised equipment (do I own a double boiler?), and it's all too easy to break. Well, I've done some breaking of my own–breaking the rules, that is. Forget what they told you, and make life easy with reverse hollandaise.
What is hollandaise sauce?
Hollandaise is made with four ingredients: egg yolks, lemon juice, butter, and salt. The traditional method would have you whisk the yolks and lemon juice over a double boiler (here's a makeshift one you can use at home) and constantly whisk while dribbling in melted butter to emulsify the simple mixture into a pale, smooth, and creamy sauce. Whisk while controlling a hot bowl that's surfing on a pot of simmering water and accurately pouring melted butter with your non-dominant hand. No wonder it's common to ruin this sauce in its infant stages.
If you don't whisk fast enough or don't pour the fat slowly enough, the fat particles can gather together and separate from the other ingredients, making the mixture "break" and look greasy. Sure, there's the blender method to help prevent breaking, but the eggs stay raw (no, not even drizzled hot butter will actually pasteurize those yolks, maybe sous vide them first). Additionally, I find the volume isn't quite as impressive, and some folks simply don't vibe with raw yolks. That's where you can rely on reverse hollandaise. The yolks are already cooked.
How to make reverse hollandaise
I love this method because you don't have to worry about the melted butter breaking the emulsification, you end up with a seriously silky sauce, and it's much less stressful than the double boiler method. After trying out a cooked-yolk thickened salad dressing, I was confident I could make hollandaise sauce the same way. Instead of whisking the raw yolks slowly over a double boiler to cook while simultaneously suspending the particles, you start with pre-cooked yolks that get pulverized into a fine powder. Those bits still emulsify, leading you to the same end: a smooth, golden 'daise.
Reverse hollandaise is a technique, so if you have a recipe you already like, you can keep the rest of the ingredient list. I used Tyler Florence's recipe. Start by hard boiling four eggs in whichever manner pleases you. I steam my eggs, it takes about 12 minutes, and they peel like a dream every time.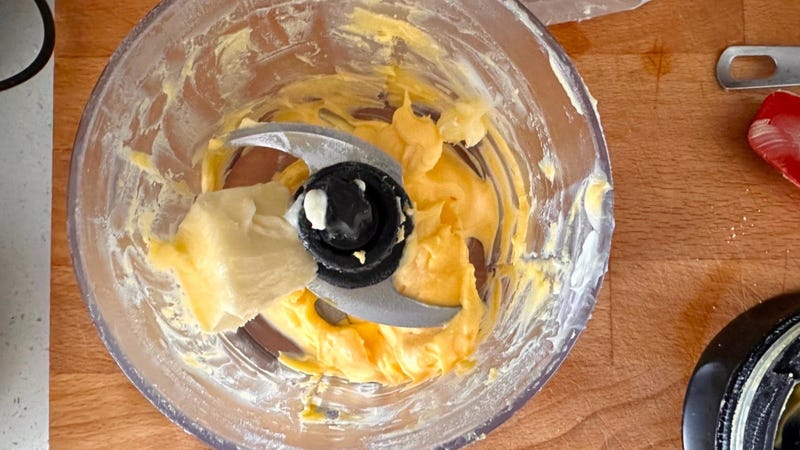 Remove the yolks and add them to a food processor or blender. Add the lemon juice, salt, and half a stick of melted butter. (The other half of the butter should be very soft, and waiting in the wings.) Pulse and blend until smooth. Scrape down the sides and the bottom. Add two tablespoons of the very soft butter. Blend until smooth, and scrape down the container again before adding the last of the soft butter. Blend the heck out of it until it's fully combined.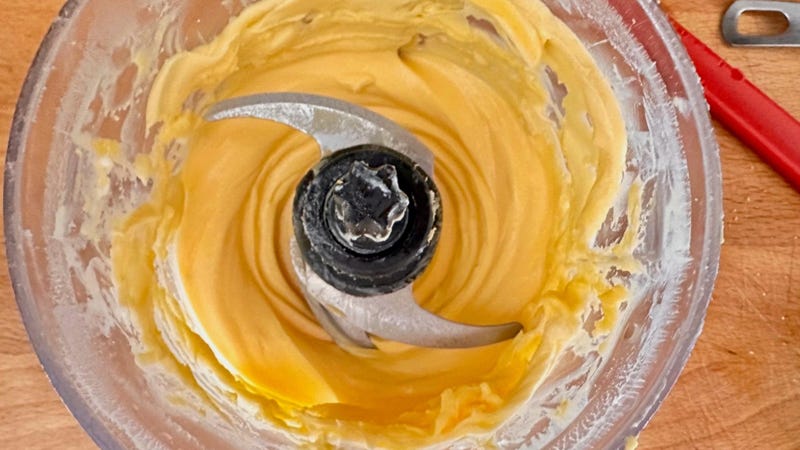 I start with melted butter just to get the mixture to catch in the processor, but the second half of the butter should be soft. By using softened butter for the end of the recipe, you avoid breaking the emulsification.
Since hollandaise sauce is mostly butter, it's pretty normal for it to thicken as it sits and cools down. To loosen it up for serving, stir in a small amount of hot water; about a half-teaspoon to a teaspoon will do.
Reverse Hollandaise
What you'll need:
4 hardboiled egg yolks
1 tablespoon lemon juice
¼ teaspoon salt
½ stick of butter, melted
½ stick of butter, very soft
Directions:
In a food processor, add the yolks, lemon juice, salt, and melted butter.
Blend until smooth, scraping down the container halfway through.
Add a couple of tablespoons of the softened butter and blend. Scrape down the container and add the rest of the butter. Blend until thoroughly incorporated.
Stir in half a teaspoon of boiling water to loosen up the sauce for serving.
---
The Cheapest NBN50 Plans
Here are the cheapest plans available for Australia's most popular NBN speed tier.
At Lifehacker, we independently select and write about stuff we love and think you'll like too. We have affiliate and advertising partnerships, which means we may collect a share of sales or other compensation from the links on this page. BTW – prices are accurate and items in stock at the time of posting.