When I was a kid, my mom would occasionally make chicken satay. This herby, nutty, spiced "chicken on a stick" was a favourite of mine and my siblings. Sadly, satay was only for special occasions (and, being the youngest, I still harbour a suspicion that I didn't get as many as they did). Happily, these days I can make it for myself.
I take a cue from traditional satay chicken recipes, but switch things up with bolder, spicier Thai curries. And the easiest Thai chicken skewers ever are made with premade curry pastes. It's the snappiest way to add a massive amount of flavour without breaking out the mortar and pestle.
What do Thai curry pastes taste like?
There are a variety of Thai curry pastes, but, generally, they consist of ground up chiles, lemongrass, makrut lime leaf, shallots, garlic, and salt, with an array of other aromatics, spices, or shrimp paste on deck, depending on the dish being made. These pastes can be mixed with coconut milk to make a looser curry for meats and vegetables. Their aroma is spicy and herbaceous, and the flavour is that times ten. The curries that include coconut milk have an appealing richness that cuts through the spice with welcome creaminess.
The preparation of the curry paste ingredients is usually where people pause. To make it traditionally, you grind up the ingredients by hand with a large mortar and pestle until you achieve a fine paste. (It's a process). Some folks use a blender or a food processor, which works, but sticklers will tell you it's not the same. These folks might also have a less-than-favourable opinion about what I'm going to tell you next.
Make easy Thai chicken skewers with premade curry paste
There are a lot of great prepared Thai curries readily available that even we Thai folks use when we want to skip the upper body workout, and you can totally use a prepackaged curry to make great chicken sticks. The following chicken skewers are meant to be quick appetisers or an easy, hand-held side dish for your cookout.
To prepare them, use raw chicken tenders sliced in half lengthwise. (It's a better chicken to spice ratio, and they cook twice as fast.) Marinate them in the curry paste for about an hour, or overnight in the fridge (well-covered, because the fragrance is strong) before you weave them onto skewers. I made mine in the oven, but I'm certain they would be deliriously good cooked on the grill.
---
Some of my favourite Thai curry flavours:
---
We use cans of Maesri Thai curry in my home, but you can certainly try other brands, like Mae Ploy. Most supermarkets keep them in the "international" aisle, or you can find them at Asian markets. Keep in mind the spice factor ranges widely. They all have chiles in them, but not all chiles pack the same heat. For a more mild spice, try masaman or red curry (this is what I used to make the skewers in the photo above). If you enjoy breaking a sweat at mealtime, try gaeng prik khing or green curry paste. And if you really enjoy unadulterated spice, omit the coconut milk and just rub the curry paste straight onto the chicken.
Easy Thai Chicken Skewers
Ingredients:
1 pound (450g) of raw chicken tenders (sliced in half lengthwise)
1-4 ounce (7g) can of Thai curry paste (any flavour)
½ can of coconut milk (room temperature)
Shake the can of coconut milk vigorously before opening. This will help mix the fat and water. Combine the coconut milk and the curry paste in a medium-sized bowl or a large measuring cup. Place the sliced chicken tenders into the curry mixture and give them a good stir to ensure even coating, and to separate any pieces that are stuck together. Cover and let marinate in the fridge for an hour or overnight. Stir occasionally.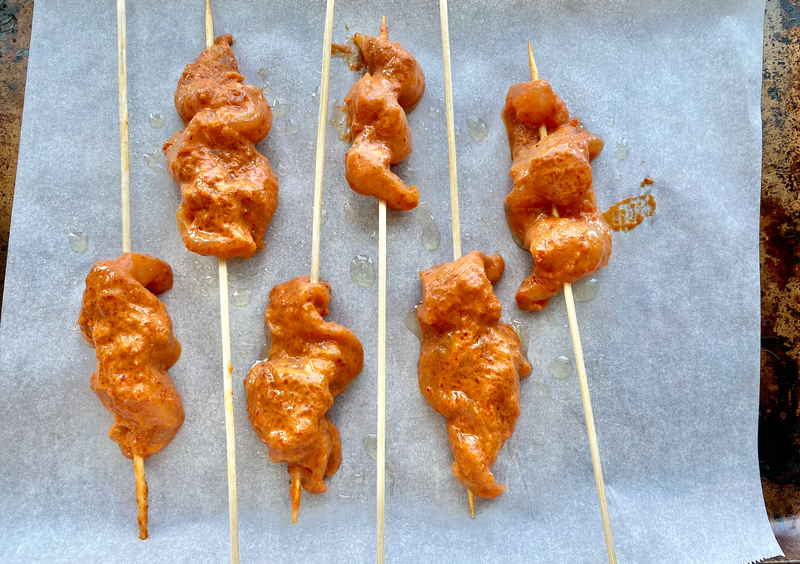 Line a sheet tray with parchment paper or foil and lightly coat with oil. While the grill or oven is preheating, thread the chicken onto skewers and place it on the sheet tray. Scrape the bowl and daub any leftover curry sauce onto the prepared chicken before the skewers hit the heat.
Bake in a 400°F (200C) oven for 30 minutes, or cook on the grill for about 10 minutes. Enjoy right off the stick or over a mound of steamed rice.
Lead image credit: Canva
---
The Cheapest NBN50 Plans
Here are the cheapest plans available for Australia's most popular NBN speed tier.
At Lifehacker, we independently select and write about stuff we love and think you'll like too. We have affiliate and advertising partnerships, which means we may collect a share of sales or other compensation from the links on this page. BTW – prices are accurate and items in stock at the time of posting.