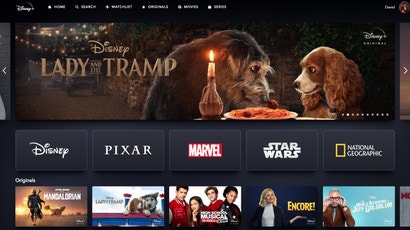 Screenshot: David Murphy
I spent a decent chunk of the weekend putting a dent into my Disney+ queue — thanks, 4K Dolby Atmos Star Wars movies — but my enjoyment of Disney's cheap streaming service is slightly dampened by the various films that are missing. (Disney's back catalogue contains thousands upon thousands of movies and TV shows, so it makes sense to hold some of it back.)
However, you can start getting your queue ready for missing titles right now, and Disney+ will even give you a hard date for when some are scheduled to arrive.
The key to all of this is finding the landing pages for movies that aren't currently available for streaming on Disney+ just yet. Search for them via whatever app it is you use to access the service, and you'll see them.
Not only will you get the exact date for when your favourite films will arrive on Disney+, but you'll even be able to add them to your Watchlist in advance. (While I don't think that means you'll get a notification when they'll available, at least they'll be easier to organise and find.)
This is more of an issue in the US, which is currently missing several Star Wars, Pixar and Marvel movies due to a pre-existing licencing agreement with Netflix. But if you have an old favourite that's currently missing from the service, it's good to know it will be appearing eventually.