This week we take the Seoul train to South Korea. Our sister site in the US has reached out to the readers and we've got the best tips on the city from locals and frequent visitors, and we put just a few highlights below.
First off, here's a great map guide " I love when people draw on maps " to the traditional village of Bukchon, depicted here overlooking the city's modern towers.
Eat and drink
"Ditch Garosu-gil and try Hongdae or Hannam for unique cafes. Special mention to Roof_And; they serve great chocolate drinks and buttery croissants." " Ansunie

"If you like animals, you'll love the various animal cafes throughout the city (cat cafe, dog cafe, misc animal cafe). The cafes tend to double as animal rescues, as these are animals that would likely be put down otherwise." " Kalian.

"Osulloc green tea spread is divine." " AlinJapan

"Try the Italian food; no joke." " Tufski

"If you're looking for interesting places to drink and dine that are a little off the beaten path, areas like the alleys of Neja-dong (near Gwanghwamun), Seochon (west of Gyeongbok Palace) and Ikseondong (near Insadong and Changdeok Palace) provide a range of small, intimate, and interesting places." " figbash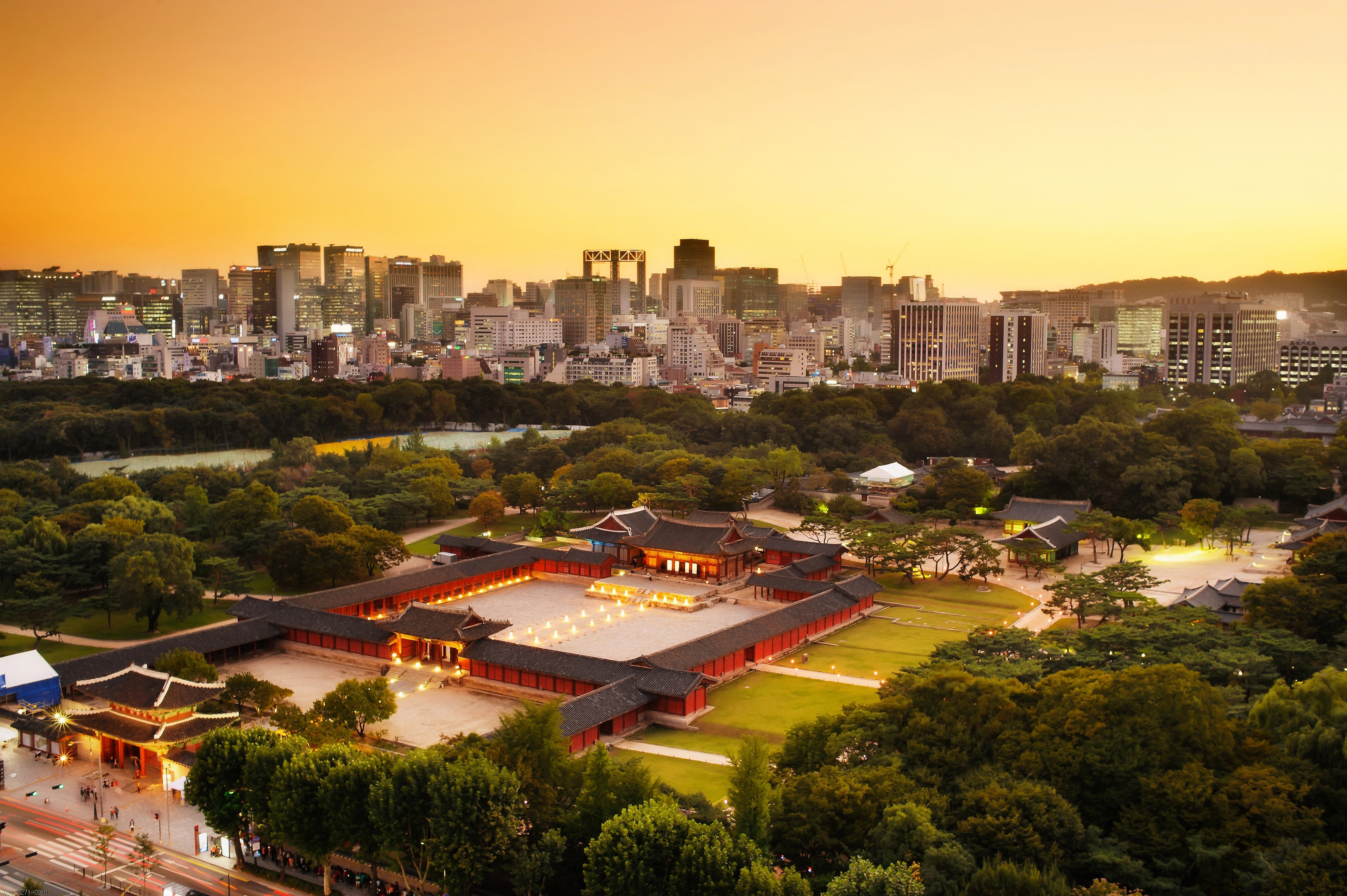 GoodFreePhotos)" loading="lazy" > Changdeokgung palace (Photo:
GoodFreePhotos
)
See and do
"Some other honorable mentions for places worth a visit: Lotte World (indoor mall and theme park), Building 63 (63 floor building full of stores, restaurants, and an aquarium; tallest building in S. Korea; they won't build bigger than this due to the threat of North Korea shooting it down with a missile), and Namsan (a mountain in the middle of the city and a popular tourist spot)." " Kalian

"It's easy to get lost in Seoul. Enjoy it. Go down that alley, you never know what neat place you are going to find tucked away somewhere. Don't worry about not finding your way back, you're never all that far from a subway stop." " Jasnah Kholin

"Cheonggyecheon Palace is great but definitely do the Secret Garden tour. You can't wander in the Garden on your own but it's worth it to see it with the mandated tour. If you can't wait for the English language tour, jump on the Chinese or Korean one; the place is still stunning." " Daejin

"The city has tons of green spaces. Public parks, and roof top gardens and playgrounds. You can spend days just looking for these. Most of the larger malls have them. There is a pretty nice aquarium in the Coex mall." " fallenshell

"Up-and-coming area: Euljiro district. It's an old district in north Seoul that is starting to get some interesting restaurants and cafes, but the Gangnam Instagram locusts haven't invaded it yet. Go to Mullae-dong for the live music scene that Hongdae's gentrification pushed out. Mapo, just outside of Gongdeok Station, is the area for Korean foodies that they don't want you to know about. Maloney's is the best dive bar if you just want to take a break and hear stories from the amicable long-time barflies." " ZenKimchi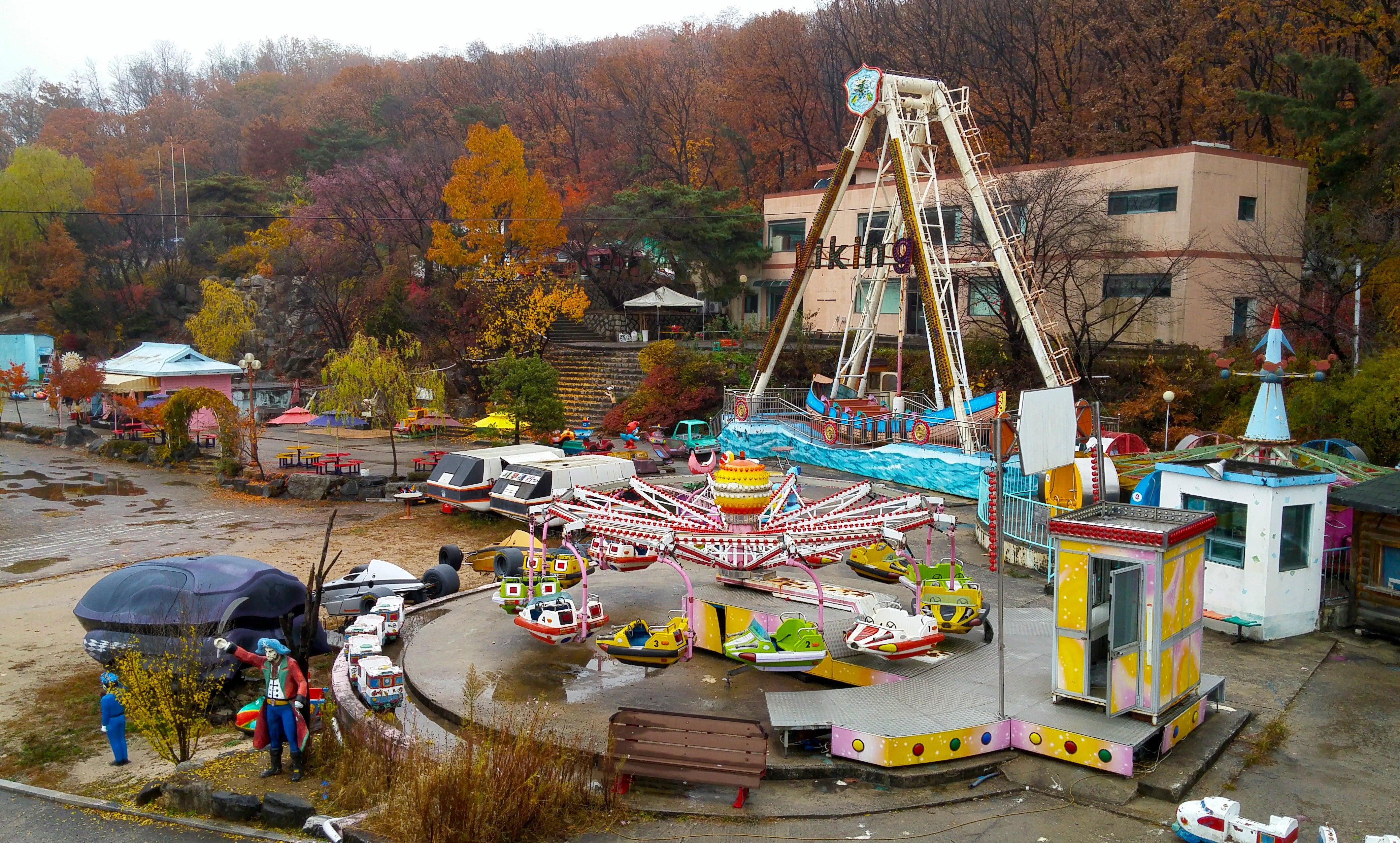 Christian Bolz)" loading="lazy" > Yongma Land, an abandoned theme park (Photo:
Christian Bolz
)
"A fun/weird thing to do if you have time is visit Yongma Land. It's a bit out of the way but for like $US5 ($7) you can wander around and climb all over an abandoned theme park. It's pretty fun if you like strange or kitschy things. And if you enjoy tacky, don't forget to visit the towering, bronze tribute statue to the song "˜Gangnam Style.'" " INowReallyMissTheOldKanye

"The nightlife in Korea is awesome and you can buy drinks and party until 7 or 8 a.m. If you are feeling a bit too partied out check out a "˜jimjilbang' which is like a public bathhouse. They are separated for men and women and feature different pools of hot water, cold water, swimming pool, snacks, sauna rooms, cold rooms (my favourite) and salt rooms. You change into robes that they give you and everyone sleeps on floor mats in a giant community room. It's quite strange but wow it's refreshing and best of all usually around $US8 ($11) to $15 USD ($21)." " sOLo

"After a long day of walk and sightseeing, being able to relax in a heated (or cold) bubbly bath is really great. Be sure to clean thoroughly yourselves in the shower before going in the baths as it is considered very bad manners if you don't." " Dimfacion

"If you go during baseball season, check out a game near the Olympic stadium. Korean baseball is an experience, a lot more crowd involvement than American baseball." " SCORCH1262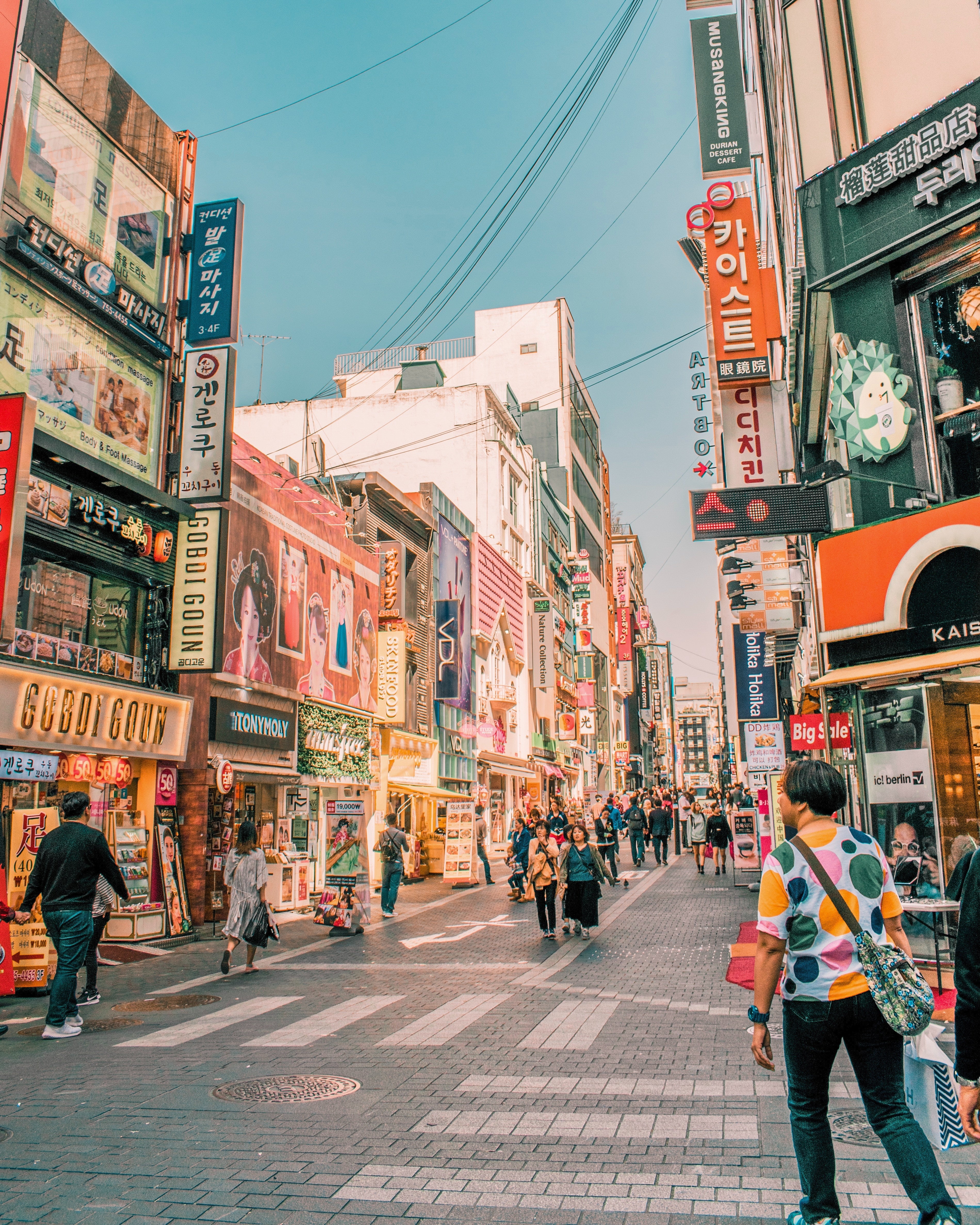 Cait Whittaker)" loading="lazy" > Myeongdong shopping district (Photo:
Cait Whittaker
)
Know and plan
"Ditch Google Maps while in Korea, particularly Seoul. Seoul is constantly changing and Google doesn't necessarily have great maps. Try using Naver Map or KakaoMap instead." " Jasnah Kholin

"Get a TMoney card from a convenient store (GS25, CU, 7-Eleven, etc) and load it at the closest subway station. TMoney can be used for subway, buses, taxis and more." " SCORCH1262

"If you're primarily interested in cultural and historic sites, find a place to stay north of the river. If you're here for K-pop and modern shopping, look for places in the south." " figbash

"The DMZ isn't worth it if you can't go to the Joint Security Area (JSA). Few tour companies offer it. The USO and Cosmojin do it, I know. The risk is that the JSA will get closed down for, well, security reasons. Without warning." " ZenKimchi

"South Koreans are overall super friendly, helpful and nice but also really aggressive in the way they navigate the city. They will not move out of your way even if it's obvious you're trying to get by so don't be afraid to push a little. They also will not flinch or expect an apology if you bump them (hard!) in the street." " INowReallyMissTheOldKanye
Get out of town
"The train is your friend. You can literally access nearby provinces and counties for as low as 4USD. If you want some nature spots, Gangwon-do is just an hour away via ITX (4-8 USD one way). Gapyeong, Cheongpyeong and Chucheon are great places to visit especially around spring and autumn." "Ansunie.
There are so much more from these same commenters, so go to the original thread and read them all.