Glucose syrup is gross. I guess it's ok in small quantities — say, to give homemade caramels a bit of chew — but it's too one-note to be a standalone sweetener. As such, I avoid it when I can.
Sadly, my love for pecan pie doesn't square with my distaste for glucose syrup. Treacly nut-and-custard pies really need some manner of sugar syrup for the filling — even my extremely anti-HFCS mum keeps a bottle of it in the cupboard for this purpose — but honey, maple syrup and molasses alter the flavour too much.
Enter golden syrup, an invert syrup made from cane sugar. It has a subtle caramel flavour and more sodium than glucose syrup, and provides some welcome complexity and balance. You'll never go back to glucose syrup once you've made a pecan pie with this stuff.
Here in Australia, you can find golden syrup at your local Coles. If you want the OG, go for it, but you can also make golden syrup at home basically for free. All you need is white sugar, water and a lemon.
Notes: As written, this yields about 2 cups of syrup. Double it if you need more. Once the caramel starts cooking, it goes fast, so have your ingredients all measured out and ready to go. Choose an easy-to-pour vessel for the boiling water, which you want to add gradually.
Ingredients
(For the base caramel)
50 g (¼ cup) white sugar
15 g (1 tablespoon) water
(For the syrup)
200 g (1 cup) white sugar
150 g (scant ? cup) boiling water
1 wedge lemon or 1 teaspoon fresh lemon juice, strained
Instructions
Bring a tea kettle of water to a full boil. Keep it as close to boiling as possible while you start the syrup.
Place the base caramel ingredients in a small saucepan and cook over very low heat, stirring to dissolve sugar. Once the sugar has dissolved, stop stirring and allow caramel to cook until golden brown.
It'll go from golden brown to smoking in the blink of an eye, so keep the heat low and watch it like a hawk. Mine cooked slightly too long and started to smoke, but turned out fine — as long as it doesn't turn black, you're OK.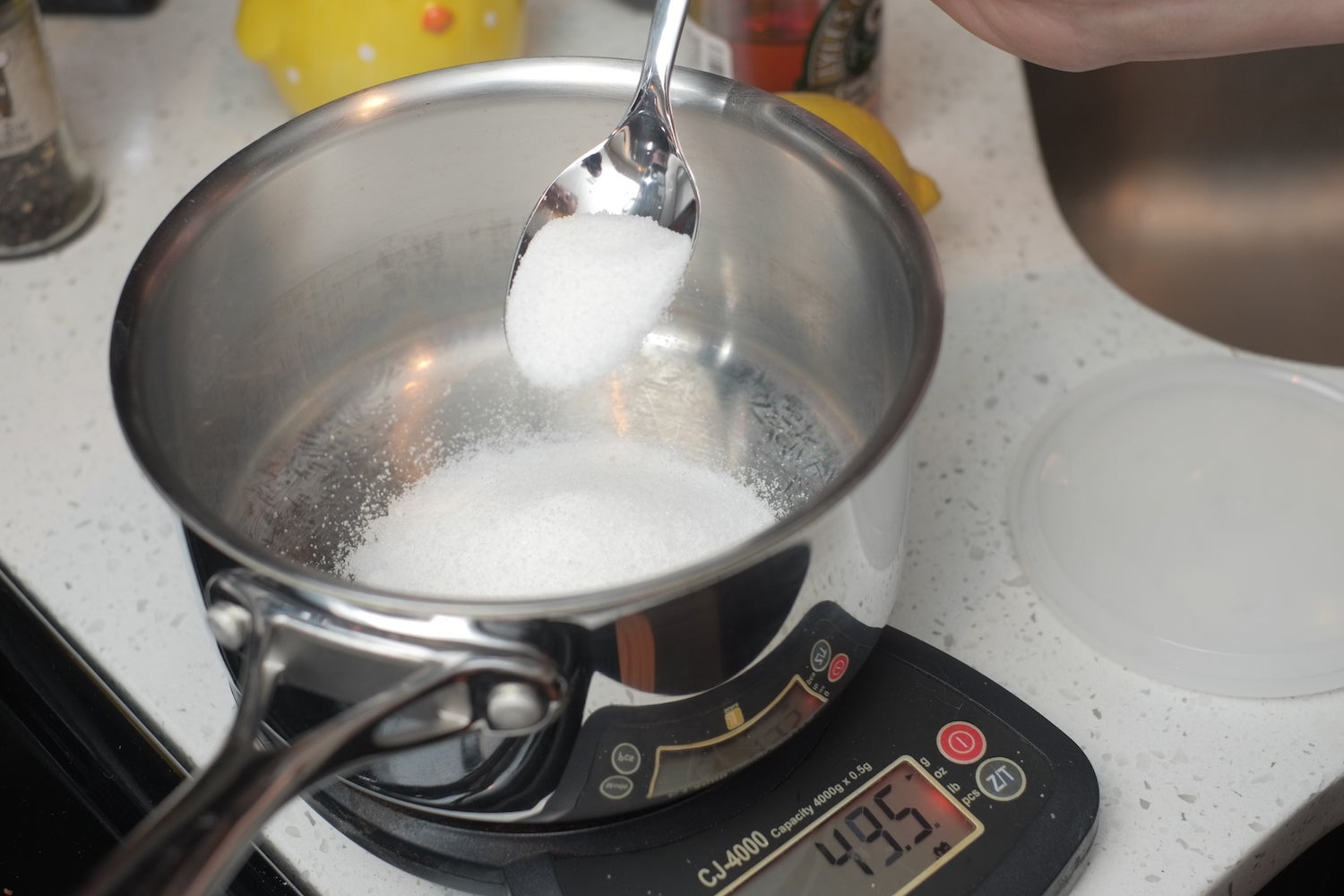 Add first portion of sugar and water to saucepan. (Photo by Thomas Lawn)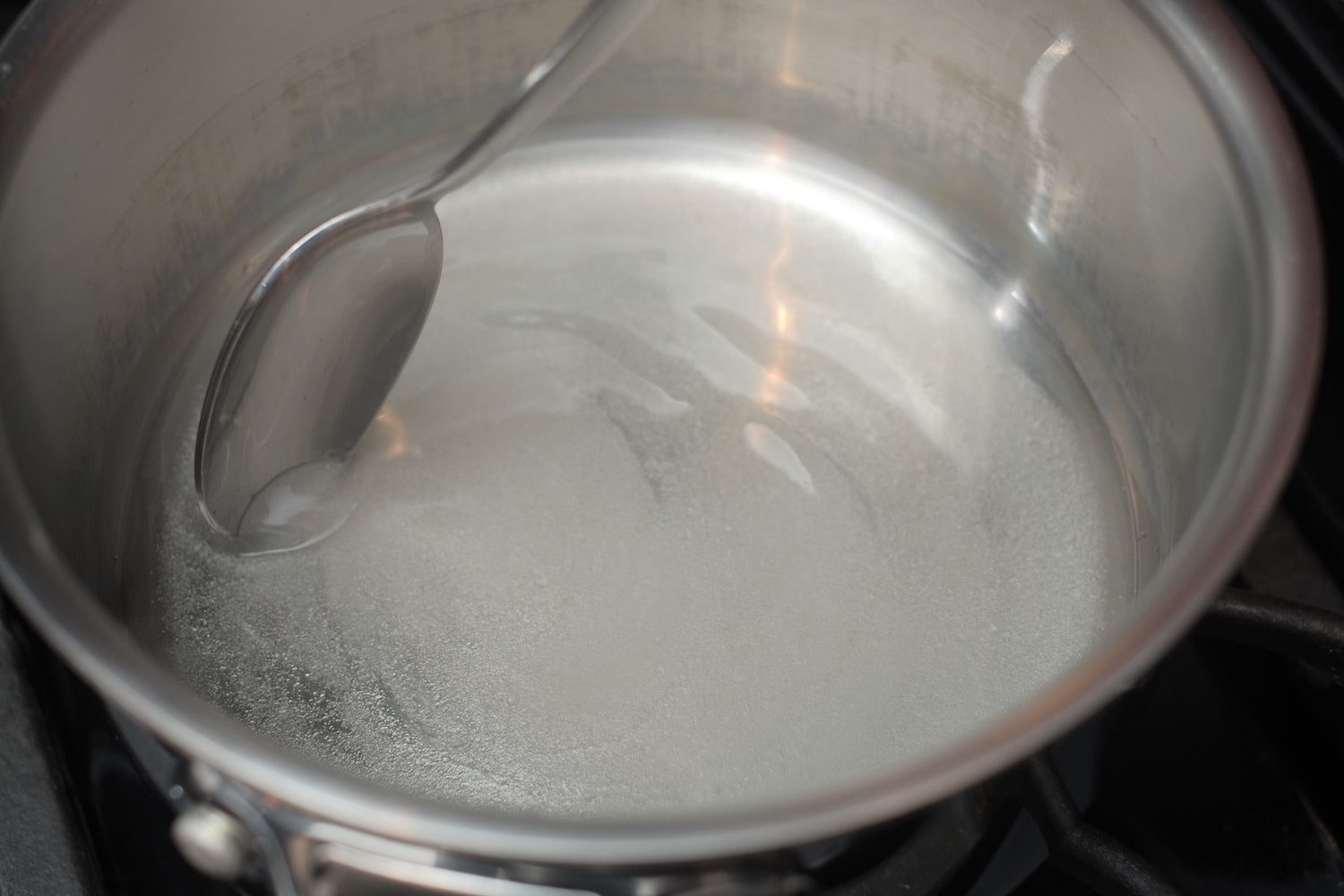 Stir to combine. (Photo by Thomas Lawn)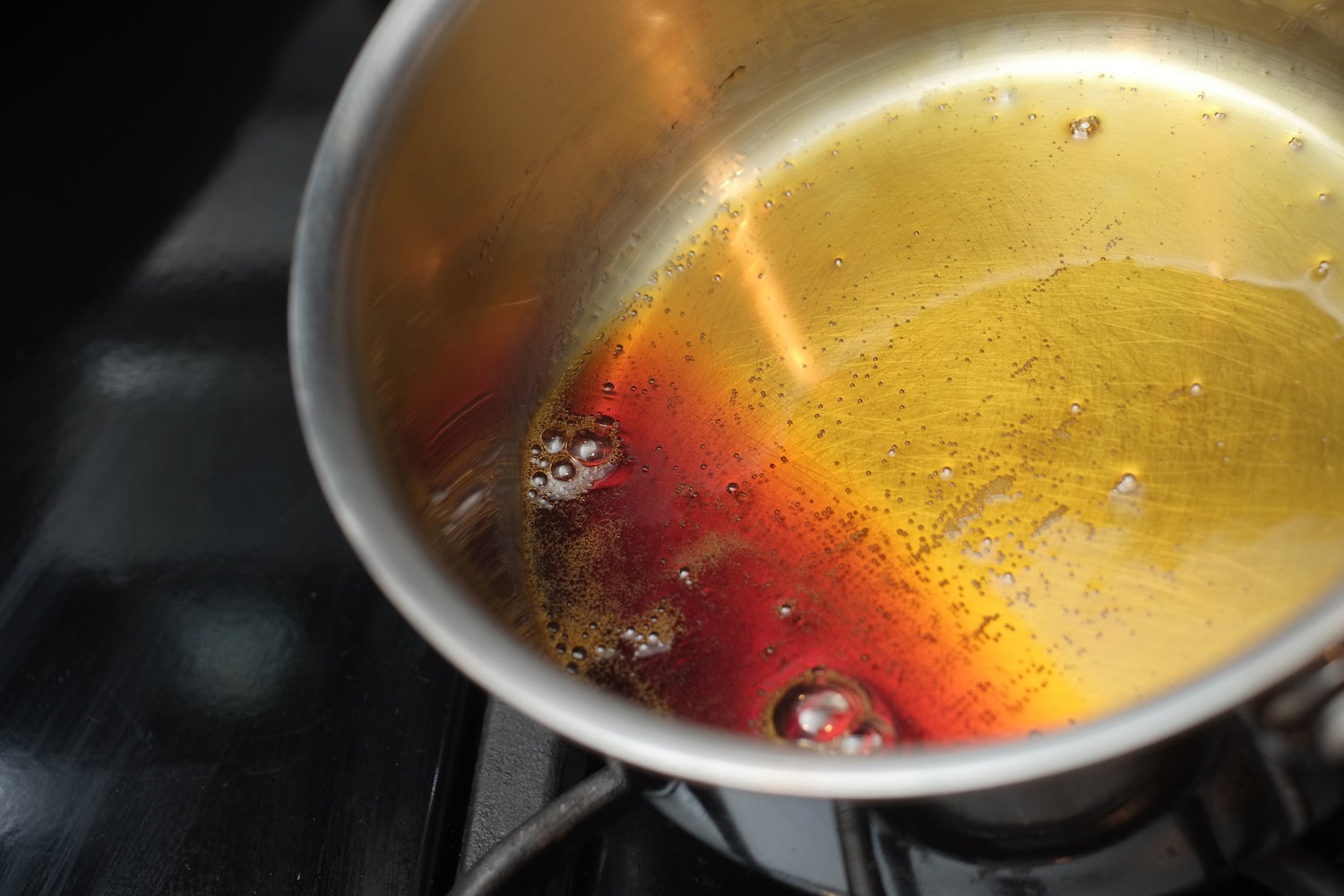 This is about what you're looking for—maybe a shade or two lighter, I let mine go a few seconds too long. (Photo by Thomas Lawn)
Measure out the boiling water into something easy to pour from. Add the rest of the sugar to the saucepan, then gradually pour in the boiling water. It'll bubble vigorously, so take it easy. Also, don't freak out if your caramel seizes a bit. This is just sugar and water, so everything will dissolve eventually.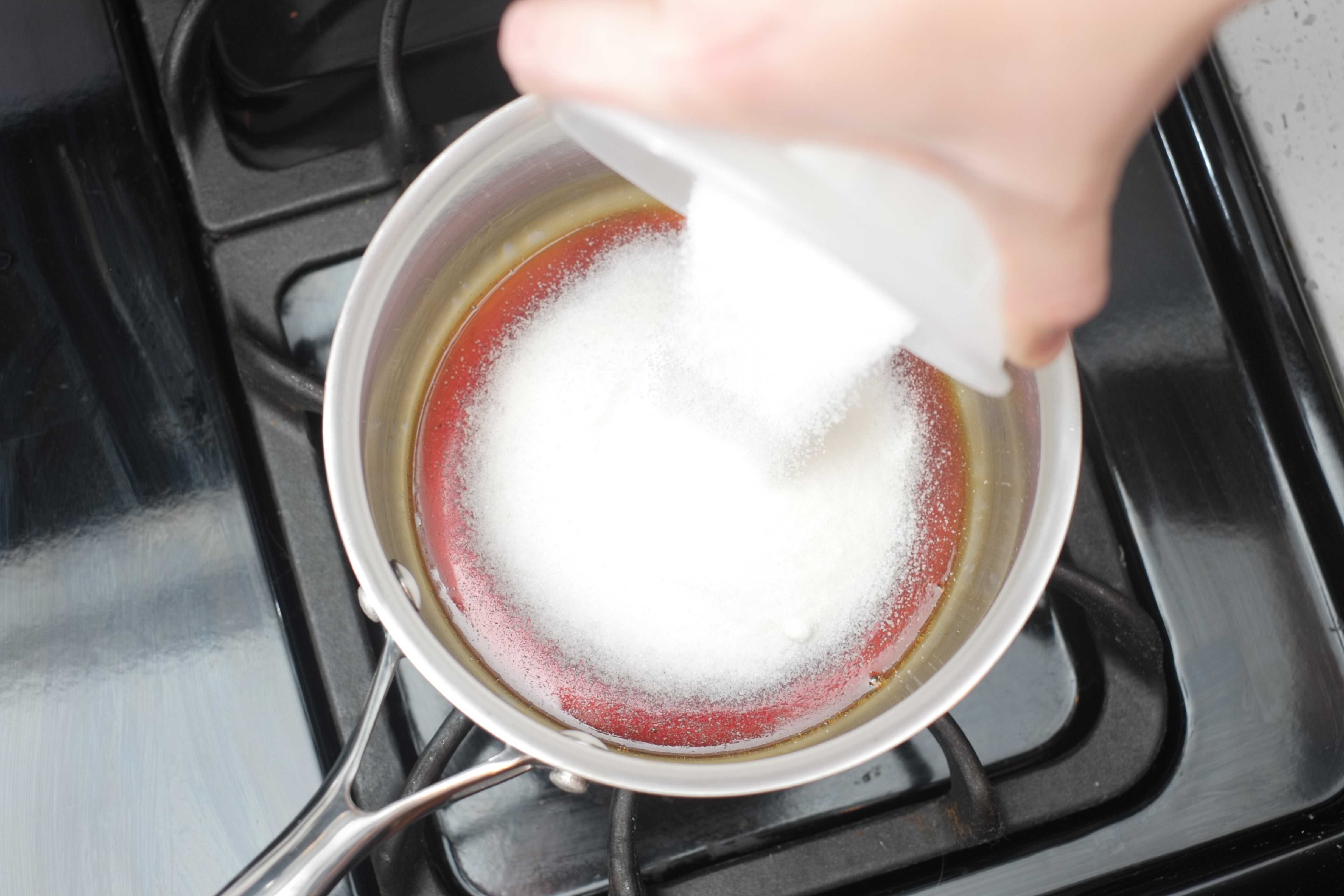 Add more sugar! (Photo by Thomas Lawn)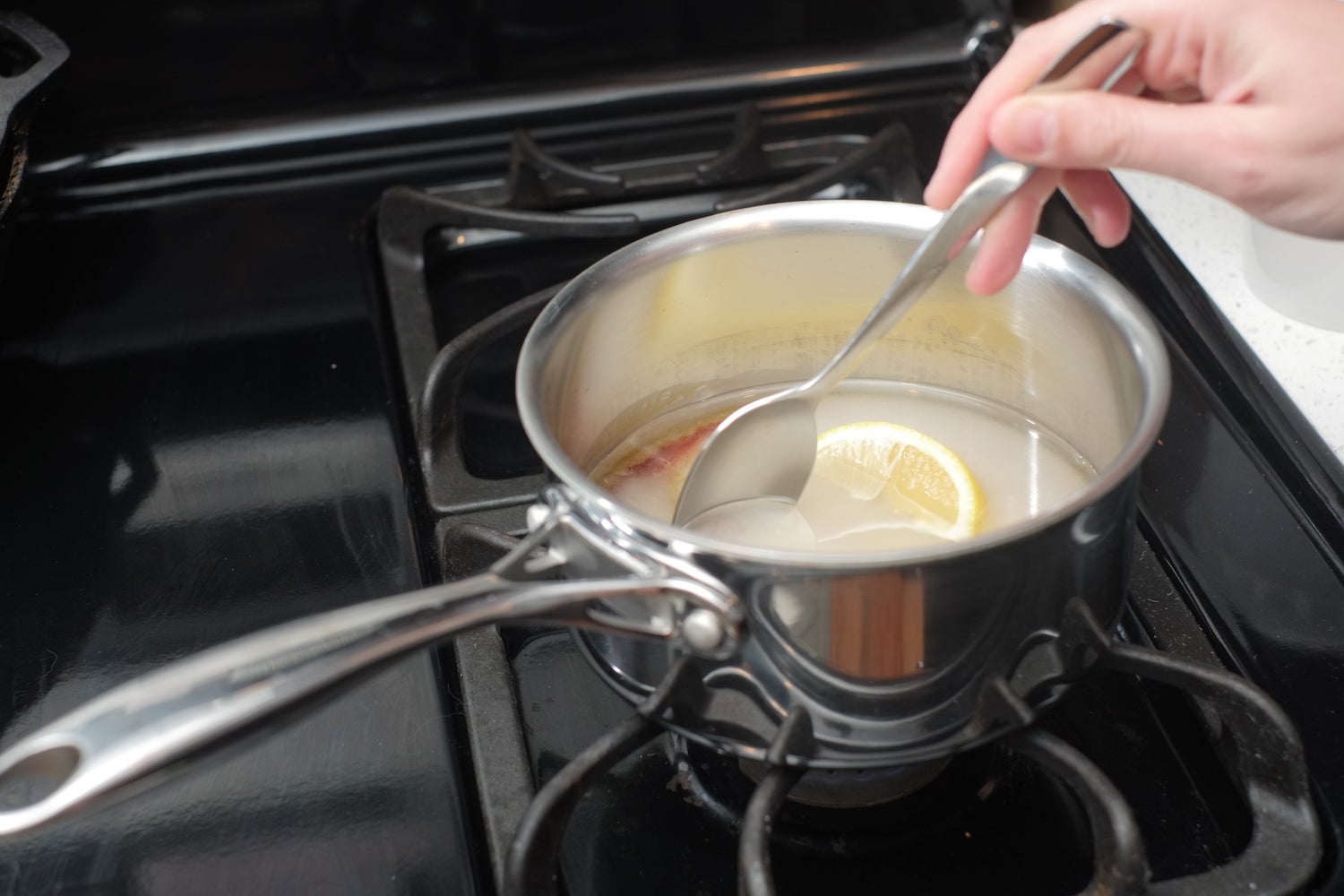 Gently pour in boiling water, then add the lemon. (Photo by Thomas Lawn)
Add the lemon wedge or juice and bring to a boil, stirring to dissolve the sugar. Reduce heat and simmer for 45 minutes. Remove lemon wedge and strain syrup into a clean storage container, cool overnight before using.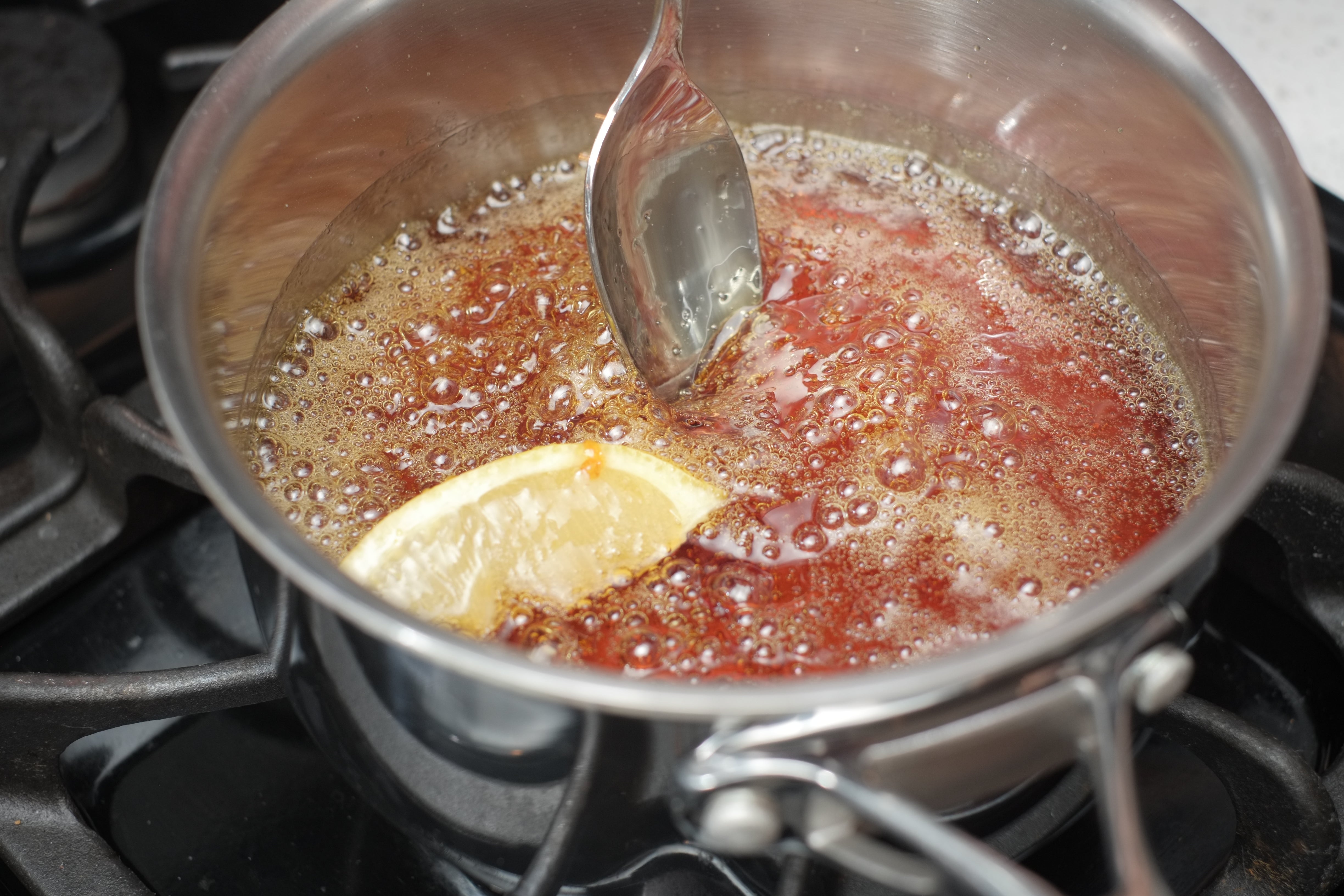 See? Everything dissolves, I promise. (Photo by Thomas Lawn)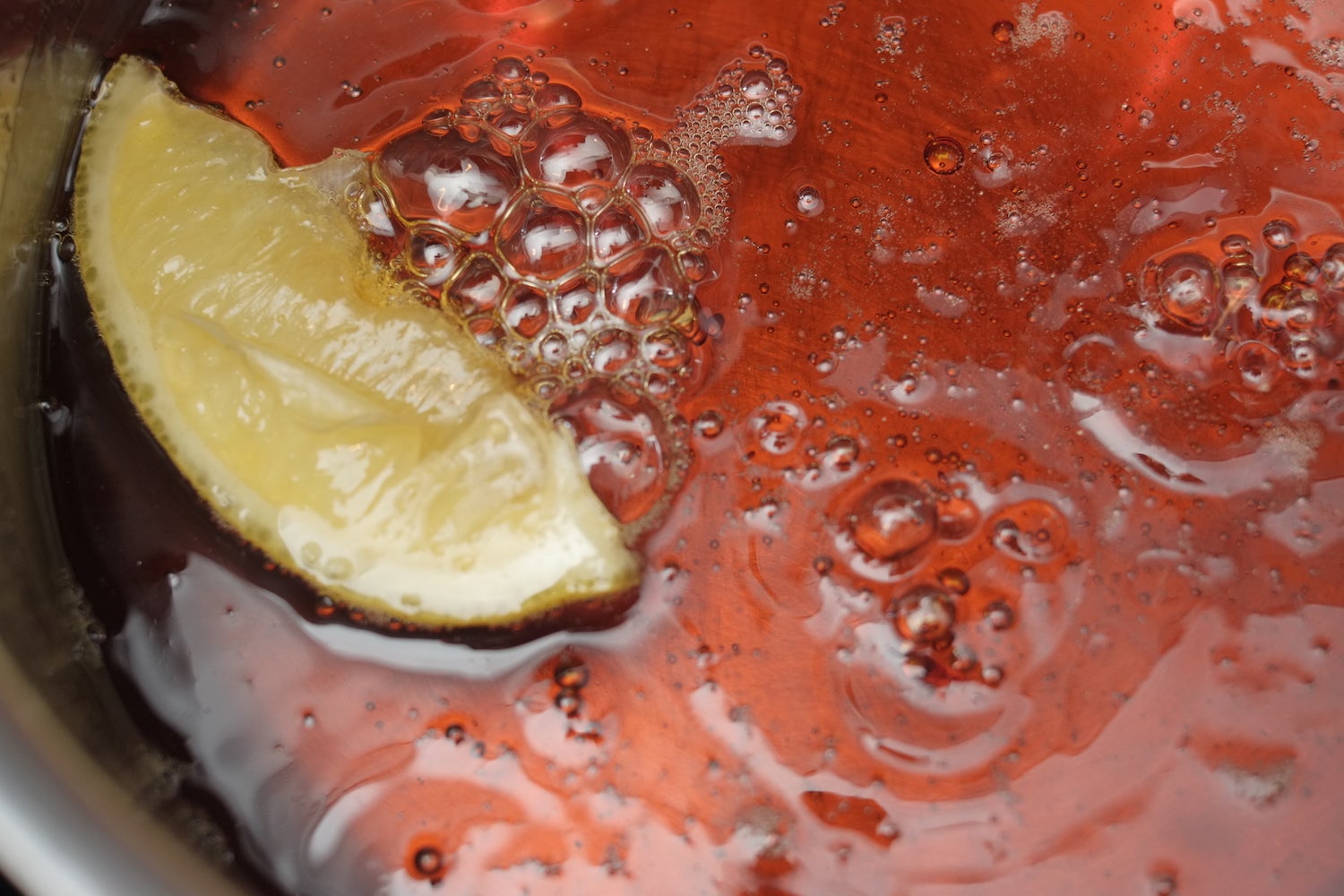 Simmer like this for 45 minutes. (Photo by Thomas Lawn)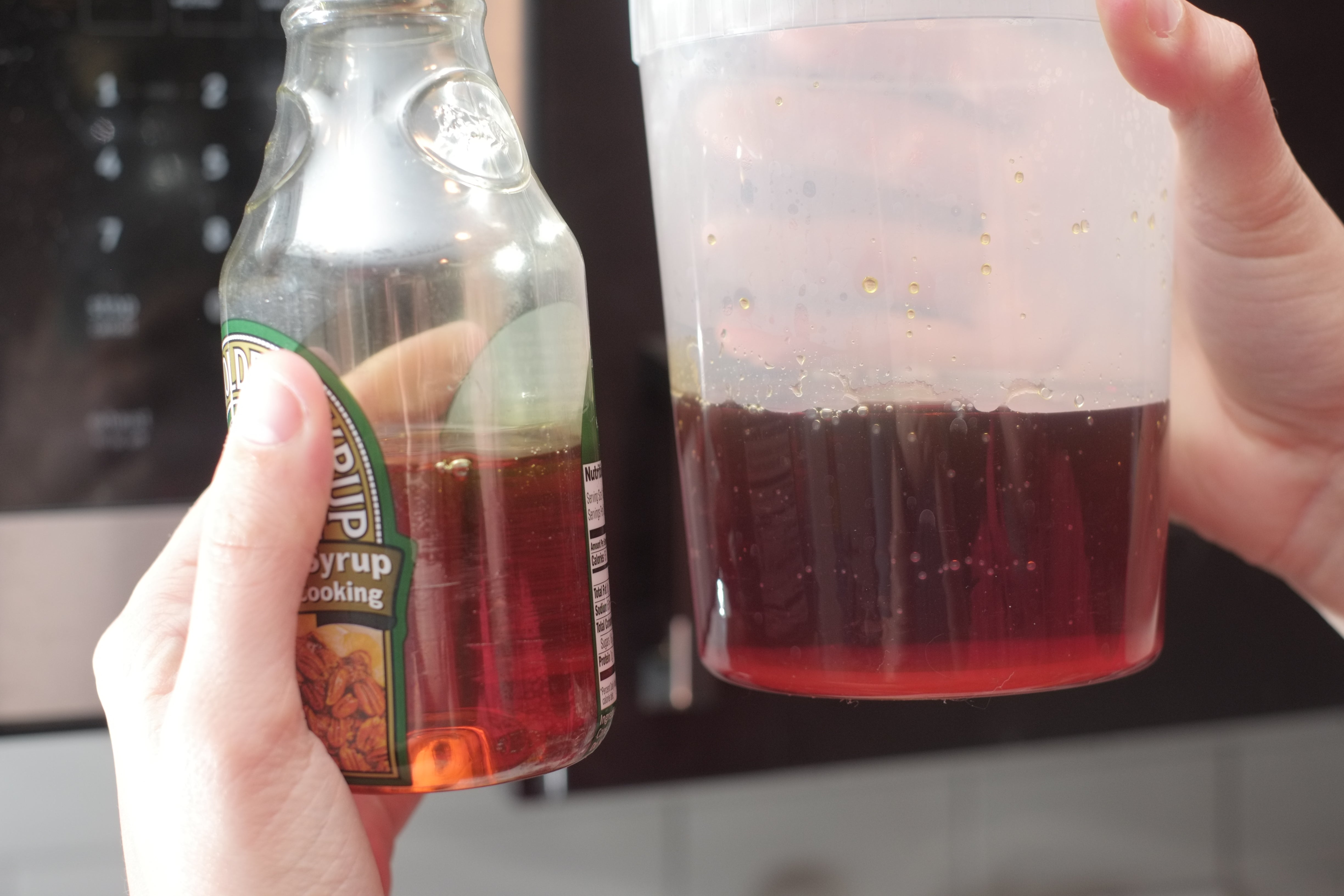 Mine turned out just a hair darker than the real stuff; if you want yours to be perfect, try not to let the base caramel smoke like I did. (Photo by Thomas Lawn)
This will keep for a year in the cupboard, and even longer in the refrigerator. Use in any recipe that calls for glucose syrup — if you're looking for a pecan pie recipe, this one is excellent.