I have a good bit of tomato anxiety, particularly over beautiful, delicate heirlooms. I wait all year, dreaming of the simplest, most sublime tomato sandwiches, then promptly freak out when the moment arrives. After all, I don't want to pick the wrong tomato.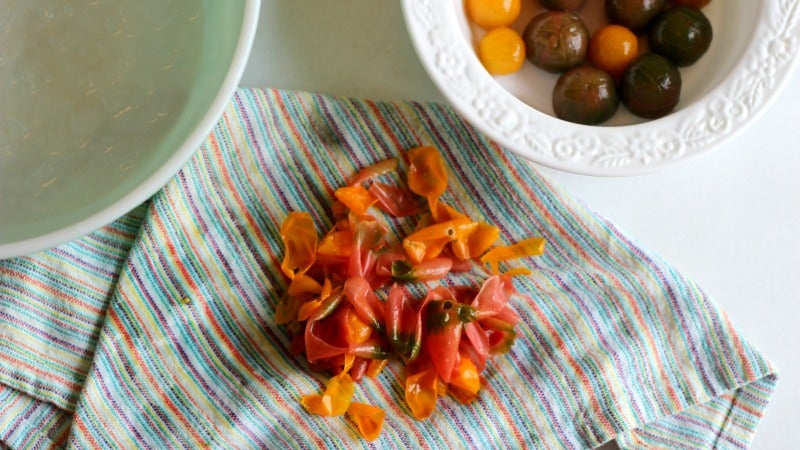 I remember the first time I bit into a cherry tomato. I was at a Sizzler. I was seven. A boy was present. I was talking a lot, as I am wont to do, when I casually popped the mini 'mato in my mouth. My teeth pierced the skin, it exploded with much force, and seeds and tomato gel sprayed forth. I was so embarrassed that I quit talking.
Read more
Nothing is more disappointing than a mushy, overripe tomato except perhaps a flavourless, unripe tomato. Luckily, it's not as much of a gamble as you might think. Here are some tactics you can take to make sure you don't squander your money on crappy tomatoes:
Get out of the supermarket: The more local the tomato, the better it's going to be, as tomatoes that are shipped from faraway are often picked while they're still green, then allowed to ripen during transport.

Farmer's markets, or at least stores that get their produce from nearby farms, are your best bet. Like "natural," "heirloom" isn't a regulated term, so the tomatoes at bigger chains may not even be true heirlooms. Heading to a smaller, local source also means you can ask questions. Ask your farmer (or vendor) which varieties are tasting best right now — they might even give you a sample or two.

Sniff, don't squeeze: Like myself, heirloom tomatoes are delicate creatures — even more so than your standard, non-heirloom beefsteak or Romas — and poking and squeezing them can bruise their flesh and cause them to rot more quickly. Instead, gently lift the tomato and give it a sniff; a ripe one should smell earthy and slightly sweet.

Use your eyes: The skin of a ripe tomato should still be taut and shiny, with no splits or bruises. You should notice a slight give when you pick one up — without squeezing — and the bottom of the fruit should be nice and dark.
Once you have your bounty, transport them home carefully — I bring a separate bag stuffed with hand towels for padding — and consume them within a couple of days. If you want to enjoy them all week, buy a few underripe guys, and let them hang out on the counter.
Finally, it is OK to put some tomatoes in the fridge, especially super ripe ones you know you're not going to consume immediately. Just store them upside down, away from other produce, to keep them from rolling around and getting bruised.