Hello everyone, and welcome to the very first instalment of Will it Sous Vide?, a weekly column where I sous vide whatever the heck people want me to. This week's most popular suggestion was onions, specifically caramelised onions.

I was pretty excited about this one, because how great would it be to chuck some onions in a bag, go to sleep and wake up to beautifully caramelised alliums? It would be really great is what it would be.
After some Googling and recipe reading, it seemed that there were two main concerns with cooking onions this way. The first was that the sous vide bag would inflate and explode as the onions off-gassed during cooking. As far as I could tell, no one had actually seen this happen with their own eyeballs, so I decided to give it a whirl, secretly hoping the bag would explode and bring excitement to this dull mortal coil.
The second concern was with liquid. When you cook something in a sealed bag, there's no way for water to escape in the form of steam, which could lead to watery, bland onions. I was more concerned about this, to be quite honest.
First, let's address the gas issue. This was a pretty easy thing to investigate. I chopped up half an onion, threw it in a Ziploc bag with nothing else and submerged it in a water bath of 85C, the temperature at which everyone on the internet likes to sous vide their onions. (I think this is part of problem, actually, but we'll discuss that at the end.)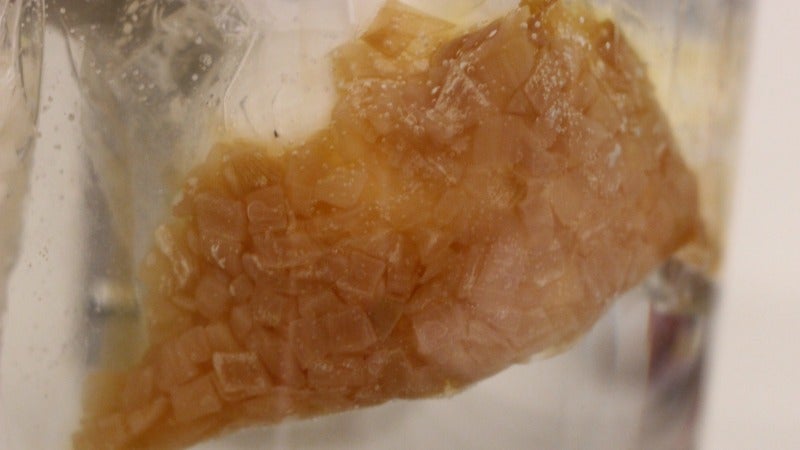 Tiiiiiny bubbles
Though I could see little gas bubbles making their way to the top of the Ziploc, it wasn't enough to cause the bag to expand, and it definitely wasn't enough to make it explode, so that is one issue we don't have to worry about. There was, however, a lot of liquid, and the onions were poached in their own juices, making them super soft and bland. They were also very slow to brown, and didn't start to show much colour change until the five hour mark. Eight hours in the bath made for a fairly browned onion, but by then they were super soft and super mushy, though fairly sweet.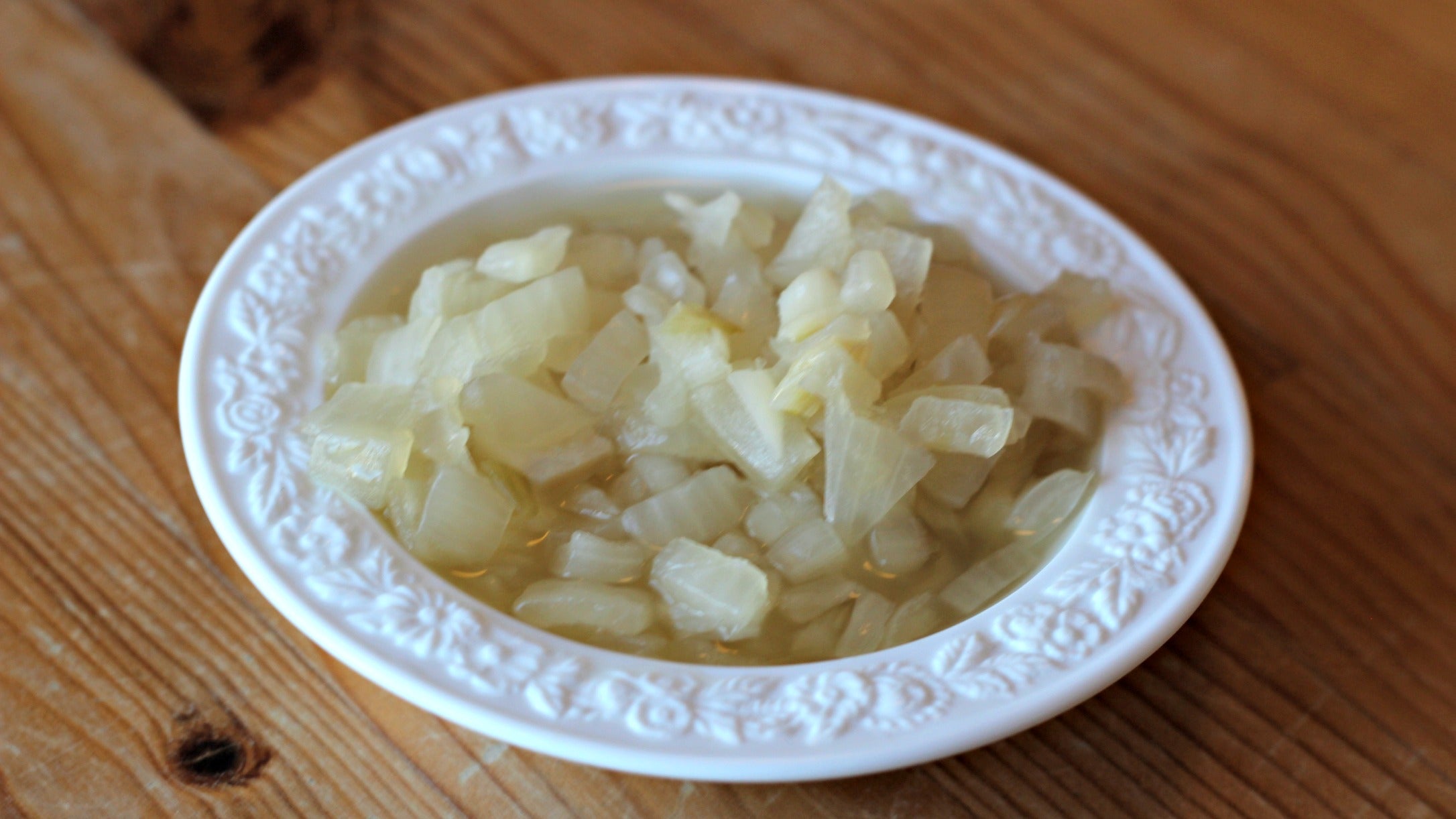 Three hours in. SO MUCH LIQUID.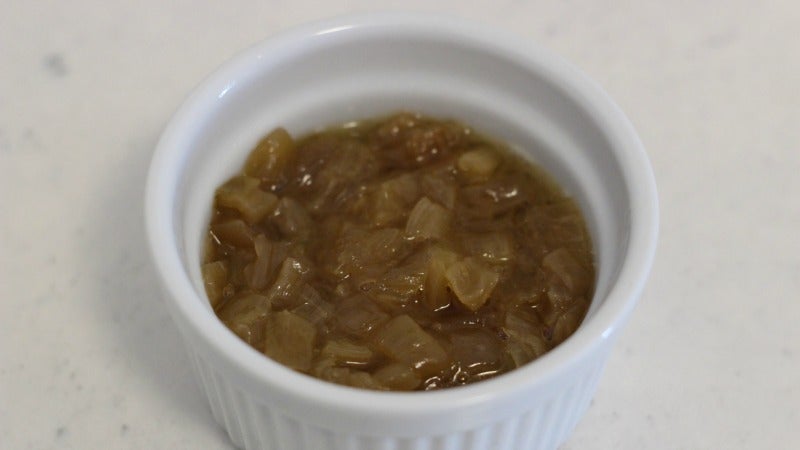 Eight hours. Better. Still liquidy.
To see if I could prevent mush by speeding up the process, I took two different routes: Sweating and chemical additives (the "chemicals" in question being sodium bicarbonate and sucrose). To sweat, I sauteed half an onion in a tablespoon of butter and a healthy sprinkling of salt and cooked until they were translucent. Then I chucked them in their very own Ziplock and sous vide'd for eight hours.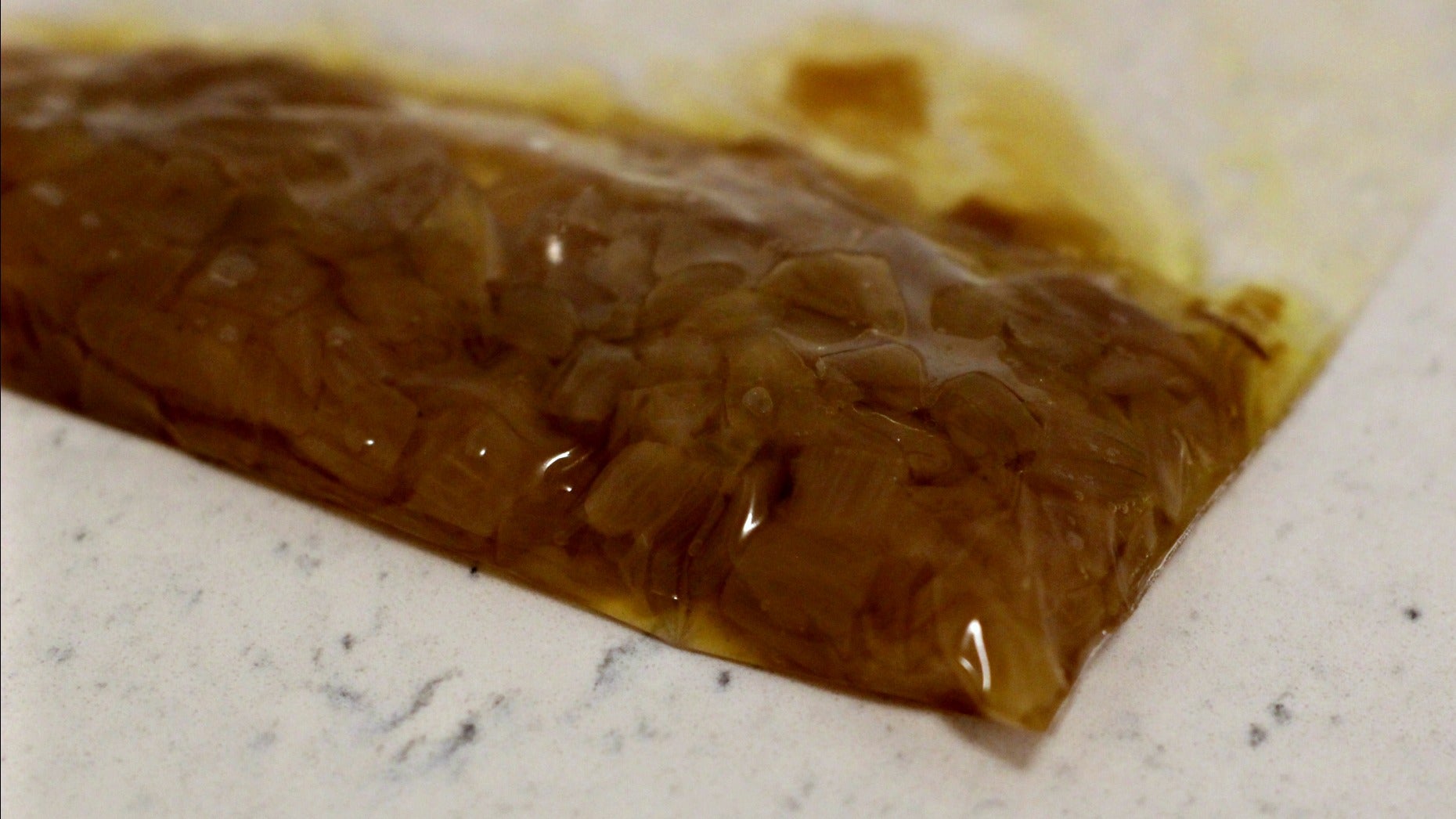 They certainly looked like caramelised onions, and there was less liquid in the bag than the first bag, but there was still a good bit. They tasted OK, but only OK, and were on the borderline of being too mushy. Again, this seems to be an issue of a closed system. Liquid can't escape by way to steam, and the excess liquid dilutes the flavour and makes for a mushier onion.
The idea to add in sugar and bicarbonate of soda came from this article from The Food Lab. A higher (more basic) pH drives the Malliard reaction, which is the reaction responsible for sugars, proteins and enzymes breaking down and converting into hundreds of flavour compounds. I added just a pinch of bicarbonate of soda to another chopped onion half. I also added a little bit of caramelised sugar, which I had cooked in a pan with some butter, to try and cheat my way to tastier onions faster. The whole situation then sous vide'd (again, at 85C) for a couple of hours, after which they looked pretty caramelised.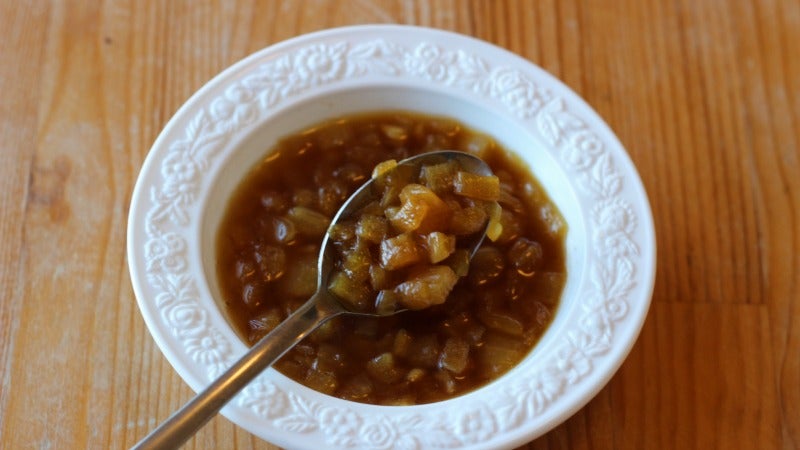 Terrible nonsense.
Unfortunately, they were gross. The bicarbonate of soda worked — those things were brown, baby — but they were the mushiest by far. Basically this method produced, wet, sweet, onion mush, and I was not into it.
Finally, as suggested by Some Guy on the Internet, I just threw a whole onion in a bag and let it cook in the water bath for a couple of hours. Nothing exciting happened. It just got soft. (Story of my life.)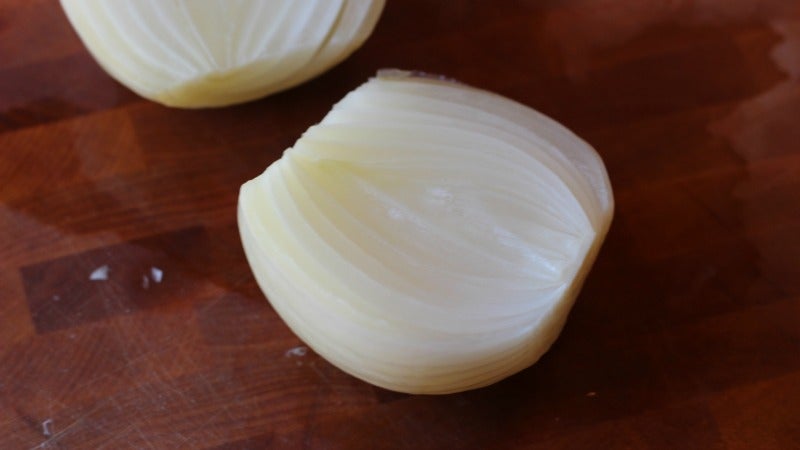 Flaccid.
So, going back to the question posited by this column: Do onions sous vide?
The answer: Eh. Kind of. The best tasting onions were the ones that were sweated and sauteed before going into the water bath, but even those were missing something, and I think that something was the Maillard reaction. According to Harold McGee's On Food and Cooking, savoury, roast-y, "browned" flavours don't really show up until the cooking temperature reaches 120C and caramelisation occurs around 165C, which is higher than my little Anova (or the Joule, for that matter) is capable of. So the sugars, proteins and enzymes never get a chance to transform into exciting, tastier chemicals, and we get sweet, soft onions that are fairly one-note, instead of the complex, deeply-flavorful caramelised onions we would get from stove-top cooking.
That being said, these onions weren't terrible. I plan on throwing them in some sour cream with some garlic salt or something for a quick chip dip later, which Drunk Claire will be more than happy with. (Not those bicarbonate of soda ones though; those are going in the compost.)