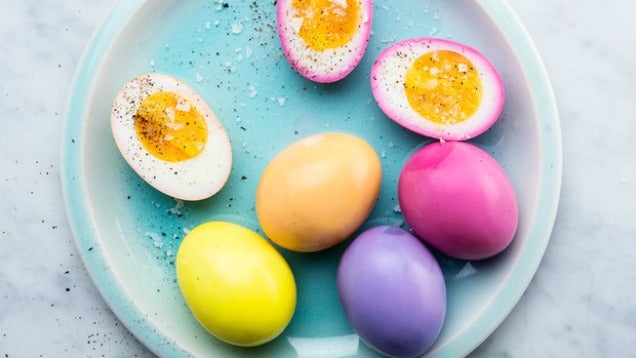 Words like "elegant" and "stunning" may not be the first things to pop in your mind when you think of pickled eggs, but these naturally-dyed beauties from Epicurious are just the prettiest.
Photo by Chelsea Kyle, food styling by Anna Stockwell.
Not only are they easy on the eyes, but they get their looks from delicious vegetables and spices, meaning you can chow down on Easter eggs without ingesting any PAAS.
To make them, you'll need a cup of white vinegar and two teaspoons of both salt and sugar for every six hard-boiled eggs. The rest of your ingredients depend on what colour you're aiming for. You should click the link below to learn how to make all four colours, but I'm particularly excited about the purple ones, which uses baking soda and vinegar to deepen purple cabbage's hue. Beyond the ingredients above, you'll need a cup of chopped cabbage, a teaspoon of caraway seeds, and two teaspoons of baking soda.
Add cabbage and caraway seeds and bring to a boil. Remove from heat and let cool slightly. Pour over eggs. Add 1 tsp. baking soda and stir until foaming subsides, then stir in remaining 1 tsp. baking soda. Chill at least 3 hours or up to overnight for a darker shade of purple.
The only drawback here? These things are so pretty, I hesitate to eat them. (Only briefly though, hunger always wins in the end.)
These Are the Prettiest Easter Eggs Ever (and They're All Natural) [Epicurious]