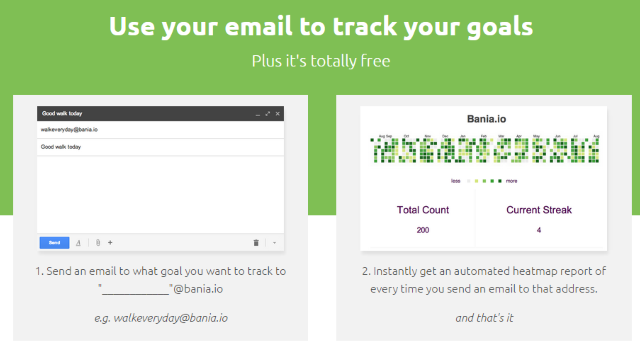 Web: You can maintain a good habit by charting a success streak — an approach commonly known as "Don't Break the Chain" Method (and often erroneously attributed to Jerry Seinfeld). Bania.io helps you log this streak with nothing more than a daily email.
It's simple. Suppose you want to create a streak for going to the gym every day. Every day you go, you send an email to [email protected] That's it. No sign-ups needed. Bania.io will reply with a monthly breakdown of your productivity chain, with shades of green marking how good you have been.
Of course, you can use any prefix instead of "WentToGym" and use multiple ones too. You probably want to keep it short and easy to remember, so [email protected] is the way to go. The service is free and secure. It's gold, Jerry, gold!