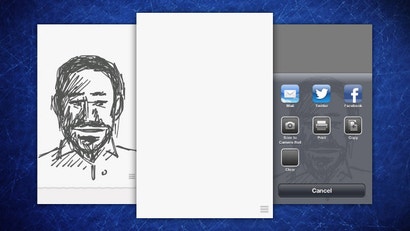 iOS: When you want to quickly sketch out or write down an idea, speed is important, and you don't want to fumble around with menus. Ink is an iPhone and iPad app that opens instantly to a blank page so you can quickly jot down your idea and move on with your day.
When you first load up Ink, you're given a blank page where you can immediately start drawing. When you're done, you can swipe up from the bottom to instantly save the image to your camera roll, or double-tap the small icon in the bottom right corner to open up the menu. In the menu you can send the image through Mail, Twitter, Facebook, a printer, copy it, or clear it out entirely.
Ink doesn't have any options for coloured pens, special papers, or anything else. Ink's purpose is the app equivalent of a back of the napkin where you can jot something down, put it in your pocket, and expand on the idea later.
Ink (Free) [iTunes App Store]