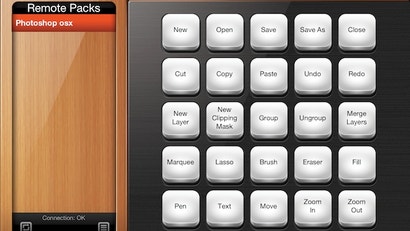 Mac/iPad: Keyboard shortcuts are hard to remember sometimes, but they are the most efficent way to navigate around your computer. If you're looking for an alternative to playing Twister with your fingers, HotKeys is a Mac and iPad app that turns your iPad into a shortcut machine.
HotKeys works with a Mac app that runs in your menubar and an app on your iPad. The two connect over Wi-Fi, and the HotKeys iPad app becomes an extension of your keyboard (if you're having trouble connecting the two, rotate the iPad into landscape mode and tap the sync button in the bottom left).
By default, HotKeys has shortcuts to navigate across various folders, Finder, copy and more. Simply tap the action on the iPad, and it happens on your Mac. It also gives you the ability to set up custom shortcut packs for various programs, such as Photoshop. So, if you're a heavy Photoshop user who can't remember specific shortcuts, you can turn them into buttons on your iPad to get to them easily. You can do this for any app, and any shortcut you please. W
hile it's not going to replace learning your keyboard shortcuts, HotKeys is handy for those looking to expand their keyboard. You need to download both the Mac and iPad app for HotKeys to work.
HotKeys (free) [Mac App Store via Addictive Tips] HotKeys (free) [iTunes App Store via Addictive Tips]