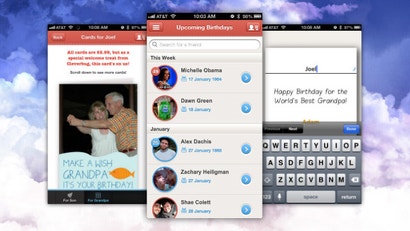 iOS: Birthday cards are often expensive, impersonal and require the hassle of mailing them. Cleverbug is an iPhone app that creates a custom birthday card from Facebook images of your friends and mails the card for you at just the right time.
Cleverbug connects to your Facebook account and makes a list of all the upcoming birthdays for your friends and family. You can search for more or tap one to start creating a card. The app will pull images of the birthday boy or girl and insert them into a relevant card. You can switch between types of card, such as guys, girls, grandpas, boyfriends and girlfriends. If you like one of them, you just tap it to continue.
Cleverbug doesn't know where the face is in a photo, so it may pick the wrong picture or position it poorly. When you get to the edit section of the card you can fix this and add any custom text you want to the inside. When you're done, just order it and the card will be sent to your friend or family member.
The good news is the first card is free, and they can be sent anywhere around the world. After the first card, each one is $2.99. That's pretty cheap for even a regular birthday card, and you don't have to worry about postage. While most birthday wishes come via Facebook nowadays, Cleverbug conveniently adds a more personal touch with little expense.