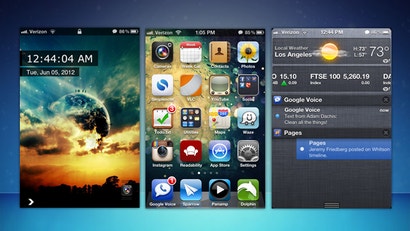 Today's home screen is a collection of lock screen tweaks for jailbroken iPhone users, along with a few minor tweaks to Notification Center.
This screen is actually my own — we haven't had an iOS home screen since our very first featured home screen, so I thought I would post mine to inspire you iOS users to start doing your own! I've jailbroken and installed the following tweaks:
Other than that, my iPhone looks pretty much the same as others. I could have used something drastic like the rest of the Asymmetric HD theme for Dreamboard, but I like the regular interface, so I stuck with it (though I use very few of Apple's apps, opting for things like Sparrow and Week Cal instead).