Homemade mayonnaise is a different beast from the store-bought stuff. Even my favourite brands can't hold a candle to the rich and tangy DIY mayo. The texture is less jiggly, the flavour fresher, and you can customize it by playing around with the acid (vinegar or lemon?), eggs (whole or yolks only?), and fats (duck fat mayo anyone?). And homemade mayo isn't hard to make, with or without a blender, but there is always a learning curve when dealing with emulsions.
Mayo is a stable emulsion
An emulsion is a mixture of two liquids that do not naturally mix—usually oil and water (or two ingredients that contain oil and water). To make a stable emulsion, you suspend one of the liquids (oil) into the other (in our case, a mixture of acid, eggs, and seasonings) by gradually introducing it in small amounts. These tiny bits of oil remain suspended in an aqueous environment, creating a smooth, stable sauce. (Other famous emulsions include vinaigrettes, ice cream, and hollandaise sauce.)
Emulsifiers, such as egg yolks and mustard, help keep the mixture harmonious. These ingredients contain molecules with both water- and fat-soluble portions, which help marry the both together and keep your emulsion from separating into a greasy, curdled mess.
You can make mayo with a food processor, an immersion blender, or a humble whisk. Each process is a little different, but you're doing the same thing every time: Slowly introducing fat to suspend it in an aqueous environment.
How to make mayonnaise with a whisk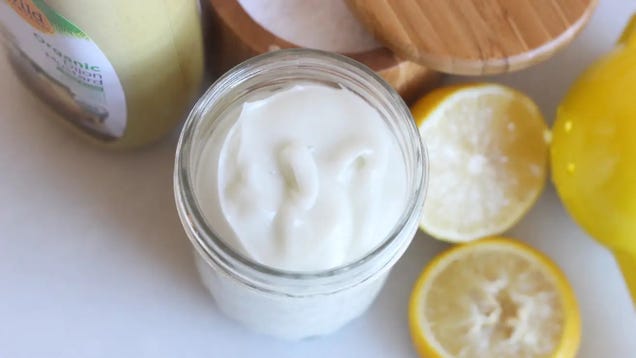 This method requires the most physical effort, but making mayo with nothing more than a whisk will help you fully grasp the power of emulsions, and the importance of taking your time when adding the oil. This recipe uses whole eggs; while an egg yolk is an excellent natural emulsifier all by itself, the protein in the white helps keep things stable. The recipe also calls for Dijon mustard, another excellent emulsifier. (Even with the help of eggs and mustard, you still have to take things slow.)
Easy homemade mayonnaise recipe
What you'll need:
1 whole egg
1 tablespoon fresh lemon juice
1 teaspoon Dijon mustard
1/2 teaspoon fine sea salt
1/4 teaspoon sugar
1 1/2 cups vegetable oil
Add everything except the oil to a large mixing bowl and beat with a wire whisk until completely combined—the mixture will pale in colour and get a little frothy. Add a tiny spoonful of oil (a little less than 1/4 teaspoon) to the mixture and beat well to emulsify. Repeat until you have added about 1/8 cup of oil, then start adding more, but two tiny spoonfuls of oil at a time, beating to fully emulsify after each addition.
Once you have added 1/4 cup of oil in total, the mixture should have lost almost all of its frothy appearance and should look like a thin sauce. Slowly drizzle in another quarter cup of oil, beating constantly to ensure the emulsion does not break, and making sure to scrape the sides of the bowl with the whisk occasionally. Repeat this process, adding additional quarter cups of oil until you have added all the oil and have produced a thick, glossy mayo.
How to make homemade mayonnaise with an immersion blender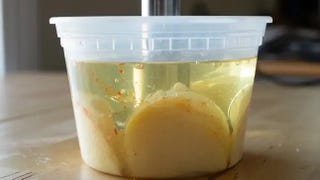 This is my favourite way to make mayonnaise because it feels like cheating. Rather than drip and drizzle small amounts of oil to make a stable emulsion, you pour everything into a big cup, let the ingredients settle until the oil floats to the top, then plunge the head of the immersion blender to the very bottom. Turn it on, and the blades will pull the oil down in thin streams, effectively "drizzling" it into the rest of the ingredients for you.
It's kind of startling to behold. One moment you have cup of immiscible ingredients; two minutes later, you have a cup of beautifully smooth and creamy mayo. Even better, you can use this method with any mayo recipe, whether it's the one you see above, this Duke's dupe, or duck fat mayo.
How to make it with a food processor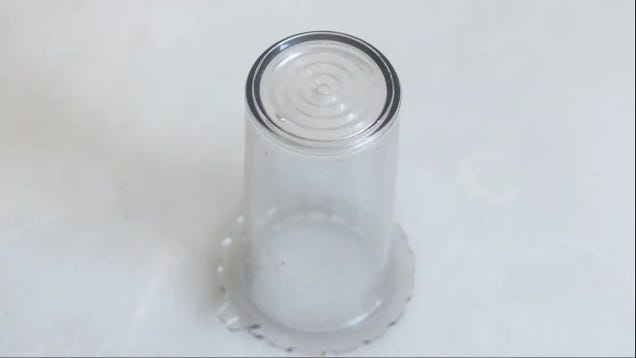 Like any other mayonnaise-making method, this one also hinges on gradually introducing the fat into the rest of the ingredients. Luckily, you don't have to take the lid off of your food processor each time you add a tiny bit of oil—you don't even have to take the plunger out. In fact, you should leave the plunger in there the whole time, as most models have a tiny feeder hole in the bottom, perfect for drizzling.
Again, you can use this method for any recipe; the steps are always the same: Add the egg and other non-oil ingredients and blend briefly to combine. With the blades whirring and the plunger set in the feeding tube, pour about 1/4 of your oil into the plunger. Let that dribble in and emulsify, then add the rest of your oil to the plunger. Once all the oil has been added and your mayo is fully emulsified, open up the food processor and scrape the sides, giving it a good stir to make sure you don't leave any slick spots. Slather on a sandwich, preferably a tomato sandwich, if tomatoes are in season. Homemade mayo will keep in the fridge for a week.