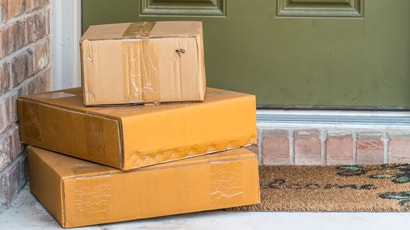 Photo: Shutterstock
'Tis the season for mince pie, trifle, resisting the urge to "OK boomer" your parents, and package theft. What a mixed bag. But having your packages stolen is now a reliable part of the modern holiday season. Package theft spikes in November and December, which is not surprising when you think about the rise of online shopping for holiday gifts.
Last year, the average person in the U.S. had about two packages stolen out of the 76 or so they received, according to a survey from home security company Cove. About 7.2% of packages get swiped in September and October, compared to 37% in December. That's almost four in 10 holiday gifts lost to thieves who probably don't even want that sweater you ordered for dad.
Maybe you've already departed for your holiday destination, and don't have time to invest in and install security cameras or a smart doorbell. There's always an errant package that shows up after you've left town, because it got delayed, you forgot you pre-ordered something, or heck—maybe someone sent you a surprise in the mail! Surprises are great, but they're better when you're home to receive them.
Here are a few steps you can take to reduce the chance that your packages will get swiped while you're gone.
Track your packages
About one-third of packages that go missing aren't due to porch pirates—they're due to packages getting lost along the way, according to a survey by review platform Clutch. After placing an order online, get in the habit of checking the package tracking information as your delivery date approaches. If your package gets hung up between the retailer and your door, you'll have an idea of which step in the process was the culprit.
If your package is marked as delivered but you don't see it, a porch pirate may be to blame. But, it could have been a mistake on the carrier's end. Check the delivery notice for any notes about where exactly the package was left. Some delivery options include a photo of where the package was placed. This happened to me a few weeks ago: The photo of the delivered package showed a doorstep I didn't recognise, which led to some back-and-forth with the retailer to have the package re-sent. It was still a hassle on my end, but the seller and I both knew the exact point where the delivery went wrong, instead of guessing where the package may have gotten lost.
Hold the mail
Many packages arrive through good old Australia Post. If you're travelling this holiday season, don't come home to a mailbox that's overstuffed with junk mail, indicating to porch pirates that your house is ripe for the taking. Submit a mail hold request until you return from your trip. You'll receive your bundle of mostly junk mail after the fact, along with your packages, safe and sound.
Enlist a friend or neighbour
If you know your neighbours well or have friends who live nearby, asking them to keep an eye on your home is the easiest way to make sure packages that have already been dropped at your doorstep are protected from thieves.
If you don't know your neighbours well enough to let them know in advance that you're going on vacation, it may still be worth contacting them in the event you know there's a package waiting on your stoop.
Just don't get too lazy about leaving a spare key, advised the security team at Master Lock. If thieves are keeping an eye out for packages, it's likely they're on the lookout for other opportunities to take advantage of your empty home. Under the mat? Too easy. In a plastic "rock?" Not safe enough. Unless you're going to secure a key in a coded lockbox, it's not worth risking having it found by a thief.