We recently asked our readers to share their best Bangkok travel tips. Being an industrial, canny and canny bunch, you came up with a brace of hacks and recommendations that the average tourist wouldn't even consider. Until they see this list, that is.
Get a foot massage while you're in Bangkok. Every week on Hack Your City, there's one tip that gets repeated and repeated, and this week, it's this: Get a foot massage every day. We got a great variety of tips this week, ranging far beyond the usual restaurant recommendations. Here are the highlights.
Eat and Drink
"One of the best meals I had there was at a place called Cabbages and Condoms, a preventative themed restaurant. It's kitschy decor but the food is incredible."—crs12

"Try different Thai cuisines: normal Thai or fusion Thai, esan (pick a proper place because it's risky), southern (if you're a spicy food dare-devil), northern, and street food (pad thai, tom yum noodles, nam tok noodles, etc). Thai food is all about harmony. And do end your meal with a mango sticky rice or coconut ice cream or Thai dessert, especially after a spicy one."—Kavin

"Apparently Pepsi is hard to find in Thailand anymore due to a dispute many years ago with its Thai distributor. Since the distributor had everything it needed to make its own soda, it created Est Cola, which is apparently very good."—6thTimeAround

"Research the different Thai Food you want to try. Download a photo for each food, then add an English translation, a Thai translation in Latin alphabet and a Thai script translation to every picture (using a photo editor), then save each picture on your phone. This way you can communicate with street food vendors a lot more better, by reading off the Thai translation on your phone or by simply showing the image on your phone."—Bea D.

"Bangkok's nightlife is pretty awesome, but it can be kinda hard for foreigners to learn about. Most tourists stick to Khao Soi, or Sukhumvit and I say avoid these areas as much as possible. RCA is a good place to start, but it's best to make local friends and go out with them, considering that the best drinking experience in Bangkok is bottle service. Unlike the rest of the world bottle service costs just a bit more than what it cost to buy your own, and you shouldn't be drinking alone."—jrhawk42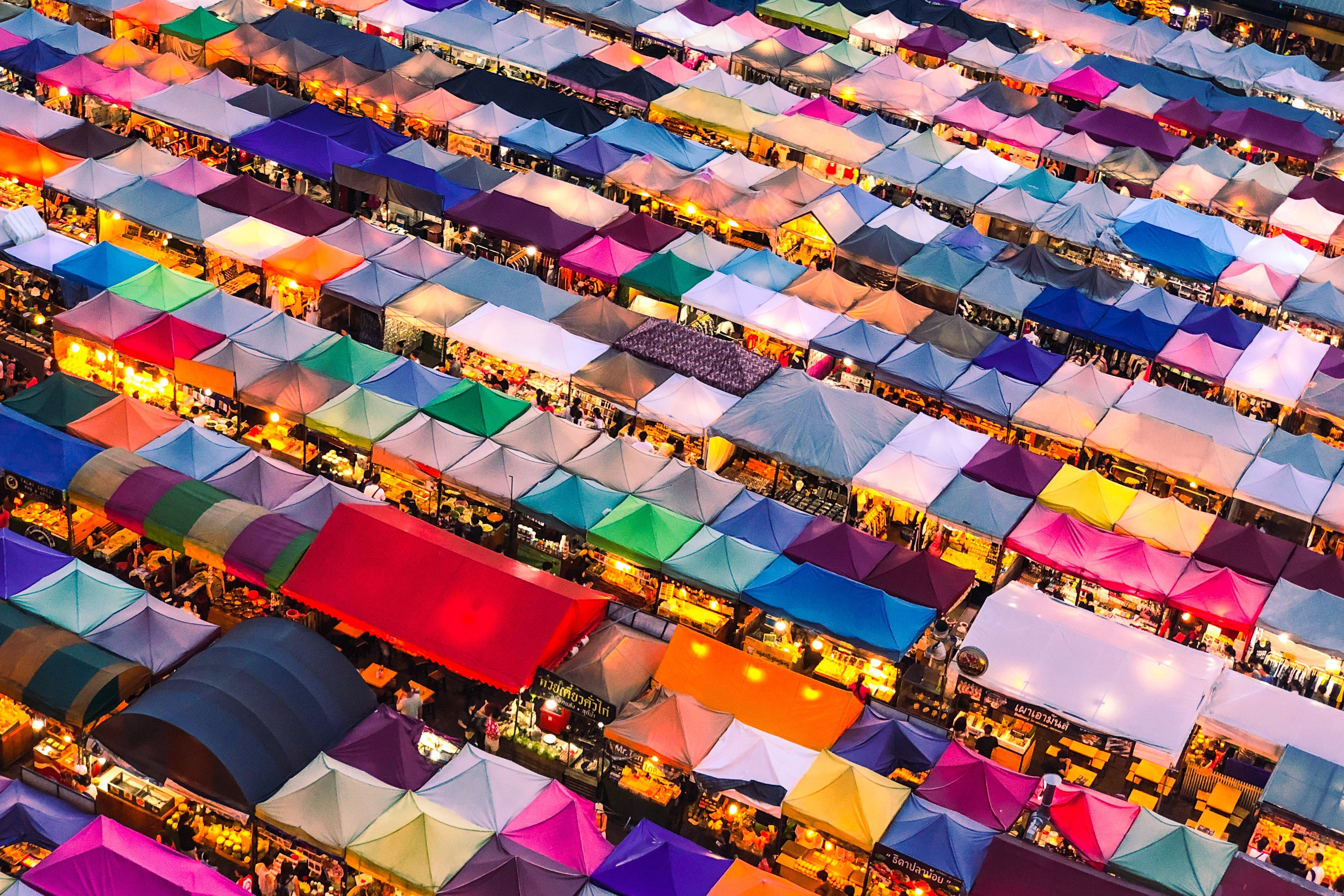 Lisheng Chang)" loading="lazy" > Market in Bangkok (Photo:
Lisheng Chang
)
See and Do
"If you ever wanted custom made clothing, Bangkok is the place to get it done. Jerry at Vogue Fashions will get you measured and keep your info on file so you can keep ordering even if you're back home. I still wear a custom suit I had made from him a decade ago."—DL Dock

"Try one of the cooking classes. It will give you a new appreciation for Thai food and you will end up cooking Thai for yourself all the time when you get back."—xevioso

"Take the tour of Jim Thompson's house, the American WWII CIA agent (OSS, technically) who went back after the war, started the Thai coloured silk industry, disappeared mysteriously leaving his silk empire and nifty house to the government. The guy had good taste decorating that traditional Thai home."—jim-meier

"Try other suburbs outside Sukhumvit area. Lat Phrao's got two great malls and a massive park., Ramkamhaeng's got a vibrant night street market, Sampeng, Pahurat and Klongtom are right behind the main Chinatown road but are underrated, etc."—Kavin

"Go to MBK Center for shopping. It's just a couple stops away from CentralWorld and Siam Paragon, but it's mostly locals who shop there. It is unforgettable. I can't explain it, so just look up pics on Google image search."—6thTimeAround

"I suggest any temple no matter what district. Also, be sure to mix outdoor activities with places you can visit indoors. Thailand is hot. This gives you the chance to cool off inside."—MyThaiBlog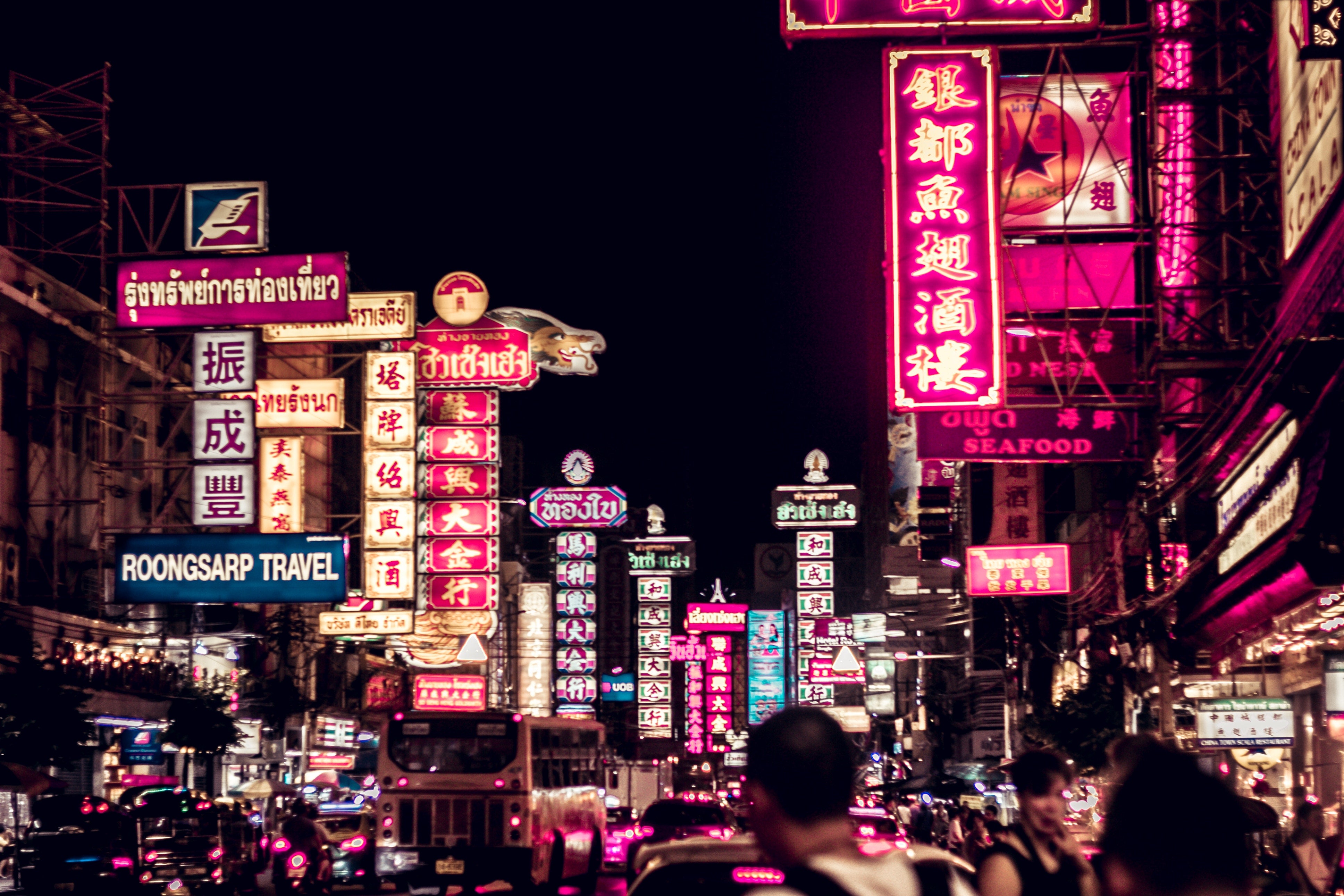 Frame Harirak)" loading="lazy" > Yaowarat Road in Chinatown (Photo:
Frame Harirak
)
Behave
Because locals are so polite to visitors, "you can commit a lot of cultural or behavioural sins and never know, so it really is worth learning about those things beforehand to be a good guest and show the respect deserved."—I'll-think-of-something

"Don't put a fork in your mouth, ever. The fork is just to push things onto your spoon. Odds are no one will say anything but it's considered extremely rude."—jim-meier

"When on the water taxi, be sure to avoid sitting in the seats designated for the monks. They take take this shit seriously."—huja

"Take a camera with a quality long zoom, such as a pocketable travel zoom. There are places where photography is not allowed within or nearby, but when outside, you can get some shots from far away. (I have a Canon SX720 HS.)"—trwritersf

"Be careful when taking pictures of Buddha statues around Thailand. Some places will allow you take pictures, some will not. In places you are allowed to take pictures, you must be at eye level or lower than the statue. It is a sign of disrespect to take pictures at a level higher than the statue."—Bea D.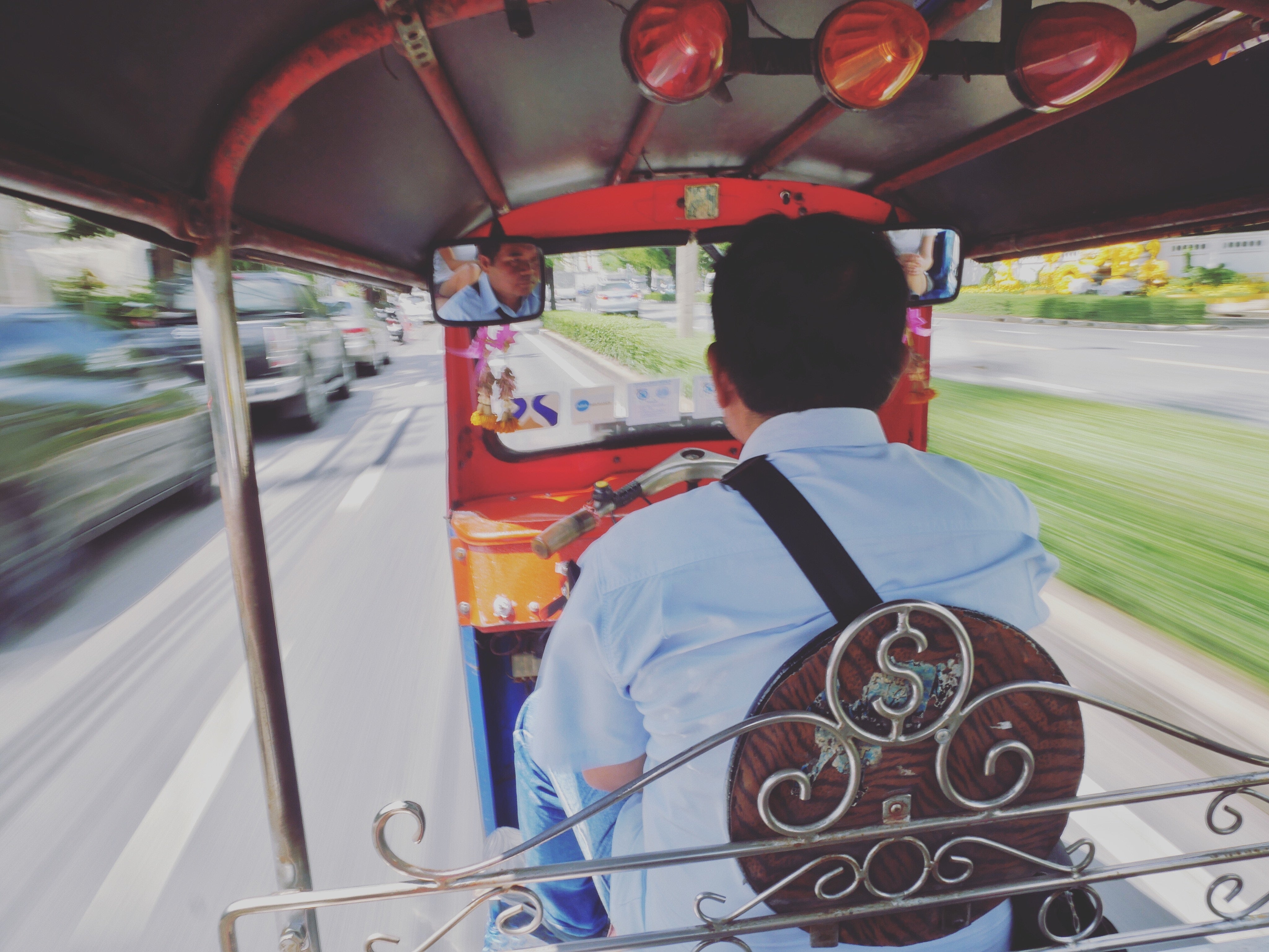 Jordan Opel)" loading="lazy" > Riding a tuk-tuk (Photo:
Jordan Opel
)
Get around
"Every guide will say 'don't get into a cab without making sure the meter is on.' While that's lovely advice, you may well have to accept either paying the 200 baht (should be 60) or having 10+ cab drivers laugh at you and drive away and leave you in the sweltering heat. Also, tuk-tuks can be more expensive than a cab."—AGH. "Negotiate the price of a cab or tuk-tuk ride beforehand to something you're comfortable with."—SeeingSnakes

"I found that using Uber was very convenient and affordable. It revealed a lot of pressure from me not speaking any Thai and I think I crossed the entire city in rush hour for like $US4 ($5) with my average trip costing more like $US2 ($3)."—Wittyname

"Don't bring food or drink onto the subway. Water bottles are OK, but no drinks like the last half of an iced coffee as everyone will glare at you and there are no trash cans (bomb security), and you will have to carry a sticky empty container til you get off."—Highlifebudget

"Learn how the canal river boats work for public transportation. It's a fascinating and inexpensive way to get around the city."—grumpybear

"If you plan to visit the Grand Palace and nearby Wat Po (you should!), be wary of anyone telling you it's closed. That includes taxi drivers, tuk-tuk drivers, and even people who may approach you just as you arrive. Chances are it's not closed (it rarely is), and instead they will continue to tell you about their brother or friend who cuts gemstones, and how he just happened to be on the way to see him, and he'll generously invite you to come with him and you'll get a great deal on gemstones (you'll be ripped off with poor quality stones). This scam has been going on for more than 30 years, they just can't seem to put a stop to it."—Not Who You Think It Is

"A "soi" is a side road to a named street, so you might see an address 4 Sukhumvit Soi 15, which means #4 on the 15th side road of Sukhumvit, which is a major road with many large hotels. Sois can have nicknames. Sois can have side streets too."—Tarquin Shrapnel-Carruthers
Get out of town
"If you at all like history, I found it VERY worthwhile to take the train out to Ayuatthaya and explore the ruins for a day. It was also neat to leave the city and watch the rice patties and countryside pass by from the train window."—Wittyname

"For a quick beach trip out of town, do fly to Krabi instead of Phuket. And Koh Chang instead of Pattaya. A trip to Kanchanaburi or Chiangmai is worth it if you have some time."—Kavin
That's it for this week! Read more tips in the original comment thread, leave your own tips below, and come back in a week and a half—I'm going on my own vacation next week, hiking around the Catskills in no city at all.