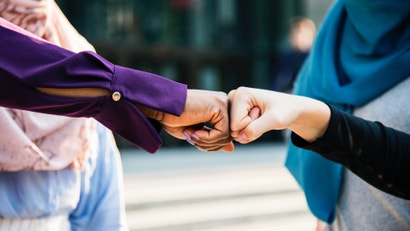 Photo:
Rawpixel
, Pexels
When we were foster parents to a nine-year-old boy a couple of years ago, my husband and I implemented a family motto. It was one that was suggested to a group of us during a foster parenting training session, a mantra that is often used when parenting kids with trauma: "No hurts, stick together, have fun."
We were amazed at how many situations it applied to. We don't hurt others and we don't hurt ourselves, either physically or emotionally. We stick together in crowds and we stick up for each other. And if we should be having fun but we're not, we figure out a way to turn it around. (Our motto even had hand gestures that went along with it to make it extra awesome.)
What I especially loved about having a motto was that it took the emphasis off of house rules and shifted it back to family values. Less "this is what we do" and more "this is why we do it."
If you want to take it one step further, writer and podcaster Bob Riley suggests writing out a full family code, which, he explains, "can serve as a lens through which they see the world," allowing them to determine "which things are aligned with their values or misaligned with them."
Or you might make up an acronym, like author Daniel Pink's family did. Theirs is HAHU, which stands for Hustle, Anticipate, Heads Up. "It was originally designed for when we would travel with three little kids," he told us.
"When you're at an airport, you've gotta hustle. You can't dawdle. You have to anticipate what's going to happen next. And heads up means you've gotta watch where you're going and try not to bump into people. It has ended up being an enduring acronym in our house—we use it all the time."
I asked the parents in our Offspring Facebook Group whether they have any family mottos or mantras, and several of them do, having found inspiration for their own phrase in all kinds of ways. Clovis' family was inspired by her heritage: "Our actual family motto (Scottish clan motto) appeals to my kids: Numquam obliviscar. 'I will never forget.'"
Tiffany admits to having borrowed her family's motto from Let's Go Luna: "There's always more to learn, and there's always tomorrow." Brendan's family motto is an excerpt from a prayer his aunt wrote: "Live with love. Work with joy. Share what you have. Be thankful always."
To create your own motto, think about the value (or values) you want it to embody. What's important to you? Hard work? Perseverance? Kindness? Let your kids have input so they feel some ownership of it, and then choose a phrase that is short, relevant in a variety of situations, and flows off the tongue. Here's a great list of family mottos here to get you started.
Once you've chosen your motto, display it on the refrigerator, a dry erase board or chalkboard—anywhere everyone can see it. Once a year or so, revisit it to see whether the motto is still resonating with everyone or whether it should be updated.
And if you're having trouble landing on a motto that feels right for your family, you always could go with Offspring group member Joshua's suggestion: "Eh, whatever. We'll figure it out." That one works in a lot of situations, too.