What's worse than a long, winding security line at an airport with no visible end in sight? A closed line — with no access to your flight — as one traveller recently discovered.
On a recent Reddit thread, u/I-ThotYouSaidWeast described what will likely become your next travel nightmare.
"Not knowing that TSA at Dallas Airport closes at 11:30, I come back from dinner after another layover to find everything closed," he wrote. "They refused to open (which is understandable) the security lines, so now I have to reschedule my flight."
And it's true — not all security lines at airports operate on a 24-hour basis. Major hubs like Los Angeles International Airport and San Francisco International Airport (which hires a third-party contractor for its security, not your usual TSA agents) have strict hours. According to an exchange I had with one security checkpoint, at airports like JFK in New York, the airport and airlines' set hours of operations based on flight schedules. Individual terminal security lines, too, differ based on flight schedules.
For more information on specific Australian airports like Sydney or Melbourne make sure to visit the websites well in advance.
When might you find yourself living out the horror of a closed security line? Well, any early flight and late-night layover when you might find a security line prematurely closed, as well as during a significant delay. Here's what the Points Guy had to say about the dangers of a delayed, late-night flight:
Airlines expect you to check in and clear security based on your originally scheduled departure even when your flight is delayed. You can take a gamble and show up according to your updated departure time, but keep in mind that those times are estimates.
In other words, when your flight is delayed, you might find a security line closed if you decide to arrive later than planned.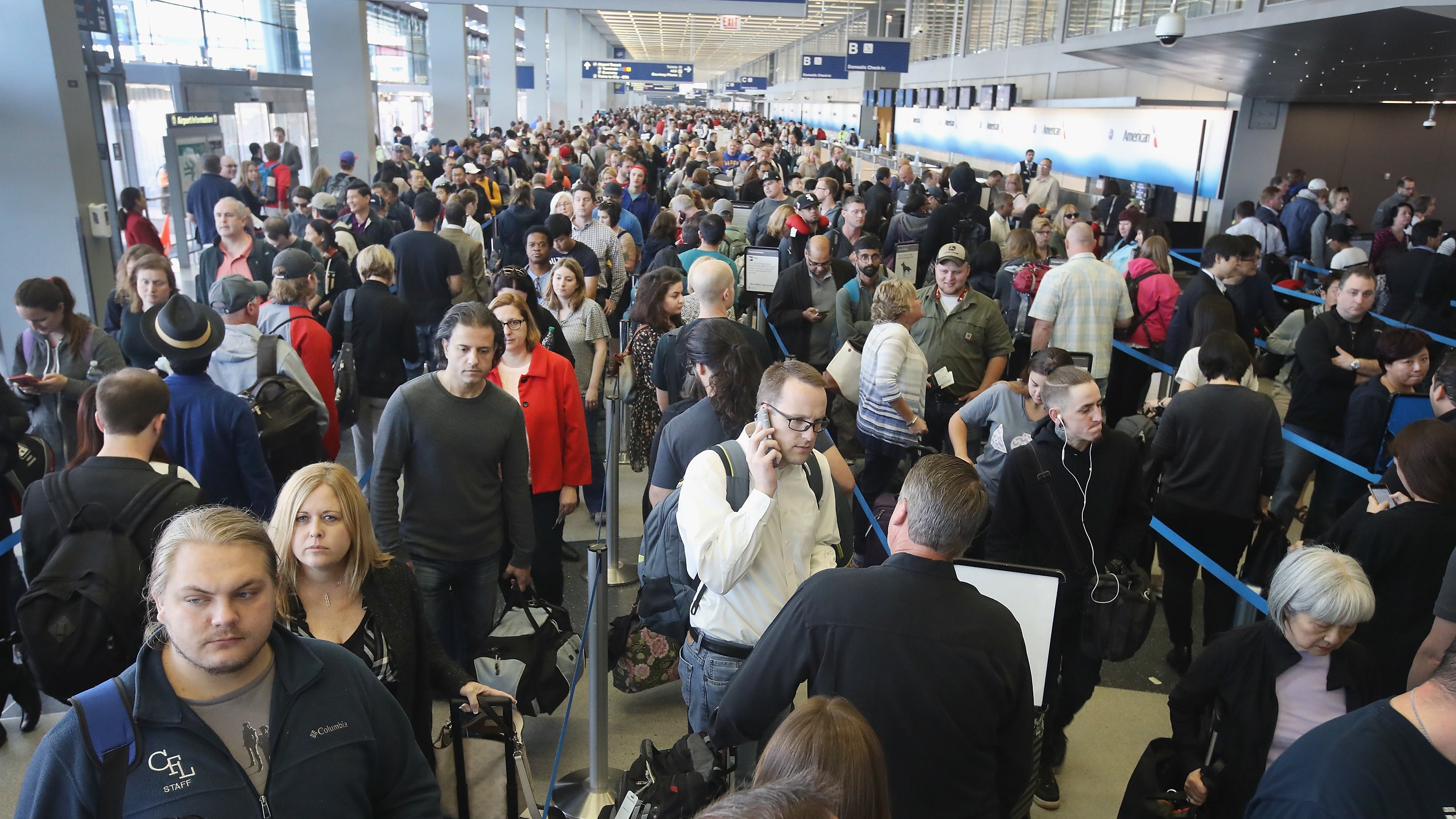 So you're finally headed on that overseas vacation that's been marked on your calendar for months now. Congratulations!
Read more
So before you book an early flight, what should you do to avoid staring blankly at your gate from across a glass barrier?
Well, I'll be honest — standardised security line hours aren't all that easy to research. (If you do an online search for your airport's specific hours, you may come up with results, but a lot of them address check in hours which is still helpful, but not as relevant to general security line hours.)
If your flight's very early, a safe bet is that your security line will be open two hours before your scheduled flight. If your flight is delayed well past your scheduled time, unfortunately, you might have to head to the airport early to be safe. (Also, you don't want to run the risk that your delay will be suddenly reduced while you're still sitting at home.) As for late-night layovers, don't risk it, unless you have explicit operating hours for your airport and terminal.
And if you miss your fight, you should immediately contact your airline to re-book you on the next flight. And yes, you might have to shill out for a new ticket with a few exceptions like if you had a medical emergency or accident, so be prepared to bare the brunt of the extra cost.
The best choice of action is to always leave a big enough buffer in time to safely get to the airport and check in for your flight. For domestic flights you should arrive just over an hour before your flight is set to board, while international flights require a bigger buffer of over 3 hours, 4 if you want to be safe.