Dark mode has stealthily rolled out to the Android version of Google Chrome as a part of the app's most recent updates. Finally, we can all stare at our phones a little more comfortably, especially at night, without having to enable night-time reader modes or other settings. And I suppose it's helpful for battery life, too.
Enabling Chrome's dark mode on Android takes a few extra steps than one might expect, however, since the feature is still technically being tested and not complete, so there will be some bugs for now. That said, we're glad the feature is finally available — read for how to tun it on.
How to enable dark mode for Chrome on Android
First, in order for the dark mode option to show up in Chrome's settings, you'll need to be running version 74 or higher of the Chrome Android app. You can check your app's version and download the most recent update from the Google Play Store. Once you're properly updated, do the following:
In Chrome, type "chrome://flags" into the URL bar. This will take you to Chrome's flag settings, which we'll need to tweak in order to see the dark mode option in Chrome's settings.
Tap the flag page's search bar then search for "Android Chrome UI dark mode", which should jump you straight to the correct flag setting.
Tap the flag's drop-down box and change the setting from "default" to "enabled", then restart Chrome.
When the app is open again, tap the the-dot menu button, then go to Settings>Dark Mode. Tap the slider and Chrome should automatically swap to its new dark theme. If you can't seem to find the dark mode setting after enabling the flag, try restarting the app (it may take a few refreshes for the option to show up).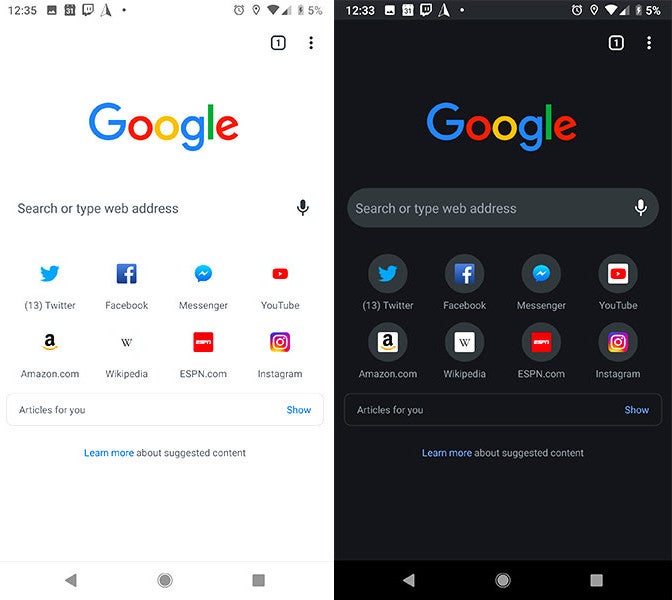 Screenshot: Brendan Hesse, Google Chrome Android
You won't have to fiddle with Chrome's flags to surface the feature when the final version of Chrome's dark mode is available on Android, but for now this is the only way to turn dark mode on.
Dark mode is still technically an unfinished feature, so not all pages display the dark theme. We noticed the search results are still displaying with a white background. Similarly, you may find certain text or page elements display incorrectly with dark mode enabled.
These minor bugs will likely be fixed in the final version, but you can always disable dark mode in the settings tab if it proves too annoying.