Valve has done a lot of work on Steam, its digital storefront for games, to make it easier to find titles that match your tastes. Unfortunately, because Steam prioritises copies sold over user ratings, it's terrible for uncovering "hidden gems". Enter Steam 250, a website that uses only review scores to pick out quality games getting limited exposure.
The maths behind picking the "best" games is very straightforward, as the Steam 250 website explains:
A ranking algorithm determines the order of each game relative to every other game. For each game, the algorithm takes two inputs: the number of votes and the approval rating (percentage of positive votes) and assigns a score. The score is then used to order the ranking. The quality of our rankings is determined solely by this mathematical algorithm, so we spend a lot of time thinking about and scrutinizing it.
Image: Supplied
You can even filter by tag if you're only interested in a particular genre. Here's "zombies", for example:
Image: Supplied
As you may have noticed, Steam 250 doesn't filter out big titles by default (for example, Portal 2 or The Witcher 3, which appear on the front page). However, if you click on "Hidden gems", you'll get a more curated list featuring well-reviewed, but lesser known titles. This makes it much easier to find great games that Steam isn't promoting because they didn't, you know, sell a million copies in the first hour of release.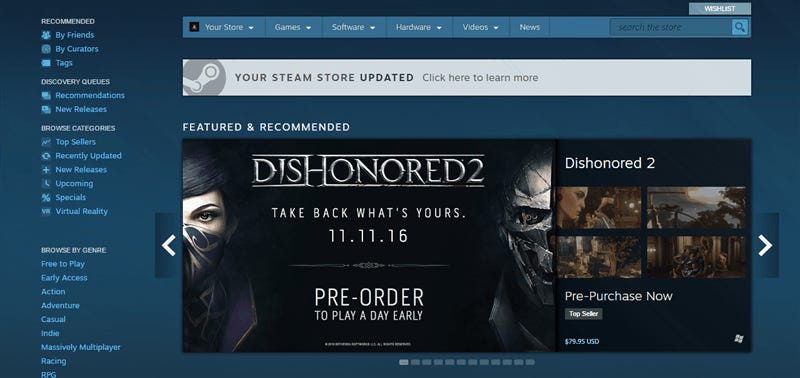 Valve just rolled out what they're calling 'The Discovery Update 2.0' on Steam. It revamps the front page of the store and (slightly) changes the role of curators in Steam's broader ecosystem.
Read more
So, if you're sick of Steam always showing you the same games in your Discovery Queue, it might be time to check out Steam 250.
Steam 250 [Official site]