You've seen the contract prices and you might be tempted to sign up and avoid paying big upfront for Samsung's excellent, expensive and explosion-proof Galaxy Note 8 — but while signing up for a plan may mean more money in your pocket in the short term, you could end up paying much more over the life of the phone. Here's how much you can save by buying a Note 8 outright and choosing the right prepaid plan.
The Samsung Galaxy Note8 doesn't go on sale until 22 September, but a bunch of Aussie telcos have put pre-order plans up on their websites. If you're stumped for cash but are desperate to get your hands on the Note8, here are the cheapest available plans from Optus, Virgin and Vodafone.
Read more
If you're looking for comprehensive guides to all the available Galaxy Note 8 plans then you're probably better off looking at our huge list of options here. Most people would rather sign up on a contract than shell out the $1500 you'll need to get the phone outright — among other purported benefits, they also receive a "subsidy" over the life of the contract, and a fixed amount of call, text and data during that time. But that doesn't mean they're necessarily going to pay less over the life of the phone.
To work out whether going on contract makes sense, we've compared the costs of various no-contract plans over a 24-month period and an outright Note 8, with the equivalent contract plans on the same network. If you can buy a phone outright, pay for 24 months on a no-contract deal, and spend less than being on contract, then why should you want to be locked in? With the pace that technology moves at these days and the never-ending cycle of shiny, new phones… who knows when you'll be upgrading again? Plus, a month-to-month payment allows you to quickly move between providers with no hassle if a better deal emerges!
See also: Every Australian Galaxy Note 8 Plan From Optus, Telstra, Virgin Mobile And Vodafone
The No-Contract Plans
In this context, an equivalent plan is one which offers the same amount of data. Experience suggests that data inclusions are the most salient feature when comparing smartphone plans — very few people use all their call and text allocations on a contract, but running out of data on a phone plan is common.
For the sake of this comparison we've only included plans with greater than 5GB of data. Most prepaid plans will have cheaper options with less data that may be applicable to the way you use your mobile, but I'd think that if you're going to buy a Note 8 – you're likely going to want a hefty data cap to go with it.
The plans we've included in this roundup are either pre-paid or month-to-month contracts that can be cancelled at any time. For Optus, we've included Amaysim and Jeenee. For Telstra, we've included Aldi Mobile and Boost. For Vodafone, we've also looked at Kogan Mobile.
Every one of these plans includes unlimited texting and calls. We've calculated how much it would cost to stay on this plan for 24 months — adding that figure to the outright buy price for the Note 8 handset will then inform our comparisons with the contract plans.
| Plan | Network | Cost | Data | Total Cost |
| --- | --- | --- | --- | --- |
| Optus | Optus 4G | $60 | 9GB | $1440 |
| Amaysim | Optus 4G | $40 | 10GB | $1042.80 |
| Jeenee | Optus 4G | $35 | 10.5GB | $840 |
| OVO | Optus 4G | $34.95 | 8GB | $850.33 |
| Telstra | Telstra 4G | $60.00 | 12GB | $1564.20 |
| Boost | Telstra 4G | $50.00 | 7GB + 1GB Weekend Data | $1303.50 |
| Aldi | Telstra 4G | $45.00 | 12GB | $1095 |
| Vodafone | Vodafone 4G | $40.00 | 9GB | $834.40 |
| Kogan | Vodafone 4G | $29.90 | 6GB | $727.47 |
The total costs
We've calculated the total cost for each prepaid plan by adding the outright buy price from Samsung. You'll potentially be able to pick up the phones for less through non-Apple providers or at places where you can negotiate a better deal, but using the Samsung recommended retail price provides a worst-case comparison.
We've then compared to the total cost on the nearest data-equivalent contract plan.
Take note: We didn't just look at the month-to-month cost without looking at the days to expiry for each specific plan. Some month-to-month plans offer 28 days, some offer 30 days and some offer 35 days to use the available data and calls. That extra few days can also contribute to savings too.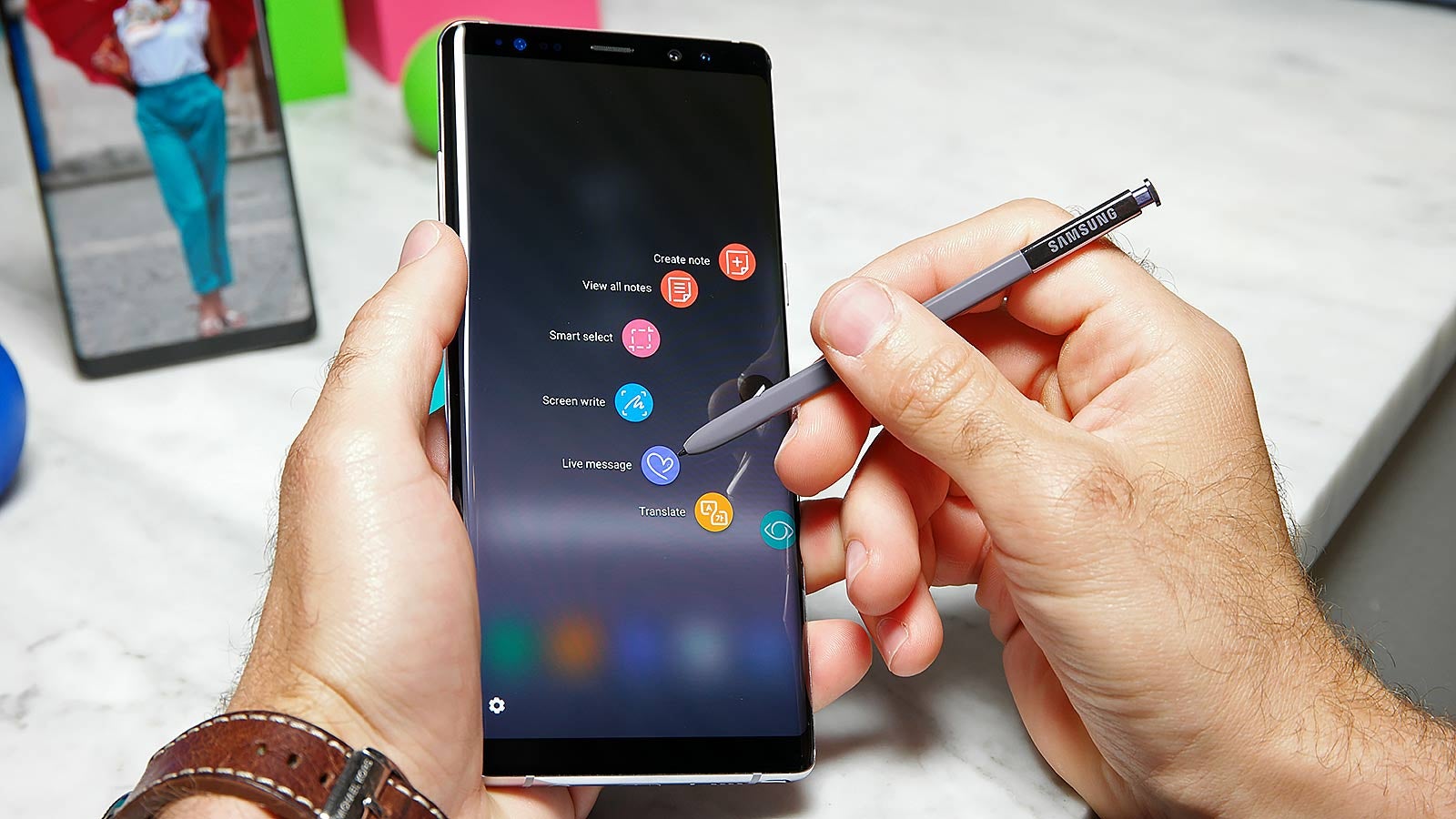 It might seem strange that the most recent Samsung flagship phablet you could actually buy is the Galaxy Note 5, which debuted way back in August 2015. But the Note 6 never existed (Samsung skipped that number when jumping to the Note 7), and despite multiple unsuccessful attempts to fix its exploding batteries, the Note 7 was killed and pulled from stores last year, which left a gaping 15cm hole atop Samsung's phone lineup. If I were a Note fanboy, I'd be pissed about the sad series of events that has resulted in a year wasted.
Read more
Optus Network
We've compared Optus' 10GB plan which comes in at $105 a month for the handset plus calls and 10GB data. It's not worth looking at Optus' own equable prepaid offering – there's no value in that at all – but if you jump on Jeenee, you're going to be saving yourself at least $180 dollars while getting a similar amount of data. OVO are offering a similar saving, but with only 8GB of data, you'll have to give up a little to get a decent kickback in your wallet.
| Provider | Prepaid Cost (24 months) | Prepaid Total (+phone) | Optus Plan Total | Prepaid Saving |
| --- | --- | --- | --- | --- |
| Optus Prepaid | $1440 | $2939 | $2520 | -$419.00 |
| Amaysim | $1042.80 | $2541.80 | $2520 | -$21.80 |
| Jeenee | $840 | $2339 | $2520 | $181 |
| OVO | $850.33 | $2349.30 | $2520 | $170.80 |
On September 22 the Galaxy Note 8 arrives in Australia, (hopefully) explosion-free and packed full of ingenious new features that look to make the device a productivity powerhouse. Although the iPhone 8 is scheduled to drop soon, the Note 8 showcases a few features that users of Apple's flagship devices don't have (yet?). Here are five of the best of them.
Read more
Telstra Network
For Telstra, we compared the Telstra Large plan, which comes with 12GB of data per month for a huge $129. That brings its total price to an exorbitant $3096 but you do get the 'advantages' of being with Australia's biggest telco and their excellent coverage.
Notably, the Telstra Large plan is currently offered with an extra 8GB, bringing the total to a really healthy 20GB per month. That may be worth justifying it over any other option for power users, but you can get some sweet savings on the Telstra network by going with ALDI Mobile or Boost. ALDI's offering, in particular, is great value, offering up 12GB of data per month and a total saving of $552 over Telstra's plan. Boost isn't a bad option, either, it's just they segment their data offering to 7GB 'anytime' and 1GB for every weekend. They also only offer a 28 day cycle.
| Provider | Prepaid Cost (24 months) | Prepaid Total (+phone) | Telstra Plan Total | Prepaid Saving |
| --- | --- | --- | --- | --- |
| Telstra Prepaid | $1564.20 | $3063.20 | $3096 | $32.80 |
| ALDI Mobile | $1095.00 | $2544.00 | $3096 | $552.00 |
| Boost | $1303.50 | 2802.50 | $3096 | $293.50 |
Vodafone Network
There was a time, that you may recall, when Vodafone was the laughing stock of Australia's big telcos. I lived through the years of constant drop outs and poor service and stuck with them and I'm happy to say they do provide pretty reliable coverage in most suburban centres I've been to. Consumers seem to be satisfied with them and that's a huge bonus. They recently overhauled their plan structures to make them more transparent for consumers and there isn't a whole lot of savings to be made from buying a Note 8 outright on their network.
We compared Vodafone's $40 Red Plan, which includes 6GB of data and comes to a total cost of $2386.80 over 24 months with their own prepaid offering and with Kogan's offerings. There isn't a huge benefit on picking Vodafone's own equable prepaid plan instead of their contract but it does come with 9GB of data. Kogan's offering is also worth 6GB per 30 days, but will save you about $160.
| Provider | Prepaid Cost (24 months) | Prepaid Total (+phone) | Vodafone Plan Total | Prepaid Saving |
| --- | --- | --- | --- | --- |
| Vodafone Prepaid | $834.40 | $2333.40 | $2386.80 | $53.40 |
| Kogan | $727.47 | $2226.47 | $2386.80 | $160.33 |
If the rumour mill is correct, we could be looking at a $1500 price tag on Apple's new iPhone when it hits stores in a few weeks. And it won't be alone; Samsung's new Note 8 also launches with a $1,499 RRP towards the end of the month.</p> <p>But you don't have to spend $1500 on a new phone, of course. There are loads of great options for half the price or less. We've also included a selection of mobile plans for each option!
Read more