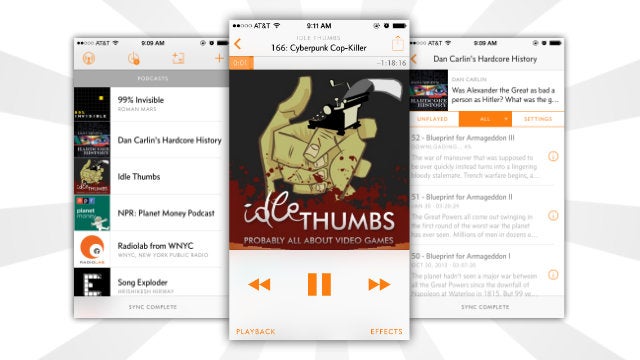 iPhone: You have a lot of options for different podcast apps on the iPhone, and many of them are very good. Overcast is a new podcast app that comes to us from Instapaper developer Marco Arment.
The nice thing about Overcast is that it's free for a basic feature set, which includes basic podcast playing and playlists. For $6.99, you can unlock advanced features including cellular downloads, variable playback speeds, a voice boost and a sleep timer. With everything unlocked, the app is pretty much as feature-packed as an app like Downcast, but it has a few nice tricks up its sleeves. Namely, the Voice Boost and Smart Speed options. Voice Boost equalises audio levels on the fly, which helps poorly recorded podcasts sound significantly better. Smart Speed analyses the audio and skips small portions of silence so you can get through podcasts faster. Both features work well, and they're great if you listen to any less professional podcasts.
Overcast has a few other great features that set it apart as well. It has a recommendations system that can tap into your Twitter account to find new podcasts you might like, a bunch of different sorting options so you can easily find what you need, and a web player that syncs up so you can pick up episodes from your computer. The web player doesn't have much in the way of features, but it plays podcasts and syncs what you've heard, which is a good start. Overcast is a solid podcast app, and since the core feature-set is free, it's worth checking out.
Overcast (free/$6.99) [iTunes App Store]