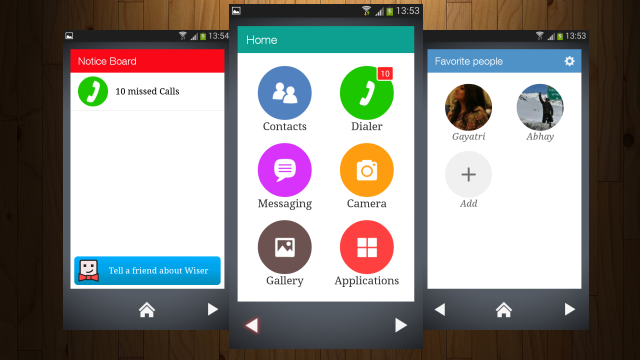 Android: Android smartphones are notoriously complicated for those who aren't good with technology. Wiser is a new launcher that makes Android easy and simple to use even for the tech-challenged.
While technically a launcher, Wiser behaves more like a home screen replacement. That said, it doesn't come with all the options you would find in the best home screen replacements. Instead, it focuses on doing everyday things right.
The main screen has only six big icons: Contacts, Dialer, Messaging, Camera, Gallery and Applications. Swipe left and you will see the 'Notice Board' (requires Android 4.3 and above), a simplified form of Android's notification screen which only tells you which apps need your attention. The dialer and phonebook apps are also simplified, and you can add shortcuts to favourite contacts as well as apps.
The good part is that Wiser is quite light on resource usage too, consuming only 15MB of RAM. If you plan on buying a low-end Android for someone who seems intimidated by smartphones, Wiser will run smoothly and be easy to operate.