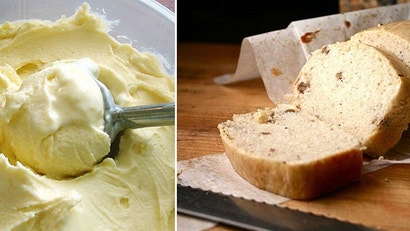 If you want to make a loaf of sweet bread or a cake, starting with ice cream can save you a lot of effort. Because ice cream contains many of the ingredients you need for these recipes — sugar, eggs and fat — you can save yourself some time with just a few scoops.
All you really have to do is melt the ice cream, add flour, baking powder and salt, and bake at about 180 degrees Celsius. When finished, you have bread!
I've also heard that melted ice cream works as a substitute for the liquids you need for cake mixes and produces a more rich and moist cake. Check out the recipe at the Hungry Housewife for bread, and the post at WonderHowTo for additional possibilities.
Ice Cream Bread [The Hungry Housewife via WonderHowTo]