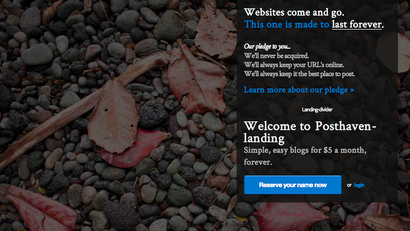 The last time we discussed Posterous, we were talking about how to get your data out before the service shut down. Now that we know Posterous is set to shut down on April 30, the founders of the site have launched Posthaven, a replacement that offers the same features and will never shut its doors on you.
While our tips to get your data out of Posterous are still helpful, there's an official tool now to back up your Spaces and download them as a zip archive for safe keeping. Then you can head over to Posthaven, and for $US5/month you can reserve your own URL and start over again.
The team behind Postheaven — former founders of Posterous Garry Tan and Brett Gibson — say that $US5 monthly fee will ensure that your spaces never leave the web. They also promise they will never sell the service to someone else (the way Posterous was bought by Twitter).
Posthaven is up and running now — you can go reserve your name now, and afterwards you'll get instructions on how to log in to your account and get started.
Posthaven [via Hacker News]