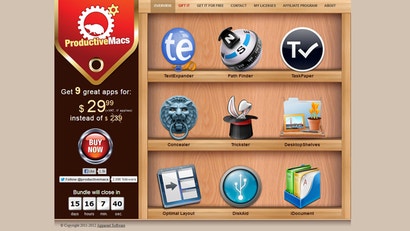 The Productive Macs bundle puts together nine apps for Mac OS X, originally worth $US239, for the low price of $US30 — and it's got a few of our favourites inside.
Productive Macs is still one of the best bundles around. While many offer discounts on "pretty good" apps and make you susceptible to an impulse buy, Productive Macs includes some of our favourite productivity tools for a seriously discounted price. This time around, the bundle includes:
TextExpander, one of our favourite text expansion apps (usually $US35)
Path Finder, the insanely powerful alternative file browser (usually $US40)
TaskPaper, a great program for creating an easy-to-use plain text to-do list (usually $US25)
Concealer, a handy program for hiding and encrypting sensitive files (Usually $US20)
Trickster, an easy way to see your recently used files (Usually $US10)
DesktopShelves, which organises your desktop clutter like a set of 3D shelves (usually $US15)
Optimal Layout, a shortcut-laden window manager (usually $US14)
DiskAid, which lets you transfer files to and from your iPhone and iPad (usually $US30)
iDocument, an almost Evernote-like manager for all your documents that looks quite feature-filled (usually $US50)
Really, the bundle is worth it just for Path Finder, which you will get for $US10 less than the usual price, and the ability to remove the nags from TextExpander. We really like the look of TaskPaper, Optimal Layout, DiskAid and iDocument, so they're nice bonuses to an already great discount on a few of our favourite apps. The deal runs until the end of November.