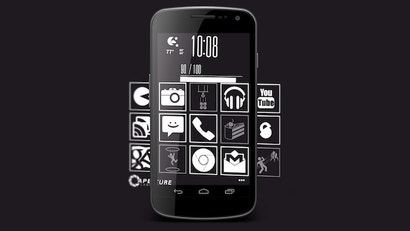 Lifehacker reader Jays2Kings created a home screen using the style of the popular Portal video games, with big square icons and a few text widgets. Here's how it works.
We'll leave it to Jays2Kings to explain:
I'm using Apex Launcher Pro on my Galaxy Nexus for this, and a wallpaper I edited myself with Photoshop to change the used-to-be portal warnings into app icons. With a 5x6 grid, I just used 2 invisible apps icons over each square, and with apex pro, I get the notification bubble on the edge of the squares for SMS, phone, and Gmail. It's a 3 screen setup with an Ultimate Custom Clock Widget at the top and main screen and a Beautiful Widget, and I have 2 random 1x4 widgets on the other screens, changing every so often for the mood. I also have a zip file with instructions if you'd like to replicate the home screen for yourself.