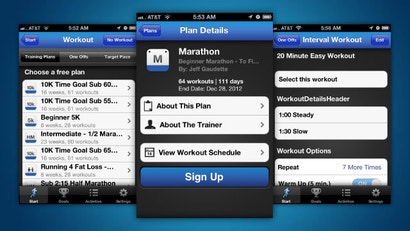 iOS: Fitness-tracking app RunKeeper has been updated with a few new features. It now includes training plans and a coaching option to help you plan long-term goals, such as running a marathon.
The new training plans allow you to create your own workouts and include customisable timers for such things as interval training. The coaching option lets you choose from a selection of free workouts created to help you work towards specific goals, such as running for weight loss or preparing for a 10K. Once you pick a plan, RunKeeper creates a calendar of runs that you need to stick to in order to achieve those goals.
The update is free in the iTunes App Store right now. Android users can check out the beta version of these features over on the RunKeeper blog.
RunKeeper [iTunes App Store]