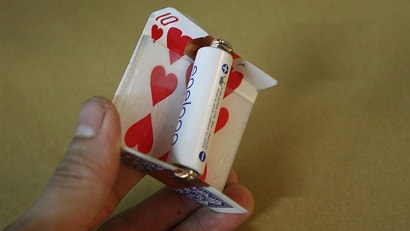 If you're looking for a space-saving alternative to recharging your AA or AAA batteries, you can put together a solar-powered battery charger out of nothing but a playing card and a few other materials.
We've featured a few solar-powered charging solutions before, but this method doesn't involve any soldering, and it's really simple, so you don't need to know a lot about circuits or electronics to put it together.
Aside from the playing card, you'll need a few more items: small solar cells (called solettes), copper tape, small magnets and some super glue. If you feel up to the challenge, you can even add a Schottky diode that keeps the batteries from discharging overnight, and an indicator LED. Hit the link below to see the full how-to.
Turn a playing card into a solar charger for AA batteries [Instructables]