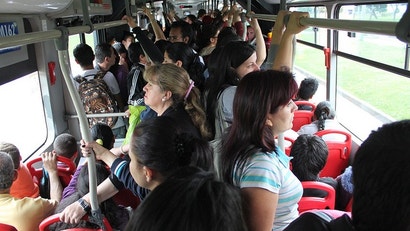 Talking with strangers on the bus is a great way to learn about the world, but sometimes you just want to shut yourself off. Wired has outlined some tactics you can use to keep the seat next to you empty.
Photo by Eli Duke.
Often you have no choice but to sit next to someone on a full bus, but when the bus is less crowded, Wired points to research published in Symbolic Interaction as a guide to keeping the seat next to you free:
Avoid eye contact.
Lean against the window and stretch out your legs.
Sit on the aisle seat and listen to music to pretend not to hear people asking for the window seat.
Place a large bag or multiple items in the empty seat to make it time-consuming to move.
Look out the window with a blank stare to appear crazy.
Pretend to be asleep.
Put your coat on the seat to make it appear already taken.
If all else fails, lie: Say the seat has been taken by someone else.
The tactics are certainly a bit anti-social, but they might come in handy if you really don't want to talk with strangers.
How to Use Psychological Tactics to Avoid Strangers on a Bus [Wired]