Uggs are ubiquitous in the winter, though they cycle from being actually-trendy to ironic-trendy and back again pretty regularly. Regardless, the sheepskin boots and slippers are a staple—albeit one that gets pretty dirty in all the slush and salt. Uggs sells a cleaning kit, but after dropping all that money on the shoes themselves, you probably don't want to spend more when you could just take care of it at home for cheaper. I tested two DIY Uggs-cleaning hacks on a pair of my moccasins to figure out which one was better.
First I tried cleaning my Uggs with Vinegar 
There are a lot of things you shouldn't use vinegar to clean, but (at least according to DIY bloggers) Uggs aren't one of them. You may have read that you can clean sheepskin footwear with distilled vinegar and some gentle dabbing, using a suede brush to get dirt and debris off the material. I used an old toothbrush, which worked just fine.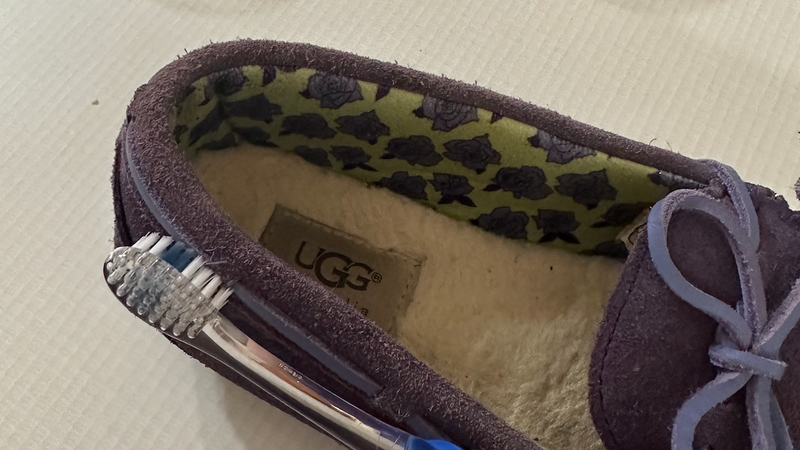 After cleaning my Uggs with the toothbrush, I used a damp cloth to slightly dampen the outer part of the shoe. You don't want it fully wet at any point, so this part was surprisingly hard: The water didn't distribute evenly across my shoe and instead soaked spots a little sporadically. After that, I combined one part cold water with one part distilled white vinegar and used another cloth to gently dab it into stains. It was really effective for me, and I saw dirty drops of vinegar water coming off my shoes. Then I went back to my first damp cloth and used it to wipe away the dirt and vinegar. If you have boots, this is when you can stuff them with newspaper or fabric to keep their shape while they dry, ideally overnight.
Then I tried cleaning my Uggs with baby shampoo
Baby shampoo also crops up often in the blogosphere when shoe fanatics are discussing ways to clean their sheepskin wares. You only need a few drops mixed into some warm water, and then you then gently rub the mixture into the exterior of your boots before using a brush to scrub away dirt and (again, gently) agitate any stains. I did that, and then I used the damp-rag-wiping method again, stuffed them with bubble wrap (of course, feel free to use newspaper) to hold their shape, and let them dry overnight.
Other tips for cleaning your Uggs
Before I declare a winner, here are a few additional tips:
Only rub in one direction, no matter what you're using to apply your solution or what the solution is.
I used a cloth to wet one shoe and a sponge to wet the other to see if it would make a difference in how wet each got, but it didn't. Be careful about how you wet the shoes—you don't want them to get too damp.
The exterior doesn't dry uniformly, so it's hard to see at first how much the cleaning is actually working. It'll stay dark, wet, and splotchy for a while.
Even though I was washing shoes, not boots, I stuffed them with bubble wrap in case the wetness weighed down on the top. Even if you're dealing with moccasins, it can't hurt to stuff them while they dry.
Baby shampoo cleaned my Uggs the best 
In my test, baby shampoo was the clear winner. First, vinegar smells bad and I don't enjoy cleaning with it, but second, the shampoo was better at cleaning the stains on my shoes. Vinegar also removed the stains, but it didn't appear to be as thorough. I'd just caution that if you're using the shampoo, you really have to wipe the suds off thoroughly, which could take two or three passes with the wet rag.