Your smartphone takes some great pictures—so much so that most of us don't bother with a dedicated DSLR these days, especially not for the images we upload to Instagram. We know our phone photos are high quality, and that will be reflected in our carefully curated Instagram feeds.
Well, not necessarily. Even though your photos and videos are high quality on your iPhone or Android, they might not make it that way by the time they reach Instagram. And that's not your fault: It's Instagram's.
Apparently, there is an option buried in Instagram's settings that makes sure your photos and videos are uploaded at the highest quality Instagram allows. The problem is, this setting is disabled by default. If you've never toggled it on before, or you've switched phones and installed Instagram from scratch, it's likely this setting is turned off on your app.
That means Instagram will adjust the quality of your uploads based on the quality of your network: If you have a super speedy connection, perhaps your media will upload in high quality. If the connection is poor, Instagram will compress your content as it sees fit. Of course, we don't really know how the feature works behind the scenes, so it's impossible to say how much Instagram lowers the quality in what conditions. In the time of unlimited data plans and abundant Wi-Fi connections, it's better to just leave this toggled on for good.
How to upload to Instagram in the highest possible quality
You can go ahead and check for yourself right now: Open Instagram, go to your profile, tap the hamburger menu in the top right, then choose "Settings and privacy." Here, scroll down, tap "Data usage and media quality," then make sure the toggle next to "Upload at highest quality" is turned on.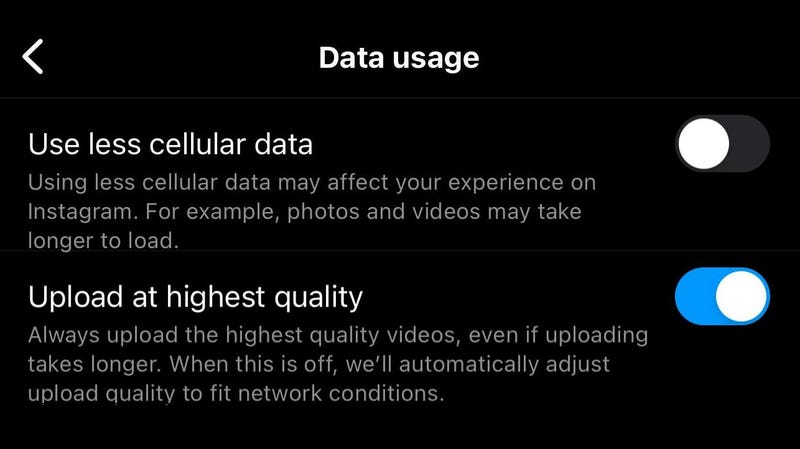 Lead image credit: iStock