I don't think most of the people coming up with viral cottage cheese 'hacks' actually like cottage cheese. If they did, they would just eat it. Cottage cheese is already pretty perfect on its own: salty and creamy, with a wonderful lactic tang. My personal favourite cottage cheese hack is to scoop it into my mouth, either with a spoon (classic) or potato chips.
Though I must admit, blending (or 'whipping') cottage cheese has its merits, and I wrote about them over four years ago, before the protein-packed dairy became popular on TikTok. It's still a good hack, and one TikToker has taken it even further by blending cottage cheese with cinnamon sugar and a little vanilla extract, spreading it on toast, and air frying it.
This seemed promising at first: The toast in the TikTok had a crinkly, if not exactly brûléed, top, and I imagined it tasting kind of like a cheese danish. I wouldn't have labelled it "high-protein," as each piece of toast can only accommodate a couple of tablespoons of cottage cheese, which translates to a mere three grams of protein, or half of what you'd get from a single egg. Macros aside, I decided to try the toast, swapping vanilla extract for almond, but otherwise making it exactly as described in the video.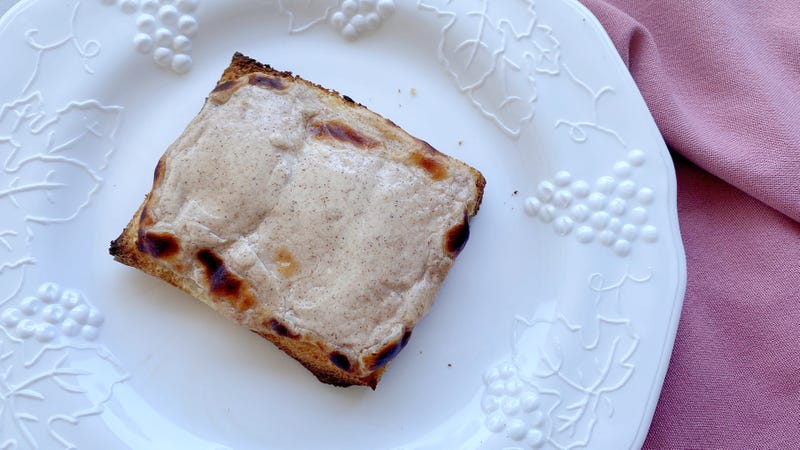 It was not good. The whipped cheese, which had a luscious, creamy mouthfeel and great flavour before seeing any heat, was pretty well ruined by its time in the air fryer. What was once smooth became grainy, defeating the entire point of whipping it in the first place. The flavour was also dull, and the bread was quite dry (the air fryer loves drying out bread).
Luckily, all of this was easily fixed. Instead of air frying the cottage cheese, I brûléed it. (Never send an air fryer to do a kitchen torch's job.) I toasted the bread as usual, spread the cottage cheese/sugar/cinnamon mixture on top, and then sprinkled plain sugar on top of that, because there is no point in burning cinnamon. I set fired up my kitchen torch, set the flame down low, and brûléed the sugar with slow, sweeping motions until it bubbled and caramelized, before cooling into a crunchy sugar shell.
This toast was delicious. All the flavours in the cottage cheese mixture came through, without any of the grainy texture, and the bread was toasted, but not overly dry (or burnt on the edges).
Brûléed Cottage Cheese Cinnamon Toast
What you'll need:
1/2 cup cottage cheese
1/4 teaspoon almond extract
2 tablespoons sugar
1 teaspoon powdered cinnamon
Bread of choice
Plain sugar

Directions:
Blend the cheese and extract together in a food processor or blender until smooth. Set aside. Mix the sugar and cinnamon together, then add it to the cheese mixture, a teaspoon at a time, until it is seasoned to your liking.
Toast a slice of bread, let it cool for a bit, then spread a heaping tablespoon of the cheese mixture on the toast. Sprinkle plain sugar on top of the cheese mixture to form a glittery sugar layer, then brûlée with a kitchen torch with the flame set to low. Let the top cool and harden for a couple of minutes, then enjoy.