Well, that was unexpected. With absolutely no fanfare whatsoever—not even a tease at last month's big press event—Apple officially announced its brand-new AirPods Pro in a press release today. What you lack in Tim Cook stuffing tiny speakers in his ears, you gain in features. Specifically, noise-cancelling capabilities, which are finally hitting Apple's wireless earbuds after nearly three years of waiting.
Whether your AirPods are basically glued into your ears, or you're considering making your first AirPods purchase ever (like me), consider the following before you preorder:
Are the AirPods Pro any good?
We don't know. Nobody has reviewed them as of when we published this article, and Apple likes to play these things close to the vest. With the release date all of two days away (October 30), it's unclear if you'll see any big reviews before the AirPods Pro officially drop. While I'm always of the opinion that preordering devices (and games) sight unseen is stupid, I would also be annoyed if I had to wait an extra week (or weeks, or a month) because everyone else preordered something that I eventually convinced myself to buy.
What should you do? If you're on the fence about the AirPods Pro, then wait. There's no shame in learning whether the quality of their speakers, or the prowess of their noise-cancelling capabilities, are worth the price—especially since there are so many options out there if noise-cancelling is your top priority.
If you know you want to get the AirPods Pro and need a little extra confirmation, then order them; you'll have 14 days to return them if you don't like them, or if future reviews say they aren't very good after all. Make sure you've kept everything—the box, the cables, etc.—and I would recommend not getting your AirPods Pro engraved in any way. Engraved or "personalised" items aren't eligible for exchanges, per Apple's policy, and I wouldn't want to risk it by having Apple carve your name into your preordered wireless charging case.
What makes the AirPods Pro so special, anyway?
Let's talk specs. The AirPods Pro feature:
A bonus microphone! As Apple describes: "A second inward-facing microphone listens toward the ear, and AirPods Pro cancel remaining noise detected by the microphone." 

Three different silicon ear tips that you can use to get the perfect fit for your new 'Pods—and an essential part of blocking out sound, too

Slightly shorter "sticks" coming out of your ears (1.22 inches in height versus 1.59 inches)

A Lightning to USB-C cable in the box, rather than a Lightning to USB cable. (Slowly, but surely, the march to USB-C continues. The wireless charging case itself still connects with Lightning; it's the other end of the cable that's different.)

An "Adaptive EQ" feature that automatically "tunes the low- and mid-frequencies of the music to the shape of an individual's ear"

A new "force sensor" that you can press and hold to switch between the AirPods Pro's noise-cancelling and "Transparency Mode," which lets you listen to music, or podcasts, or whatever and still hear your outside environment

A new "Ear Tip Fit Test" that, according to Apple, uses the AirPods' microphones (and accompanying software) to "measure the sound level in the ear and compare it to what is coming from the speaker driver." In doing so, you'll be able to figure out—if you couldn't already—whether the ear tip you've selected is the best for the size and shape of your ear, acoustically.

Sweat and water resistance (IPX4). Don't go swimming with them, but don't freak out if they get a gentle misting as you walk by someone doing a spit take.

A slightly higher price tag to repair out of warranty ($139), not the $109 of their slightly less tech-savvy siblings. The wireless charging case, slightly more svelte with the AirPods Pro, will also cost you an extra $45 to repair out of warranty.

Slightly less compatibility. According to Apple's site, the AirPods Pro are not compatible with an iPhone 5S, iPhone 6, or iPhone 6 Plus; the sixth-generation iPod Touch; the first-generation iPad Air; or the iPad Mini 2 and 3. It's possible that Apple is cutting super-old devices from the list and that the AirPods Pro will still work with them, but I wouldn't risk it if you're looking to pair the ancient with the new.
What makes the AirPods Pro not that different from a pair of AirPods?
You can get a wireless charging case for both—worry not. (The AirPods Pro will cost you an extra $80 compared to the regular AirPods and wireless charging case combination.)

The chip—still an H1, like the second-generation AirPods.

Still uses a Lightning cable to charge if you're not going wireless (Sorry, USB-C fans).

Same battery life-ish. You get five hours on both the AirPods and AirPods Pro if you aren't using the latter's fancier features. Flip on the AirPods Pro's noise cancellation and transparency features, and your battery life will drop a little faster—4.5 hours, indicates Apple's specs

You still get "more than" a day's worth of listening time when you use your AirPods or AirPods Pro with a fully charged wireless charging case. (The AirPods only get "up to 18 hours of talk time" in this setup, whereas the AirPods Pro get "more than 18 hours of talk time.")

Probably the same charging capabilities. Apple has messed with the maths on this one, describing the AirPods' charging capabilities as: "15 minutes in the case provides up to 3 hours listening time or up to 2 hours talk time." For the AirPods Pro, Apple says that, "5 minutes in the case provides around 1 hour of listening time or around 1 hour of talk time."

Same colours. No crazy colour variants for the AirPods Pro (for now), regardless of rumours

You still can't replace the battery in the AirPods or AirPods Pro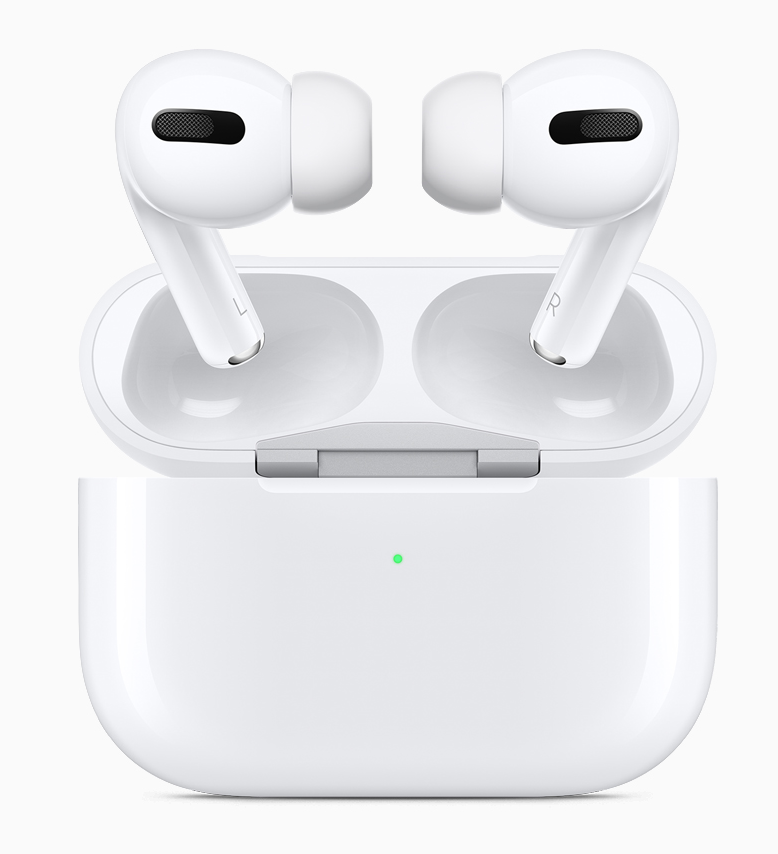 Apple" loading="lazy" > Image:
Apple
Wait, I can't replace the…
Yes. That's correct. If you've been following The Washington Post's recent coverage at all, you'll know that even Apple itself is loath to try and swap dead batteries on a pair of AirPods. They go in the trash, you pay $139 per AirPod as an out-of-warranty fee, and they give you a new pair of AirPods.
This shouldn't surprise you, though. That's the name of the game for lithium-ion batteries. Eventually, they go bad, and the precious device they powered becomes a paperweight (unless you have some way to replace said battery).
To Apple's credit, the company will replace your AirPods battery for free—really, the AirPods themselves—if the battery fails within the first year of ownership. After that, you're paying up, but $139 per AirPod (or AirPod Pro) is still lower than buying a brand-new pair of AirPods, which you're likely getting anyway as part of the "battery service," so there's that. (Yes, the total price is lower because you aren't getting a new charging case—which you'd be stuck with if you bought a brand-new pair of AirPods from the Apple store.)
Remember that you have to insist that your AirPods' battery is failing in order to benefit from the slightly lower price for replacing them. Don't say they're broken, or you might have to shell out an extra $60 if Apple processes your repair request differently.
You can also buy AppleCare+ for your AirPods, which lowers the price of battery service to $45, but this extra warranty only lasts for two years from the point of purchase. Your AirPods, if good, will probably make it that long without having battery issues. After that, however, you'll have paid extra for AppleCare+ and for a "battery replacement," and you will feel bad.
What do I do with my old AirPods, then?
If you wanted to sell them, the best time to slap them on eBay, Craigslist, or wherever was yesterday. I suspect there will be a flood of wannabe upgraders starting today, which will likely drop the price of what you could have gotten for them by a bit. That said, I've seen listings ending today—before the AirPods Pro announcement, of course—hovering in the $120-$150 range for second-generation AirPods, so you might still be able to get something decent for your older wireless earbuds. (And if you are planning to sell them, please clean them first, then make sure to reset them before you sell them.)
You could also hang on to your old AirPods. Sure, their battery will probably die before you ever need to use them again, but it never hurts to have a backup pair in case you lose or misplace your brand-new AirPod Pros. And if you're living with friends or loved ones, you could always let them borrow your old AirPods if you ever want to rock out (or listen to podcasts) together.
And if you're feeling Earth-friendly, you could also recycle them. Please do not throw away your old AirPods. That's not cool.
I want the AirPods Pro and I want them right now
Well, you can't have them right now. You can preorder the AirPods Pro today for $399, and they'll start shipping on October 30 (and be available for purchase in-store later this week). No, you can't use your old wireless charging case with the new AirPods; you have to buy the full package, and you don't get to pick a lesser wired case anymore. There doesn't appear to be a mad dash for AirPods Pro so far, as I can still get a delivery date of October 31 if I ordered right now.
Why are they called the AirPods Pro and not the AirPod Pros?
Beats me. There can be only one… pro?