Google's Pixel 4 and 4 XL smartphones officially launch tomorrow. While most people can probably set up their devices by themselves at this point, there's one little setting you'll want to know about if you're big into shooting videos—it'll help you save space on your device without sacrificing video quality.
The Pixel 4's default format for video files, H.264/AVC, results in larger files sizes than the more efficient H.265/HEVC, which was recently added as an option on older Pixel phones. Pixel 4 users can swap to the newer H.265/HEVC to save storage space on their phones, but you'll need to update to the latest Google Camera app version first (7.2 or higher) since the option may not be available on new Pixel 4 devices right out of the box.
How to enable the 'Store videos efficiently' option on Pixel 4
Before we begin, Google warns that the H.265/HEVC format may not be supported by certain apps and could limit your upload and sharing options, but you can always disable the option (and sacrifice a little more storage space) if you encounter any issues.
Open the Google Camera app and tap "More."

Go to Settings > Advanced.

Turn on "Store videos efficiently." This will swap from the default H.264/AVC codec to H.265/HEVC.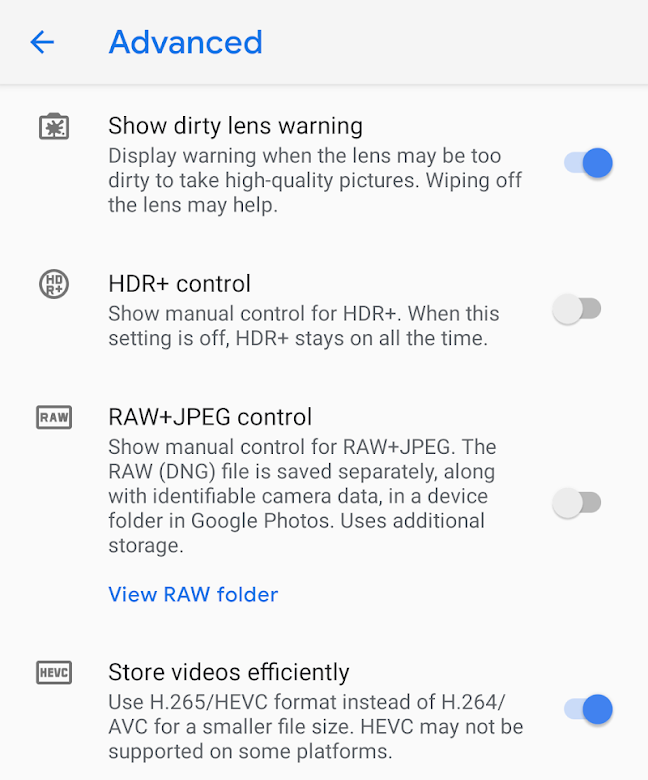 Screenshot: David Murphy
If you're curious how much space you might save in a typical video, The Mac Observer ran a few tests back in 2017 that are worth checking out. While it's doubtful that you'll cut the size of your videos in half in every occurrence, you could save a pretty good chunk of space (without quality loss) using H.265 over H.264.