Now you don't need an HBO subscription to watch some of HBO's most popular programs. Today the network launched a new "Recommended By Humans" tool that will allow anyone to stream over 50 free episodes, movies, and documentaries—provided they were recommended by, well, a human.
The network launched a new site this week, humanreco.com, where you can watch video testimonials from viewers or read comments about some of the network's programming. If you read or hear something you like, you can play a preview for that show or even watch it through a few clicks on that page.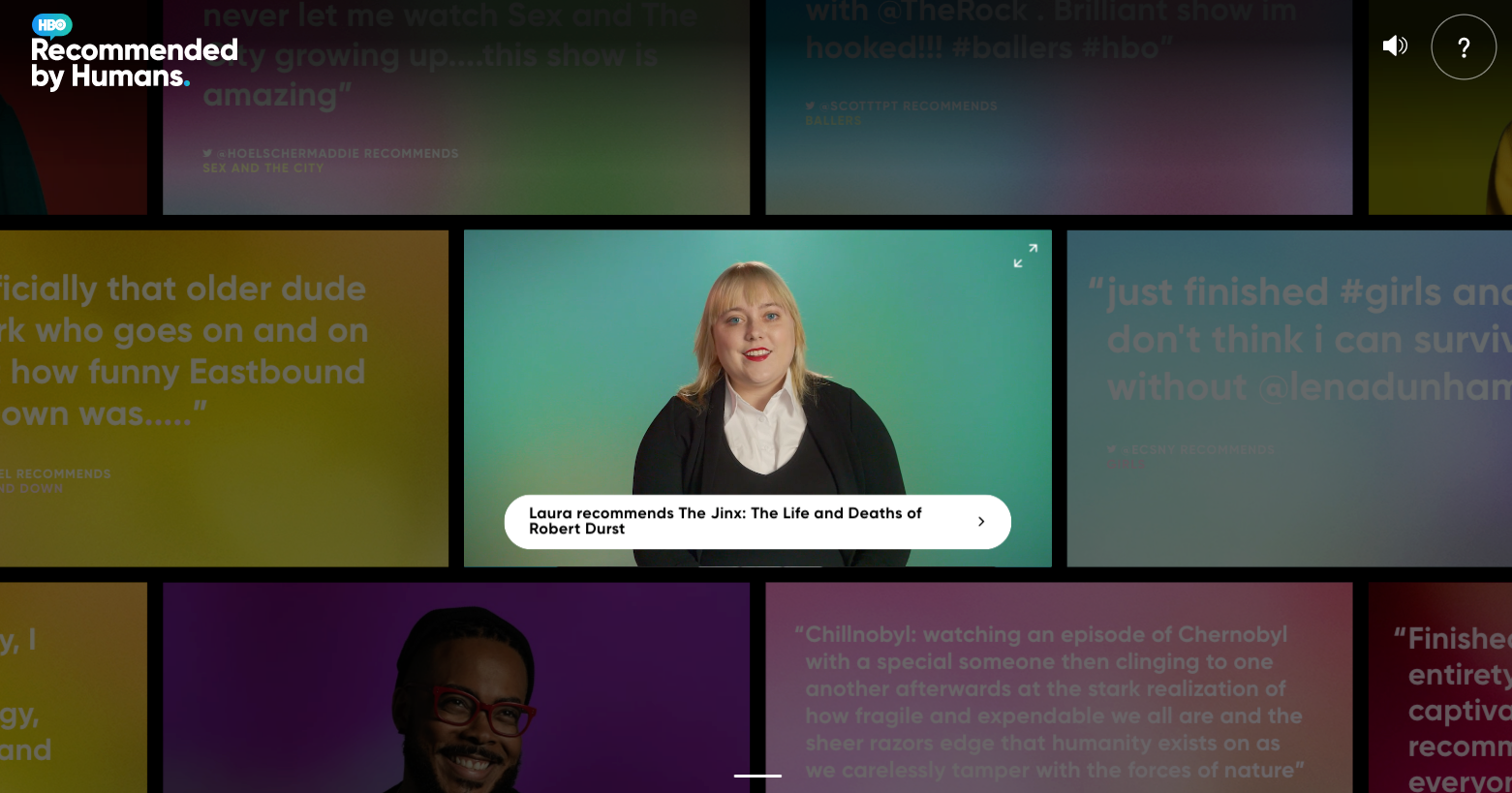 Image: HBO
How HBO got these recommendations is a bit unclear, but it does note it paid participants, so it's safe to say these are likely HBO's recommendations rather than the actual people making the comments. That said, you've got some pretty good options.
For the television recommendations, it looks like you're only getting to watch the first episode. That's great and all, but it's also a fast way to get you hooked on something you're then going to have to spring for an HBO membership to finish, so watch that free episode at your own risk.
Finding what you want to watch is also a bit challenging. If you go in thinking "I want to watch the first episode of Big Little Lies" you're going to have to click around until you find someone who recommends the show to access the episode; you can't just go directly there and start watching.
Still, if you've been pondering an HBO subscription to catch that show your friend keeps talking about, it can be a nice way to give the first episode a test drive before committing to a monthly subscription.
Here's the full list of included titles you can poke around for:
A Black Lady Sketch Show
Animals
Ballers
Big Little Lies
Bored to Death
Carnivale
Chernobyl
Crashing
Curb Your Enthusiasm
Deadwood
Divorce
Eastbound & Down
Enlightened
Euphoria
Flight of the Conchords
Game of Thrones
Gentleman Jack
Girls
Going Clear: Scientology and the Prison of Belief
Last Week Tonight with John Oliver
Los Espookys
Mummy Dead and Dearest
My Brilliant Friend
Random Acts of Flyness
Sally4Ever
Sex and the City
Sharp Objects
Silicon Valley
Six Feet Under
Succession
The Comeback
The Deuce
The Jinx: The Life and Death of Robert Durst
The Larry Sanders Show
The Leftovers
The Night Of
The Normal Heart
The Sopranos
The Wire
The Young Pope
There's Something Wrong with Aunt Diane
True Blood
True Detective
Veep
Vice Principals
Westworld
Unfortunately the site is geo-blocked in Australia – but that's nothing a VPN provider can't fix. Click here for more information.
We last updated our list of best VPN providers in early 2018, but a lot has changed since then. Some popular choices have fallen out of favour of late, so we've had a look at what VPN users in Australia are recommending now and which services they have moved from.
Read more