Habitat loss is a major factor in the decline of insect populations around the world, a trend that one group of researchers has warned could bring about the "catastrophic collapse of nature's ecosystems." For instance, the monarch butterfly population has fallen 99.4 per cent since the 1980s — a precipitous decline that has wildlife conservationists calling for them to be listed as an official endangered species. While the monarch may be the charismatic megafauna of the insect world, other, less photogenic species are believed to be facing the same fate.
That's where you come in: Even in small amounts, native grasses and wildflowers can provide essential shelter and food for a wide variety of wildlife — especially insects. No matter how much outdoor space you have to work with — whether a big backyard or a teensy window box — there are flowers, shrubs and grasses that you can grow to support a wide range of insect wildlife.
Conservationists are doing their best to mitigate the impact of development and human habitation on insects and other wildlife in many ways. For example, green corridors are physical spaces created with an eye to supporting wildlife in places short on wilderness — like cities or sprawling suburbia.
But you don't have to have an entire green roof at your disposal to create a bug-friendly garden.
"Even one easter daisy" — a purple flower — "in early autumn, when insects are at their greatest numbers, can make a difference," says Benjamin Vogt, a garden designer and the author of A New Garden Ethic, a book about bringing our lives back into balance by cultivating more wildness in our built environments. Vogt has also produced online tutorials on gardening for wildlife.
The most important thing is to buy and plant species native to the part of the world in which you live, because those are the plants local insects want and need.
Marni Majorelle, the founder of a green roof design company based in the U.S. called Alive Structures and the landscape designer of the Kingsland Wildflowers at Broadway Stages project — a half-acre rooftop garden and wildlife habitat in Brooklyn that's played host to more than 45,000 arthropods (read: bugs) and 19 species of birds — suggests calling around to local garden centres to see if they carry native plant species — and if they don't, to urge them to order some.
Australia has a wonderful variety of natives, and importantly, they can help foster our local (sadly declining) bee population. Below, more specifics on how to best garden for the bugs in the space you have, depending on what you're working with:
If you only have a window box, or enough outdoor space for a few small pots
Native annuals — plants that complete their life cycle in just one year — are your best bet for attracting bees, butterflies, and other pollinators in just a small amount of space, says Marjorelle. Pollinators are some of the most important insects vulnerable to habitat loss and pesticides, and even small patches of food and shelter can help combat the effects of fragmentation — when big, contiguous tracts of wilderness are broken into smaller and smaller chunks by development and other intrusions.
You might have to restock your garden every spring, but buying annuals is also the fastest and easiest way to get a beautiful pollinator garden up and running. And you have the freedom to play around with different plants every year.
If you have space for larger pots on your patio or roof deck
For a truly hands-off garden, you can grow native perennials — plants that will return year after year after year, with little or no maintenance on your part. Easter daisies, the flower Vogt recommended, are one good example.
More space also means bigger plants, if you so choose.
"Flowering shrubs are wonderful because they're big and you only have to take care of one instead of many," says Majorelle. Most are low maintenance, requiring only a little plant food and light pruning. In exchange, some flower twice a year, or flower in the spring and provide brightly coloured foliage in autumn.
If you want your plants to really flourish, Majorelle says you can't skimp on container size, especially with larger bushes and shrubs. There's not a hard and fast rule — it will depend on the size and variety of plant — but you could need anywhere between one to three feet of soil. Shallower pots and boxes might not provide enough protection for perennials during the frigid winter months — you want the soil to be deep enough to protect the roots from freezing.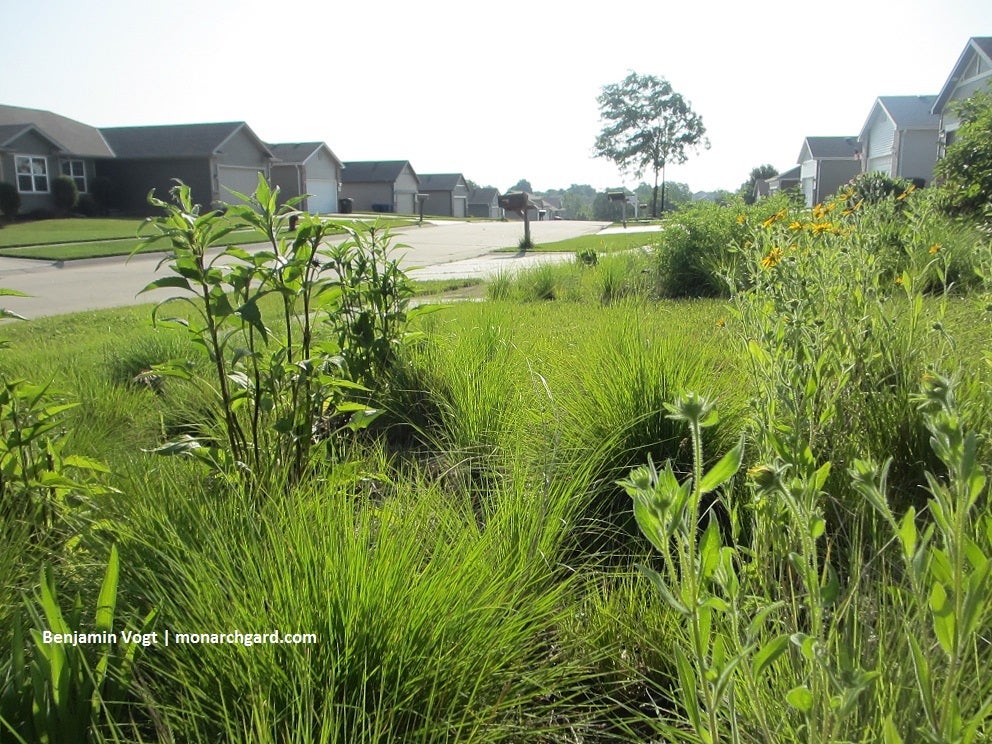 A wildflower garden is far superior to a front lawn (Photo: Benjamin Vogt, Monarch Gardens LLC)
Finally, if you have a lawn, of any size
"The less lawn we have the better," says Vogt. Lawns use up valuable resources like water and demand energy-guzzling maintenance like mowing. They do not provide much-needed habitat to insects or other wildlife and lawn treatments like pesticides and fertiliser further harm vulnerable pollinators and other bugs. "Consider unused lawn areas as good candidates for flower bed conversion — even in dry shade there are tons of native plants that will thrive and provide blooms all season long," says Vogt.
The basic two steps for getting rid of your lawn and replacing it with a beautiful meadow are: kill the grass, and seed with native flowers and grasses. There are numerous ways to kill a lawn. Vogt recommends renting a turf cutter ($200/day or less from most big hardware stores) and simply tearing it up.
"I've even had success stressing lawn for a year — no water, no fertiliser — then scalping it the next autumn, raking up thatch and over-seeding with a custom flower mix," Vogt says. "In 2-3 years the lawn will usually be at wit's end if the mix contains aggressive native flowers and grasses."
"If you plant it they will come"
As you may have found with wayward cockroaches that find the reliably full pool of water in the dish drain or the trail of ants making their way to and from a mysterious sticky spot on your floor, bugs are good at finding food, if it's provided.
"If you plant it they will come," says Jackson. "That's our experience." Since completing the Kingsland green roof in 2017, she and her colleagues at New York City Audubon have observed a gradual increase in species, both type and variety, visiting the roof.
One way they know the green roof has become a refuge for insects is by collecting them, putting out cups of soapy water and recording the results. The others is because the roof is increasingly visited by birds and bats, drawn there by the number of little buggy appetisers and entrees. You can use apps like iNaturalist to track the bugs (and their predators) drawn to your garden.
The most wonderful thing about planting a pollinator garden to support insects is that those benefits will radiate out through the food web, strengthening the ecosystem from the bottom up.