If your Mum is into all things astronomy, do I have some great news for you.
There's plenty of time before Mother's Day rolls around on May 13 to get your hands on these perfect pressies for star-gazing mummas. Oh, and language warning: some of these gifts explain the science of space in a very adult way
Space Is Cool AF by Kate Howells, $75
This amazing coffee table book is a place where art and science collide to explore the wonders of universe. It features an in-depth interview with Bill Nye the Science Guy, and it takes all of that impossible to understand science mumbo jumbo and explains it in plain old English.
The book features more than 100 wild artworks, photographs and illustrations from 40 international young artists curated by brilliant designer Cynthia Larenas.
I mean, take a look at this (click to enlarge):
From black holes to meteors, to the definitive answer on whether or not Pluto is a planet, the 50 chapters leave no stone unturned. With a brief history of the universe, Mum will be left scratching her head and gazing up in absolute wonder.
[clear]
The Perfect Alignment Solar System Necklace, $100
Mum can adorn herself in the planetary wonders of our solar system. (Note: not scientifically accurate and definitely not to scale.)
A perfectly aligned set of vintage acrylic cabochons dating from the 1940s through to the 1980s, originally made in Italy, Austria and Germany, each selected for their similarities to the planets, they're all here – Mercury, Venus, Earth, Mars, Jupiter, Saturn, Uranus and Neptune.
But – importantly for Pluto fans – there is a version which comes with Pluto, too!
You can also have it personalised. There's a version with a shooting star, complete with a handstamped name – you know, in case you want to give Mum the solar system.
[clear]
This 100 per cent cotton robe – with all-important belt – is official NASA merch with a difference.
Imagine how content Mum would be sipping on your morning cuppa, in the sunshine, looking like an off-duty mission engineer? Uh huh. Bliss.
[clear]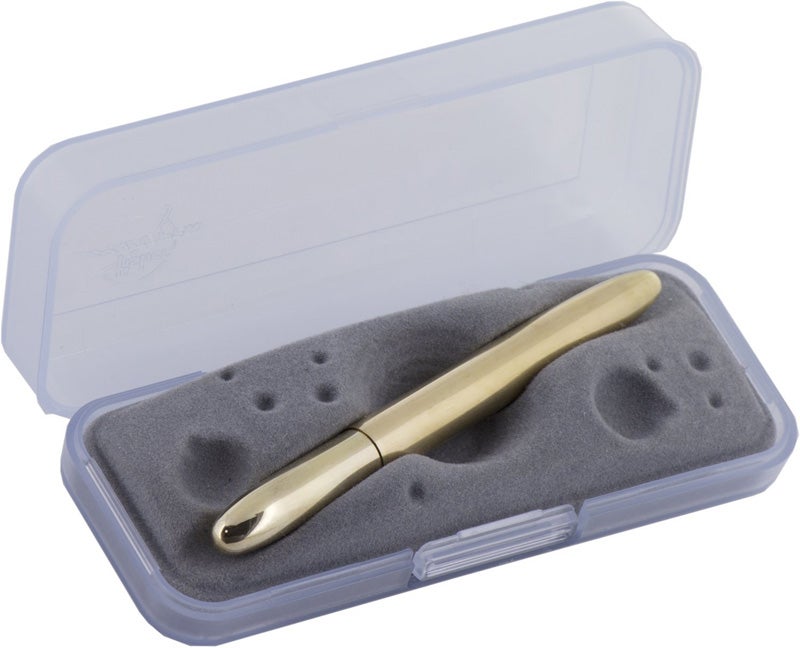 Surprise your future-astronaut Mum with this precision assembled, all brass and steel pen that writes at any angle, even in zero gravity, even in extreme temperatures.
[clear]
A Beginner's Telescope, $149.95
The ExploraScope 60AZ is the perfect telescope to discover the Moon, rings of Saturn, moons of Jupiter, Orion Nebula, and all the best celestial objects. The included red dot finderscope helps Mum sight objects in the sky and center them in her telescope's eyepiece. Use the new altitude slow motion rod for precise pointing and following objects as they appear to move across the sky.
ExploraScope comes complete with everything Mum needs to get started with amateur astronomy: 2 eyepieces, a 3x Barlow lens to triple the magnifying power of each eyepiece, an erect image diagonal for correct image orientation, and a full-height aluminum tripod. Plus, she can download Celestron's SkyPortal app for iOS and Android devices to help locate and learn about celestial objects. This is one of the best out-of-the-box experiences in the entry-level price range.
[clear]
A Stargazing Pro's Telescope, $899.95
If Mum's got some experience, and you've got some cash, she'll love you forever for this gift.
The NexStar 4SE is an excellent scope designed for both visual observations and astrophotography. With a built-in wedge mount, Mum can tilt the telescope like an Equatorial telescope, allowing her to compensate for the Earth's rotation and capture long exposure photography. The Maksutov-Cassegrain optics – an efficient mixture of lenses and mirrors – produces an image that is super crisp for its compact size.
[clear]
Make Mum's laptop or computer stand out with these awesome Space Bar Keyboard Stickers. They're literally space stickers that stick to Mum's computer's space bar!
Space on space.
If Mum dreams of distant galaxies and stars, this will be a fun reminder as she types away. And because these keyboard stickers glow in the dark, her computer will come alive at night just like the night sky.
[clear]