Even though everyone is talking about deleting their Facebook accounts, we suspect most of your friends are probably starting out their day as usual – checking Facebook on their morning commutes. But if you're serious about cleaning up your Facebook life, the Chrome extension Social Book Post Manager is a great tool to have at your disposal.

Screenshot: David Murphy (Facebook)

We shrug. Screenshot: David Murphy
Though you'll have to give Social Book Post Manager permission to "read and change your data" on Facebook – which might not thrill those looking to lessen third-party access to their Facebook information – it's the only way you'll be able to let the extension work its magic.
From there, pull up Facebook. Then go pour a nice cup of coffee or put on some soothing music, because you're about to remove (or hide) a lot of your digital life. Social Book Post Manager does exactly as its name implies: It roots through your activity feed to find content matching particular keywords you provide, and it then allows you to delete or privatise these posts.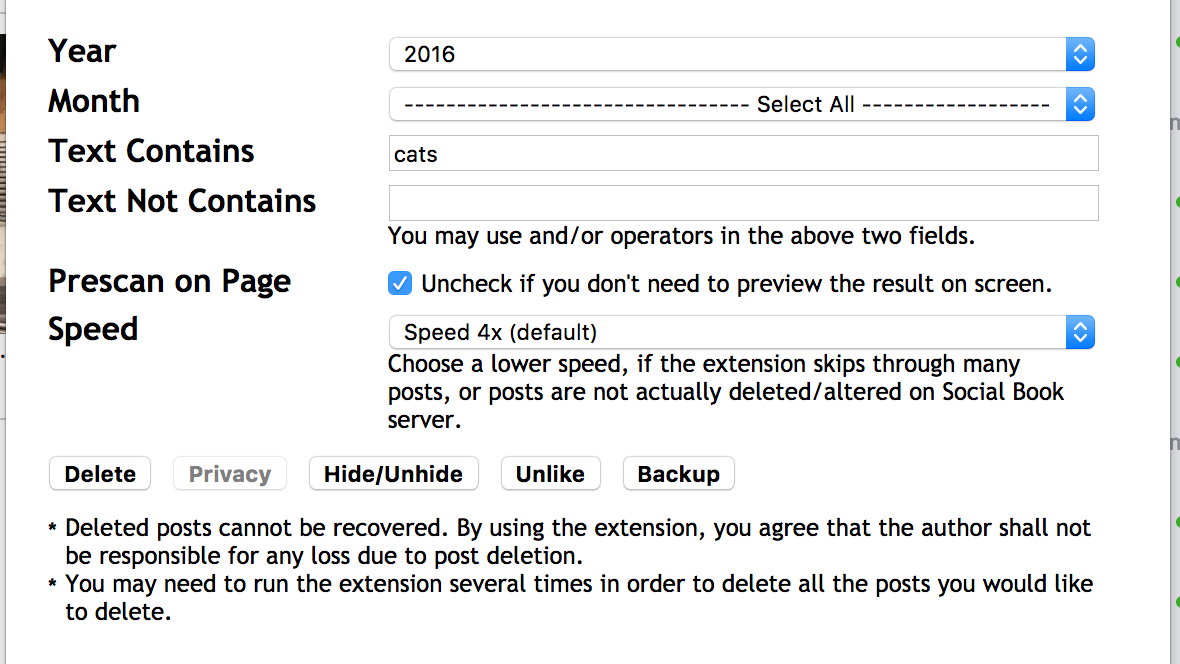 Social Book Post Manager takes a little time to work if you're looking to hide or delete specific content on Facebook, but it's incredible. Screenshot: David Murphy
Though Social Book Post Manager takes a little time to work if you've been super-active on Facebook each year – or if you're filtering to specifically remove or hide content about, say, that ex you still hate – it's a lot faster than trying to clean up your activity feed manually, even if you have to run the extension multiple times to make sure you got everything.
(If you're just planning to eliminate your Facebook account en masse, you probably don't need to use Social Book Post Manager to manually delete all of your old content – just delete your Facebook account and call it a day.)