Cheeseballs really live up to their name. Not only are they a literal ball of cheese, but there's something kind of charmingly corny about them. Like a tacky Christmas sweater, they're more class clown than class act – lovable, goofy and charmingly unpretentious. They're also infinitely adaptable, and insanely easy to make.

Photos by Claire Lower.
The anatomy of a cheeseball is so simple, you don't even need a recipe for it. Like casseroles before them, almost anything can be cheeseballed. You'll just need:
222g cream cheese (unless you're making vegan cheeseballs – see below)
1 cup of some other cheese (or "cheese") of your choice, either shredded or crumbled
Seasonings and flavourings, either liquid or powdered
Some sort of coating (nuts, bacon bits, fresh herbs and so on.)
That's it. Just add it all to your food processor, blend it until it's smooth, and scrape it out onto some plastic wrap. Use the wrap to form a ball, covering it fully in plastic, then get that thing in the fridge to chill for a couple of hours until firm. Once firm, roll it in your coating of choice and serve with some sort of cracker or chip.
In terms of seasonings, the amount you add really depends on what you're adding. For dry seasonings such as granulated garlic and onion, start with a teaspoon, taste, and add more if needed. For seasoning mixes – such as taco or ranch or whatever – start with a tablespoon. Liquid flavour-blasters – such as Worcestershire sauce, salsa or even wine – can be added a tablespoon at a time, but adding more than four or five tablespoons will render you ball soft and hard to work with.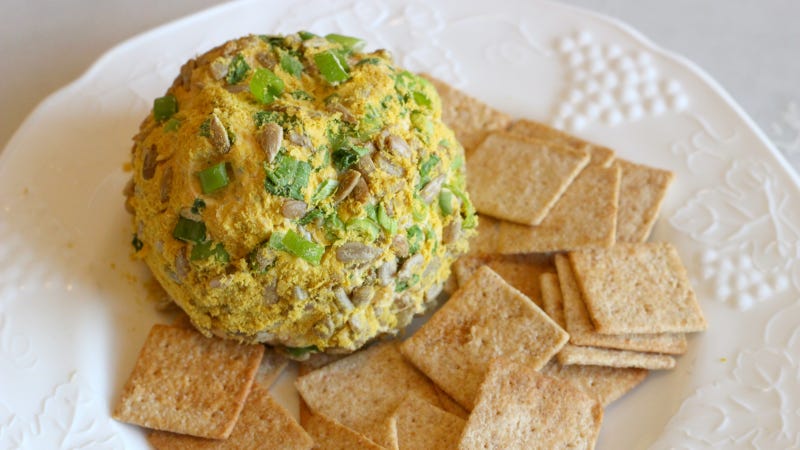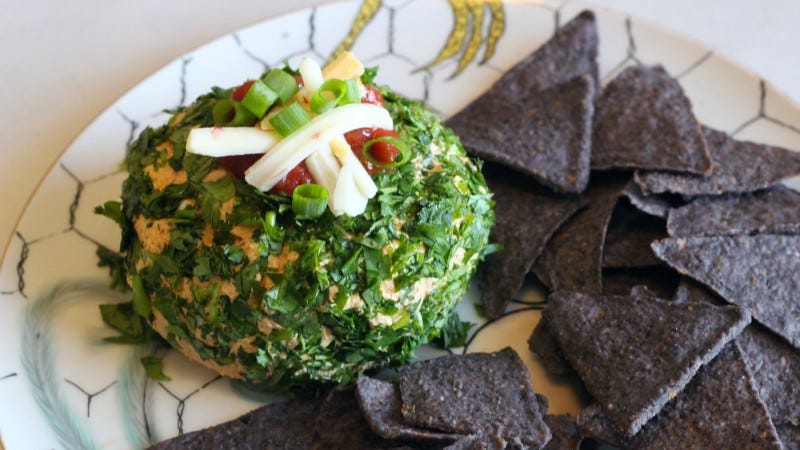 If you need some help getting started, take inspiration from two of my favourite balls of cheese. There's even a vegan one, because everyone deserves a cheeseball during the holidays:
Vegan Cheeseball: 225g cultured cashew spread + 1 cup cheddar-style Daiya shreds + 2 teaspoons liquid aminos or soy sauce; coat with a mixture of 1/4 sunflower seeds, 2 tablespoons nutritional yeast, and the green part of one shallot
Taco Cheeseball: 225g cream cheese + 110g shredded sharp cheddar + 110g shredded pepper jack + 3 tablespoons diced canned jalapeños + 2 tablespoons taco seasoning + 2 tablespoons medium salsa; coat with fresh chopped corriander
Beyond savoury, cheeseballs can take the form of dessert. Cream cheese can be mixed with Nutella, peanut butter, or a mixture of cocoa powder and coated in pretty much any sweet. Use cookies or crackers for a delivery system; the latter provides a cheesecake-like experience.