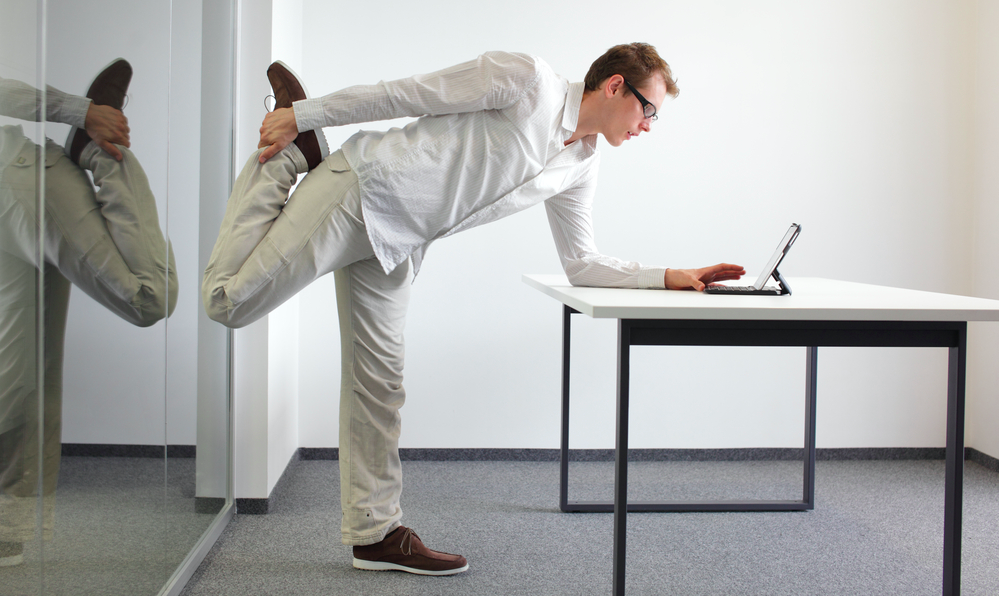 We're kind of obsessed with standing desks here at Lifehacker, as evidenced by this glowing testimonial. But are they actually beneficial to your health, or just a feet-hurting placebo? A new study published in the International Journal of Epidemiology has revealed no correlation between sitting and mortality risk among office workers. It seems standing on the job doesn't make a lick of difference...Or does it?
Standing desk image from Shutterstock
Researchers from the University of Exeter and University College London analysed the health records of 5132 people spanning 16 years. The data included detailed information on how long participants sat during the day in a variety of situations, including work.
After controlling for a number of factors, including diet and general health, the study could not find a definitive link between extended periods of sitting/standing and mortality risk. The report concludes:
Over [the course of the study's data] a total of 450 deaths were recorded. No associations were observed between any of the five sitting indicators and mortality risk, either in unadjusted models or models adjusted for covariates including MVPA. Sitting time was not associated with all-cause mortality risk. The results of this study suggest that policy makers and clinicians should be cautious about placing emphasis on sitting behaviour as a risk factor for mortality that is distinct from the effect of physical activity.
In other words, it would appear that standing up while working doesn't improve your health, at least as far as mortality goes. Without moderate amounts of exercise, standing is no different to sitting.
"Our study overturns current thinking on the health risks of sitting and indicates that the problem lies in the absence of movement rather than the time spent sitting itself," study author Melvyn Hillsdon said in a statement. "Any stationary posture where energy expenditure is low may be detrimental to health, be it sitting or standing."
However, we wouldn't throw away the standing desks just yet: the study focused purely on mortality rates, which is obviously on the extreme side. Being unhealthy does not mean you'll keel over and die within 16 years. Basically, all the study proves is that standing won't increase your odds of survival. Well, duh.
Plus, the assumption that "standing = immobile" is plainly wrong: anyone who works on their feet will typically shift their posture far more than somebody in a chair. As every health practitioner on the planet will advise, even a little bit of exercise is better than none at all.