Mobile devices are for more than just calling, email, social media and selfies. There are some truly remarkable apps that allow you to operate your business on the go – or completely change the way you do things. Here are five of our favourites.
Lifehacker's Supercharge Your Business For 2015 series, brought to you by QuickBooks Online, provides strategies and technology tips to help your business thrive. Learn more about how QuickBooks Online can run your entire business.
Florist picture from Shutterstock
---
1. Deputy
Barista from Shutterstock Deputy is Aussie-made heaven for anyone managing casual, part time or shift workers. It handles rostering, can show you who might be available at short notice, acts as a time sheet (employees can tap on or off) and manages payroll. It also acts as an internal communication and employee performance tool.
---
2. Invoice2go
Invoice from Shutterstock It does what the name says — creates invoices on the go. There's a lot of templates to choose from for estimates and purchase orders as well. Best of all it syncs across your devices, creating charts and reports automatically to show you how your business is performing — and who owes you money — at a glance. It saves so much time for getting invoices out, which means you get paid faster, too.
---
3. Evernote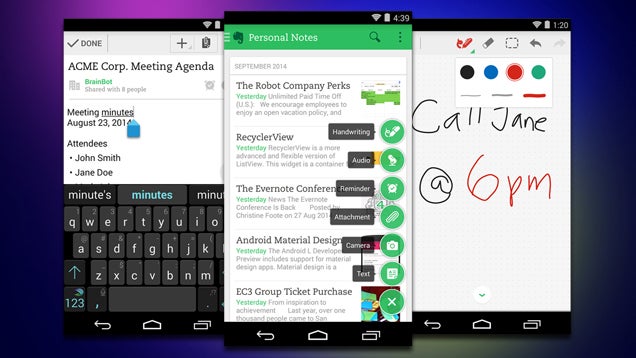 The ultimate note taking tool – if you're not using Evernote, you need to do yourself a favour and hit download right now. With a clean interface, tagging tools and searchable text you save directly to a cloud you can access from any device. It saves websites, typed notes, PDF's, images, handwriting, itineraries, schedules, lists, contacts — if you need to remember it, this is the only place you will ever need to store it.
---
4. Timely
Hairdresser from Shutterstock Operating a business that relies on appointments can sometimes be tricky to manage. Timely syncs with your other calendars (iCal, Google Calendar and Outlook). It then books and tracks appointments, records, histories and personal notes of clients. It helps manage your client database and send out SMS reminders, too. Download: All Platforms
---
5. Vend
Hairdresser from Shutterstock You might have seen this one down at your local coffee haunt. You no longer have to fork out for an expensive till or sacrifice space for space for a big cash register. Vend turns your iPad into a cash register. It's fast & easy to use, works for all payment methods, and will even run a customer loyalty program for you.
Download: iOS
---